Myrtle Witbooi's epistles are classics. She can talk for hours about the ongoing struggle to dignify domestic work in South Africa: the sweet victories, witful tactics, enduring limitations and hopes held high.
The secretary-general of the South African Domestic Service and Allied Workers Union (SADSAWU) recounts one such effort to grant domestic workers access to the government's Unemployment Insurance Fund (UIF). The UIF, which provides short-term relief to people who are unemployed or on temporary leave, is more than just an economic lifeline — it de facto defines who is recognized by the government as a legitimate worker.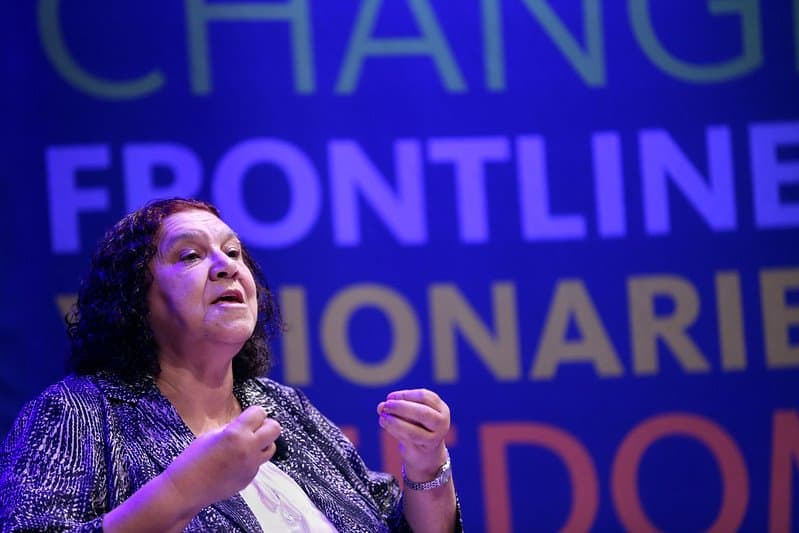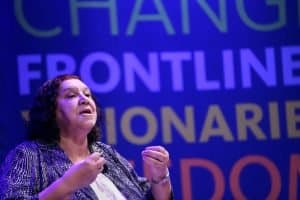 Yet until April 2003, despite a protracted campaign waged by Witbooi and her collaborators, domestic workers were not eligible to receive relief from the UIF. So, when petitions and presentations failed to change the minds of officials, Witbooi and her crew decided to cause a very public scene.
"Five domestic workers, myself included, we chained ourselves to the gate of the government (office)," she recalls. "The next day, they called us in to talk." The tactic worked.  Two weeks later, the inclusion of domestic workers in the UIF was announced.
It was but one example of how South Africa's domestic workers have learned to flex their political muscle to great effect, winning a string of landmark labor protections.
Of the estimated two billion workers in the global informal economy, some 70 million are domestic workers. Of these, 1.2 million work in South Africa. Many suffered greatly under the apartheid regime. Yet, over the last two decades, South Africa has emerged as an unlikely pioneer of protections for this sector, enacting a series of groundbreaking laws to support these still-marginalized laborers. In many cases, these laws were fought for tooth and nail by domestic workers themselves. For people like Witbooi, it has been a long but empowering journey, creating a blueprint other countries could look to for inspiration.
"You see?" says Witbooi of the UIF victory. "It wasn't something that the government gave to domestic workers. It was domestic workers themselves that have fought for this." 
Small steps to big changes
Domestic work is a perfect storm of opportunities for exploitation: an informal economy driven by women that typically operates with little oversight in private homes.  
In South Africa, the sector is further fraught by its history. The apartheid regime fostered disturbing relationships between white homeowners and their maids — usually Black South African women. At the time, the law forbade Black South Africans to take up jobs considered skilled labor. While Black men took to the country's factories and mines, Black women sought employment in the homes of white South Africans. Many were racially and sexually abused, lived under inhumane conditions, earned peanuts, and were barred from socializing to prevent them from organizing to demand their rights.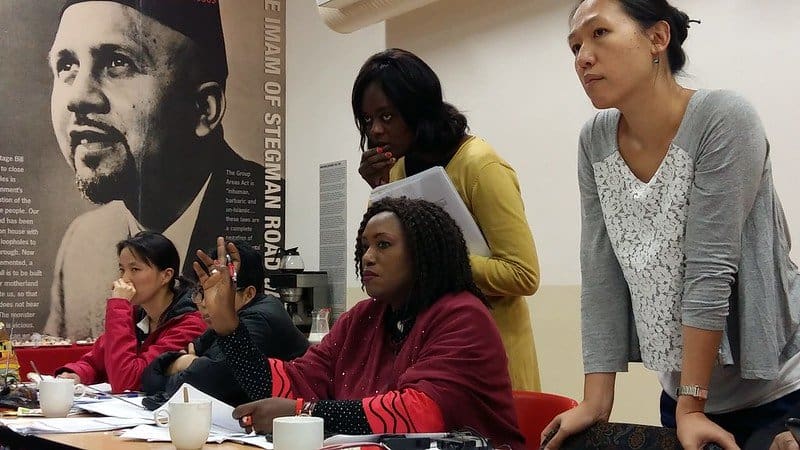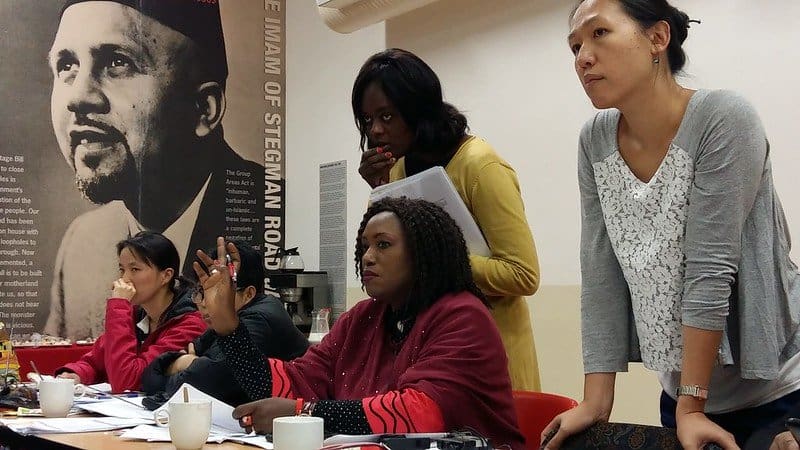 It was in this hostile environment that Witbooi began her fight. In 1969, as a young domestic worker, she read an article in a newspaper that denigrated a member of her profession. She wrote an angry letter to the editor, which, to her surprise, the newspaper published. The experience opened her eyes to the power of activism. Now 75, she has been at the forefront of South African domestic worker unionizing efforts ever since. 
Today, in addition to helming SADSAWU, she is the first president of the International Domestic Workers Federation (IDWF), which works with 81 affiliates across 63 countries to advocate for the rights of domestic workers worldwide. 
This activism has propelled a number of recent victories for South Africa's domestic workers. In November 2020, a landmark Constitutional Court ruling mandated compensation for domestic workers who were injured or died at work. The law — Compensation for Occupational Injuries and Diseases Act (COIDA) — already existed, but exempted domestic workers, a reflection of societal attitudes about the value of their work. Thanks to the ruling, sick or injured domestic workers are compensated just like any other employee. 
Also, this year, the minimum wage for domestic workers will rise to the level of the national minimum wage, a 20 percent increase. This comes two years after the increase was implemented for other workers.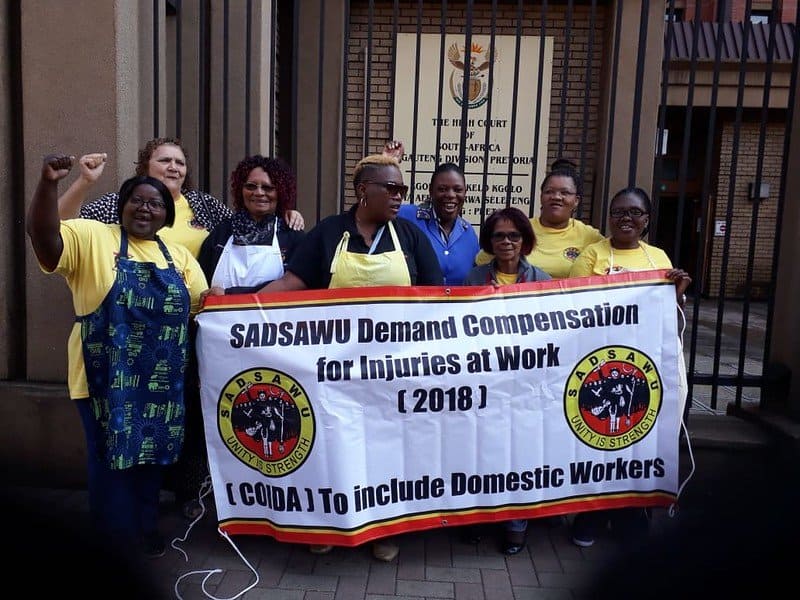 This change represents the culmination of a fight that started soon after the end of apartheid, Witbooi says. For years, the domestic workers' campaigns for a minimum wage was met with hostility from the public, some of whom no doubt employed domestic workers themselves. According to the ILO, the eventual victory was made possible by a "campaign from trade unions, an investigation into the wages and conditions of work of domestic workers, as well as a series of workshops and public hearings." Finally, in 2002, domestic workers in South Africa got their first minimum wage — lower than the minimum wage for other professions, but a start.
Over the years, they used the same strategy again and again to campaign for their minimum wage to be raised. To achieve their recent final victory, SADSAWU and affiliate organizations applied constant pressure. "We sent in petitions," says Witbooi. "We let thousands of domestic workers sign that we are not happy, so the government then came back to us to say, 'Okay, January 2022, domestic workers will have the same national minimum wage.'"
Witbooi takes pride in the progress they've made. "We start with $50 (annual wage)," she says, "and today we are actually $3,550 which means we have grown up a lot." 
To Jane Barrett, organization and representation program director at WIEGO, a group that supports women informal workers, unionization is key to achieving these milestones. Domestic worker unions can challenge government decisions (or the lack of them) and assert that their members are indeed a legitimate part of the labor force.
Also aiding their activism is a historic treatise passed by the ILO in 2011, the Convention on Decent Work for Domestic Workers. The convention lays out the international working standards and rights that domestic workers should expect — crucially, that they should be protected under the national labor laws of their respective countries.
Crushed by negative news?
Sign up for the Reasons to be Cheerful newsletter.
The South African government ratified the convention in 2013. (Elsewhere in Africa, Namibia, Madagascar, Mauritius, Guinea and Sierra Leone are among the convention's 35 signatories.) And though the legally binding mandate doesn't always fulfill its promise, South Africa's adoption of it gives domestic workers "another weapon in their arsenal" when lobbying the government, says Barrett.
The Convention, says Barrett, gave SADSAWU the tools it needed to achieve domestic workers' inclusion in COIDA and the national minimum wage. "It was possible for them to say, 'Look here, you as the government signed up for this Convention, you made a promise that domestic workers will be treated equally, now put your words into action and change the law,'" she says. 
And yet, implementation at the ground level remains a challenge. It is difficult to enforce protections for workers in private homes. And many domestic workers have inadequate formal education, and may be unable to leverage the legal rights they've gained, or be unaware of them at all. 
For instance, largely due to South Africa's lockdown-related recession, in the second quarter of 2020, 250,000 fewer domestic workers were employed compared to the same period in 2019, according to a WIEGO study. The UIF provision fought for 20 years ago by Witbooi and her allies made them eligible for financial aid. However, only 20 percent of a workforce of 1.2 million was registered for the scheme, in large part, because their employers had failed to set up their accounts. 
Examples like these show how relics of the apartheid regime still permeate South African society. "They still treat domestic workers differently," Witbooi laments.
There is a moral issue at play here for citizens privileged enough to hire domestic workers, believes Barrett. Since the government can't easily supervise working relationships in private homes, and trade unions simply do not have the capacity to monitor them for compliance, it is ultimately up to employers to follow the law. "If you've got 20,000 members" in a union, says Barrett, "it's impossible to talk to 20,000 employers."
To address this, SADSAWU has started producing and distributing educational WhatsApp videos in local South African languages to help domestic workers understand their rights. They are also working to create an emergency hotline for domestic workers to call to help with COIDA claims if they are injured in a private home.
"We want to have a special WhatsApp number for domestic workers," says Witbooi, "so if a domestic worker gets hurt at work, she can press a number and immediately it'll be picked up on the other side."
While South Africa has racked up meaningful victories, domestic workers across the world continue to labor largely without meaningful protections. Countries with typically strong labor laws  — like Australia, Canada and many in the EU — have yet to ratify the ILO's Convention on Decent Work for Domestic Workers. Nor has the U.S., where only ten states have adopted the Domestic Workers' Bill of Rights, which guarantees basic labor rights like overtime pay and breaks for meals.
The IDWF, through its affiliates, continues to put pressure on these governments. In 2018, WIEGO produced a toolkit that simplifies the Convention in English, Portuguese, Swahili, French and Amharic while providing support for IDWF and its affiliates to push for its implementation at national levels. 
Barett believes "collective solidarity and collective pressure" — akin to that used by Witbooi and her counterparts — is the template for the emancipation of domestic workers across the world. "And in particular, for all workers," she added.