Late one morning at an airy warehouse on the outskirts of Bogotá, the business of the day is rattling along. Half a dozen 100 kilogram sacks have just been dropped off by a truck that is parked out front and a team of employees are busy sorting through the deliveries: blue plastic bottles, aluminum beer cans, cardboard cartons and a stack of old textbooks.
"It might not seem like much," says Isabel Martínez Marquez, gesturing at mountains of trash towering above her, "but this right here is our lifeblood."
The 56-year-old Colombian unscrews the lid from a bottle, pours out some residual liquid, slices off the brand label and carefully deposits each constituent part into the relevant container. "It's simple but important work," says Marquez.
Although the two-story facility, which processes more than one ton of recyclables per week, could easily be mistaken for a municipal building, it belongs to the Waste Picker Association of Bogotá, a cooperative of more than 100 mostly female workers that is helping to repackage the role of this overlooked service. In the face of growing professionalization and formalization of the industry, these waste pickers are finally being recognized as essential workers providing important services — providing greater job security and improving their livelihoods.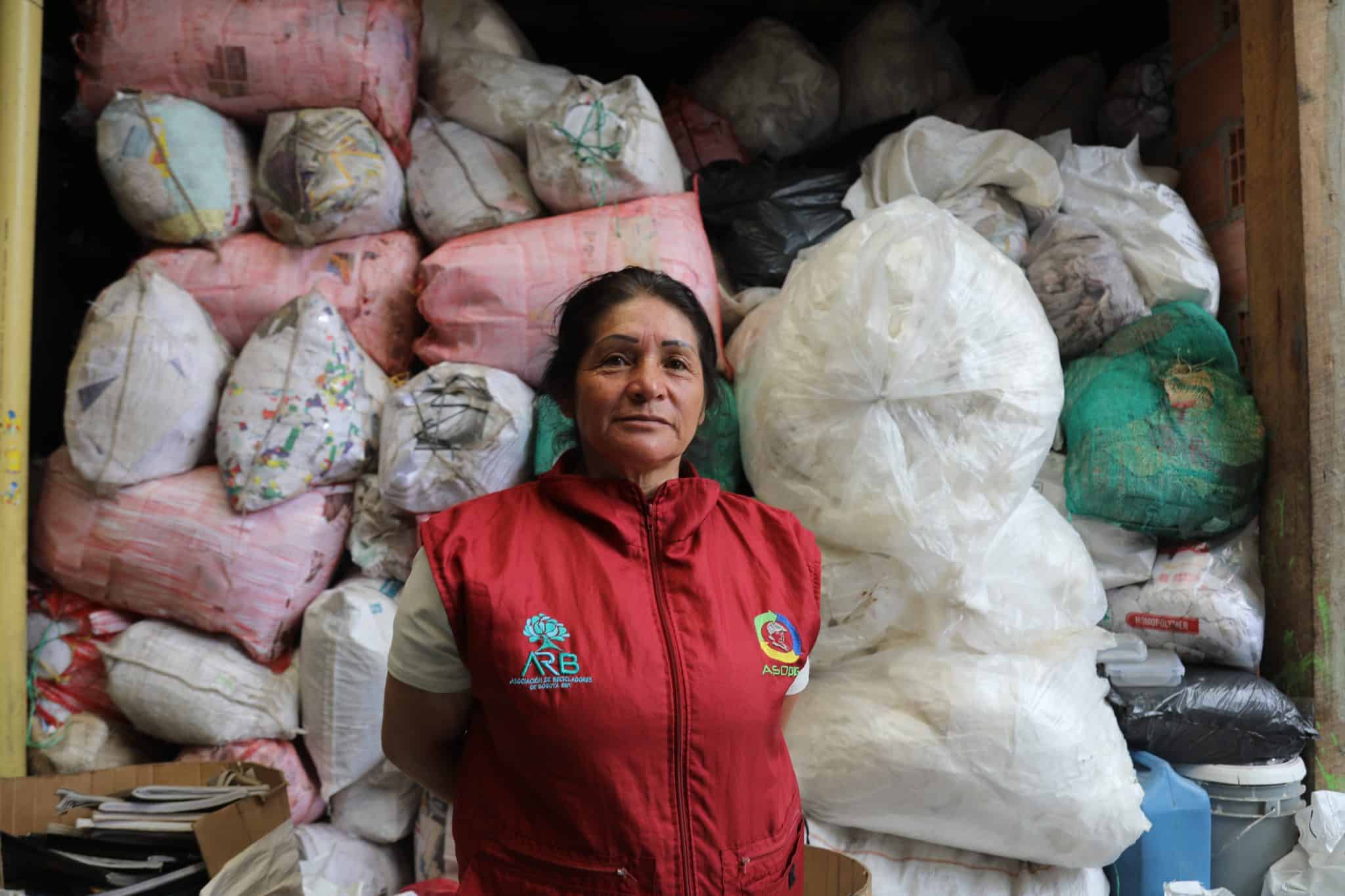 Marquez and her colleagues number among the estimated 50,000 waste pickers in Colombia, according to a 2011 national census. Often from poor, marginalized backgrounds, they are mostly clustered around major urban centers like Bogotá, Medellín, Cali and Barranquilla. Together they handpick detritus from the streets and recycle it independently, as waste pickers have done for decades in Latin America, cleaning cities without payment from public authorities.
Millions of people earn their living from recycling or reusing waste, though official statistics are hard to come by. In Brazil, the only country that publishes official statistical data on waste pickers, there are 229,000 workers — a sign of the scale of the industry. According to the Global Alliance of Waste Pickers, there are national worker organizations across the globe, from India to Italy, Uganda and the U.S.
"Waste pickers play an invaluable role in cities around the world," says Dr. Anne Scheinberg, a global recycling specialist and working group chair for the International Solid Waste Association. "They are micro private entrepreneurs and they carry out work that wouldn't otherwise be done."
Crushed by negative news?
Sign up for the Reasons to be Cheerful newsletter.
In Colombia, this work has sustained large numbers of marginalized laborers since  the 1950s, when violent political conflict forced rural communities to flee to urban areas. Many had little option but to take up work on large dumpsites, sifting for useful materials that would otherwise be left for landfill. "It was not the best place to work, but it gave them a reliable income," says Federico Parra, Latin American coordinator for the non-profit Women in Informal Employment: Globalizing & Organizing (WIEGO).
In more recent years, however, a significant threat to waste pickers' livelihoods has emerged. In the 1990s, Colombia adopted the neoliberal policies of the Washington Consensus, heralding a new dawn of privatized waste collection. In particular, the National Constitution in 1991 introduced free competition for provision of public services. "It was disastrous because private companies were now being paid by taking advantage of and threatening the work of waste pickers," says Parra. 
Waste collection, now coming from a wide variety of sources, then accelerated and huge amounts of waste began to build up in Bogotá. But at the time there was only one form of waste disposal: landfill sites. 
On September 27, 1997, more than a million tons of waste collapsed at Bogotá's Doña Juana landfill. The government was forced to then launch a review into municipal waste management, which concluded the next year that official recycling systems must be introduced. Ever since, waste pickers have been squeezed by competition from all sides. 
"What threatens these waste pickers is what I would call the 'closing of the commons,'" says Scheinberg. "When cities build sanitary landfills or modernize their waste systems, the waste system is no longer open, and there are fewer and fewer places where people can do things that aren't legally authorized or permitted organized."
This modernization of waste management puts waste pickers under pressure, adds Scheinberg. In the search for efficiency, municipalities often hire a single, monopolizing company to deal with waste management, pushing informal waste pickers to the margins.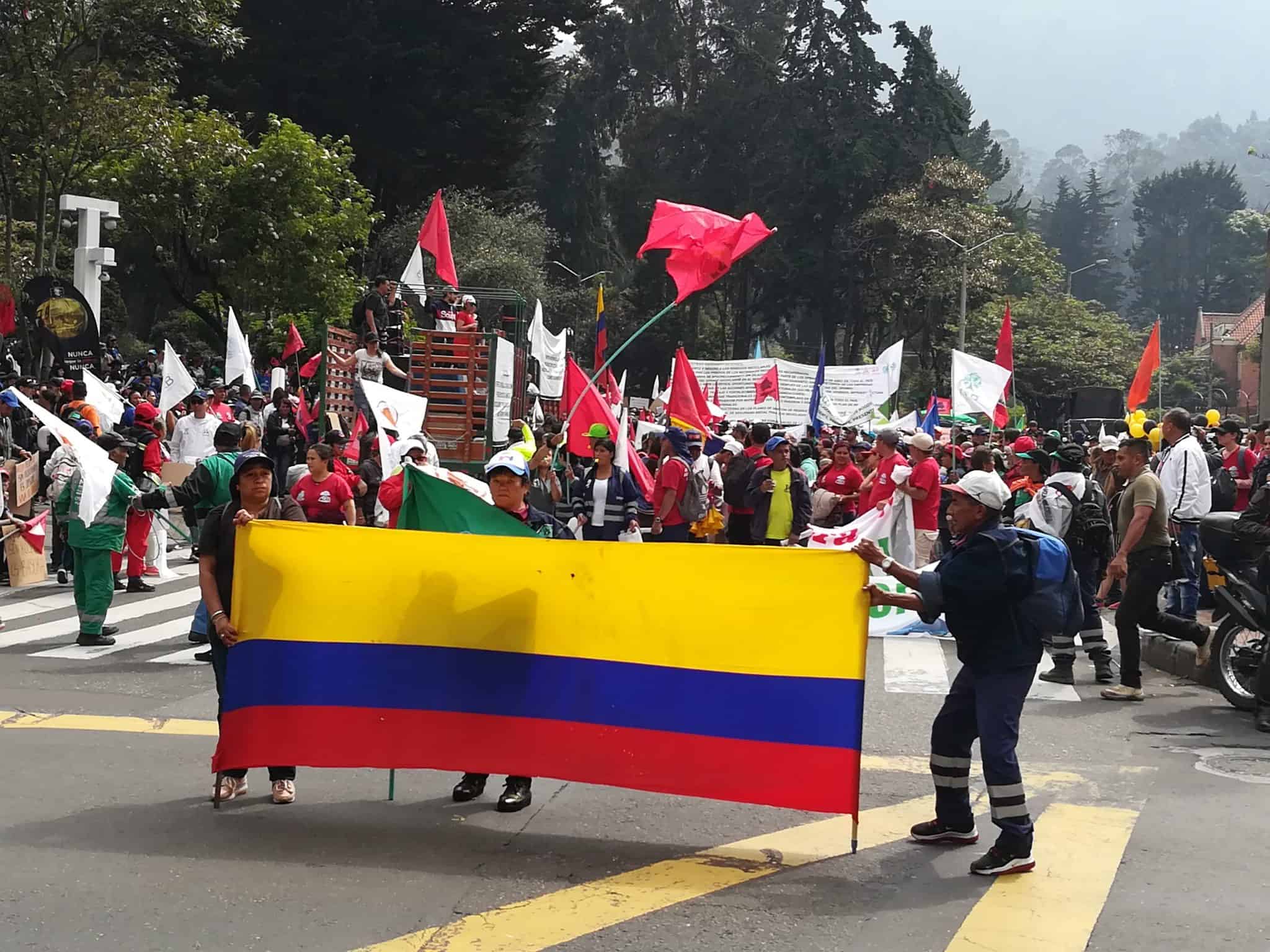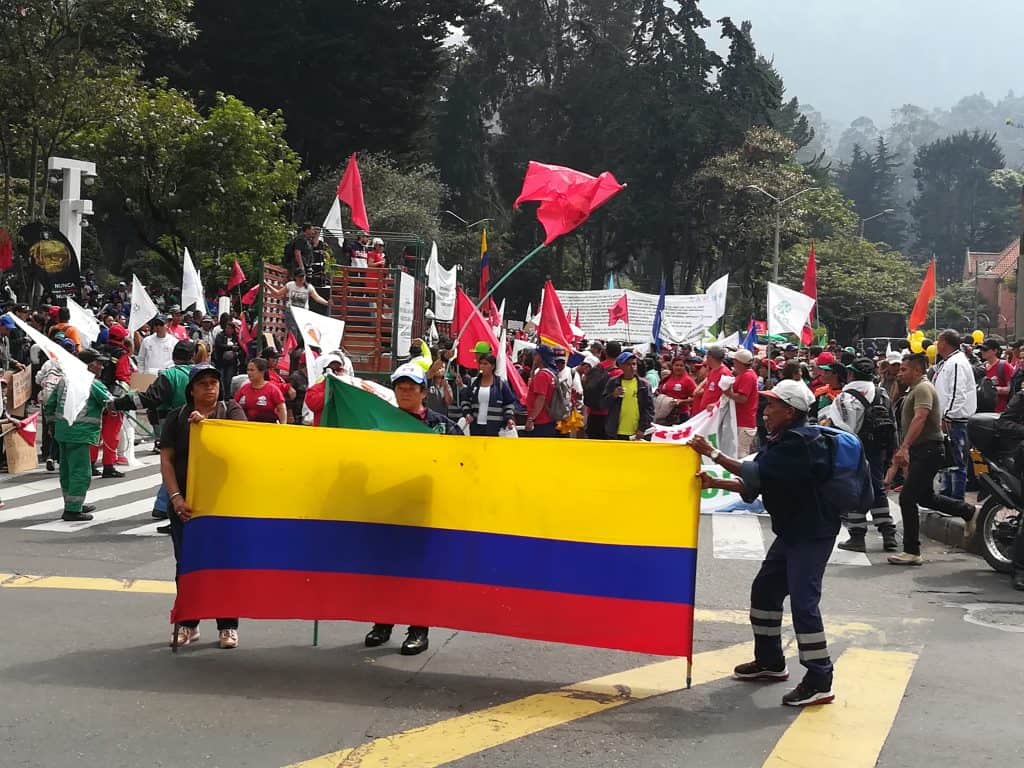 But the situation changed after a years-long legal battle that saw Colombia's Constitutional Court recognize waste pickers as subjects of "special state protection." The Decree 596, which laid out a process for waste pickers' organizations to be formalized as recycling service providers, was passed by the government in 2016. 
Crucially, the same year a scheme known as the "second payment" was introduced by the government, supplementing the incomes of thousands of waste pickers — in addition to the money earned by selling the recycled materials, many now receive a portion of the waste management fee collected from households. 
It has been transformational. Thanks to the scheme the Waste Picker Association of Bogotá has bought a 500-square-meter warehouse and truck, constructed an administration office and doubled its workforce from 50. Workers now receive between $50 and $170 each month from the second payment, in some cases doubling or tripling their wages.
At first it was only available in Bogotá. But by 2017, it had reached nine cities, and in 2018, that number rose to 25. Last year, 37 cities in Colombia had at least one organization with access to the second payment system recognizing waste pickers as a public provider of services, according to WIEGO.
"We are the beneficiaries of our own fight," says waste picker Marquez. "We are a new generation of recicladores that are part of structural change."
Knocked back by the pandemic
Yet the battle for recognition of Colombia's waste pickers is far from over. Only around a third of the 18,000 in Bogotá are part of the second payment scheme, with those not enlisted as vulnerable as ever. 
The actions of the municipality of Bogotá have also thrown any success into sharp relief. In late 2018, 5,000 waste containers were introduced across the city as part of a project to improve trash collection. But waste pickers say it was done without any consultation and that limited public knowledge has resulted in recyclable material being put into containers meant for landfill. The pandemic has also seen work slow down to maintain safety protocols such as the need to wear gloves, goggles and mouth masks, as well as a four-day quarantine for materials before they are processed, meaning less money is earned.
"It's taken us 20 years back," says Marquez. "Recyclable waste is as important to waste pickers as fields are to farmers and rivers are to fishermen. We need to be able to access it to make a living."
It remains a curious tension as Colombia strains to meet its environmental pledges without compromising the rights of these vulnerable workers. "Our goal should not only be clean cities, but clean cities with waste pickers integrated," says WIEGO's Parra.
With a wider push to establish rights for waste pickers across the world, there will be a close eye kept on how Colombia navigates this tricky process. At heart is to what extent that informality becomes formalized and institutionalized, the shift towards a circular economy, and to what degree authorities adapt to waste pickers' special circumstances.
But what Marquez — who first began waste picking in 1983 as a 19-year-old — and her fellow workers have shown is a successful vision of formalization from the bottom-up, raising those on the lowest rungs of society to a place of pride.
"Each worker has put their seeds in and all together we have created this," she says. "But we must always be ready for the storm."