"Anyone can go blind," says 51-year-old Rik Wouters. As a young man, Wouters could see perfectly fine. But about 25 years ago, his vision gradually worsened due to a progressive eye disease. Today, Wouters, who lives in the Dutch city of Leiden, is entirely blind and works as an advocate for the visually impaired. "It just happens to you," he says.
Wouters, who now uses sounds and smells to orient himself, is one of more than 320,000 Dutch people — about two percent of the population — who live with a visual impairment (defined as less than 0.5 vision clarity with available correction) in both eyes. But even as his sight deteriorated, Wouters has been able to keep navigating the Netherlands' vast rail system. Indeed, over the years it has evolved to accommodate people like him.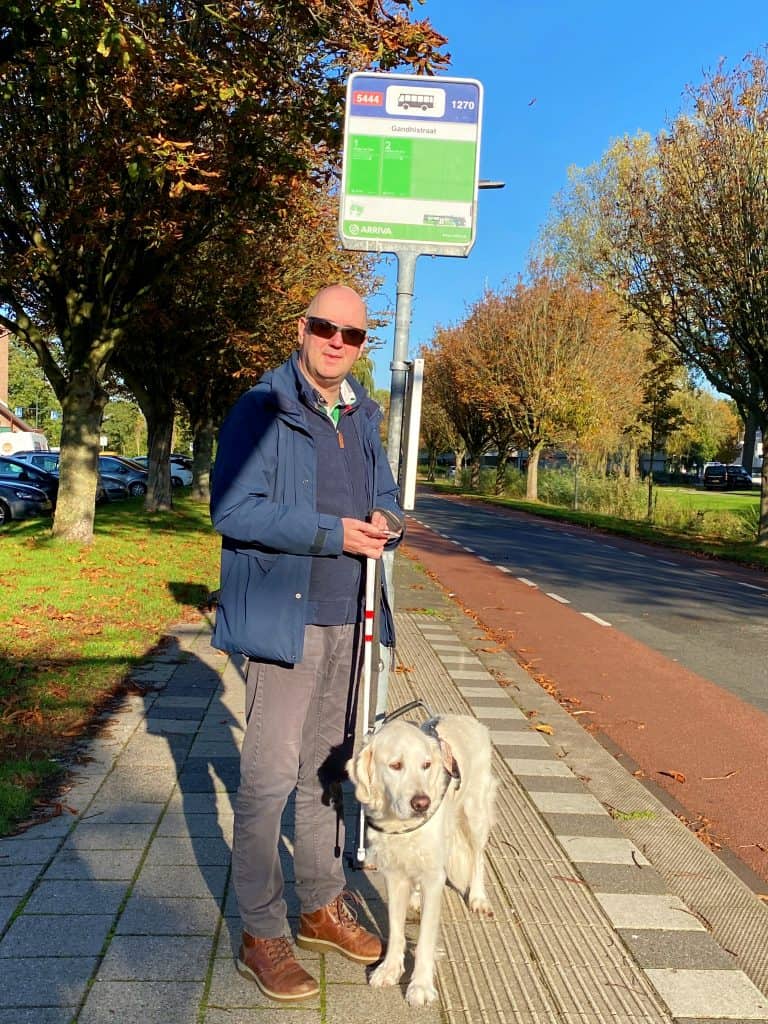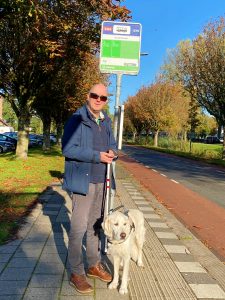 "In the Netherlands, the emphasis is on independence," says Wouters. To this end, Nederlandse Spoorwegen (NS), the country's railway operator, has created one of the world's most accessible rail networks for the visually impaired, supporting its riders on every step of the journey with an integrated system of assistance. "If you can be independent, that's the best thing," says Wouters.
Links in a chain
"I just want to go from point A to point B, from home, to the bus stop, to the train station, and so on," says Wouters, who relies on public transport to get to his advocacy meetings. "It's a chain. If all the connections work, then you are a winner."   
This "chain" approach is what differentiates Holland's system from most. Whereas many transit networks make accommodations for the visually impaired, the Dutch system goes well beyond platform bumps and Braille signage. It effectively strings together an assisted end-to-end pathway that is by turns tactile, digital and, at times, hand-to-elbow human.
Before Wouters even leaves his home, he contacts the railway operator's 24-hour NS Travel Assistance service, which confirms that someone will be waiting to help him board or exit the train. The service, bookable by phone, website, or the NS app, is currently available at 170 of the country's 247 NS stations. "It's a matter of being prepared," he says. "[The travel assistants] are my eyes." According to NS spokesperson Anita Boonstra, the number of stations offering the Travel Assistance service will increase to 193 by December. 
Once in the station, tactile features guide Wouters through the premises. Textured guidelines run from station entrances to key points like platforms, elevators and check-in / check-out gates. The process of checking in and out of stations is particularly tricky for the visually impaired, says Wouters. "In the bigger stations, you can exit only via the check-out gate. But smaller stations have a check-out pole and if you miss that, you lose money." To avoid this, he has subscribed to the OV-chip Plus card meant especially for people with visual impairment. This is a free add-on to the regular NS travel card and does not require him to check-in or out. With this add-on, train journeys are booked in advance by phone or online, and costs are automatically debited at the end of the month.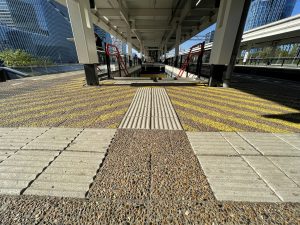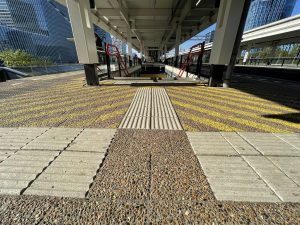 On the digital side, the NS has developed several apps. The NS Perronwijzer (Platform Indicator) app was developed in collaboration with the Oogvereniging (Eye Association), and provides real-time train status updates in speech-activated mobiles by reading out what is written on the platform indicator. Another app, Travel Planner Xtra, lets the commuter know which side of the train she or he must disembark from.
Even with all of these apps and assistance, Wouters sometimes has to deal with challenging situations during his commute, like a train arriving on a different platform than earlier announced. "I cannot respond to that quickly," he says. "I could end up missing the train. That's frustrating." On other occasions, a delay or an unexpected stop or an unplanned transfer, means that he will miss his subsequent connections, which he describes as "draining."
One of NS's most recent introductions is the "1-Stap verder" (1-step further) service, introduced in 2019. At five major train stations, travelers can request an attendant to accompany them all the way to connecting public transport, taxi or pick-up location. And for those who aren't comfortable traveling independently, the NS offers a companion card allowing accompanying individuals to travel free of charge. (Guide dogs also travel free.)
Whenever Wouters is abroad, he tends to compare the train system of the country he is visiting with the Dutch railways. He was in Canada a couple of years ago, where the inter-city train frequency is not very good. "There's a train between Amsterdam and Rotterdam every 10 to 15 minutes," he says. "I'm really lucky that the frequency of inter-city trains is so high in the Netherlands."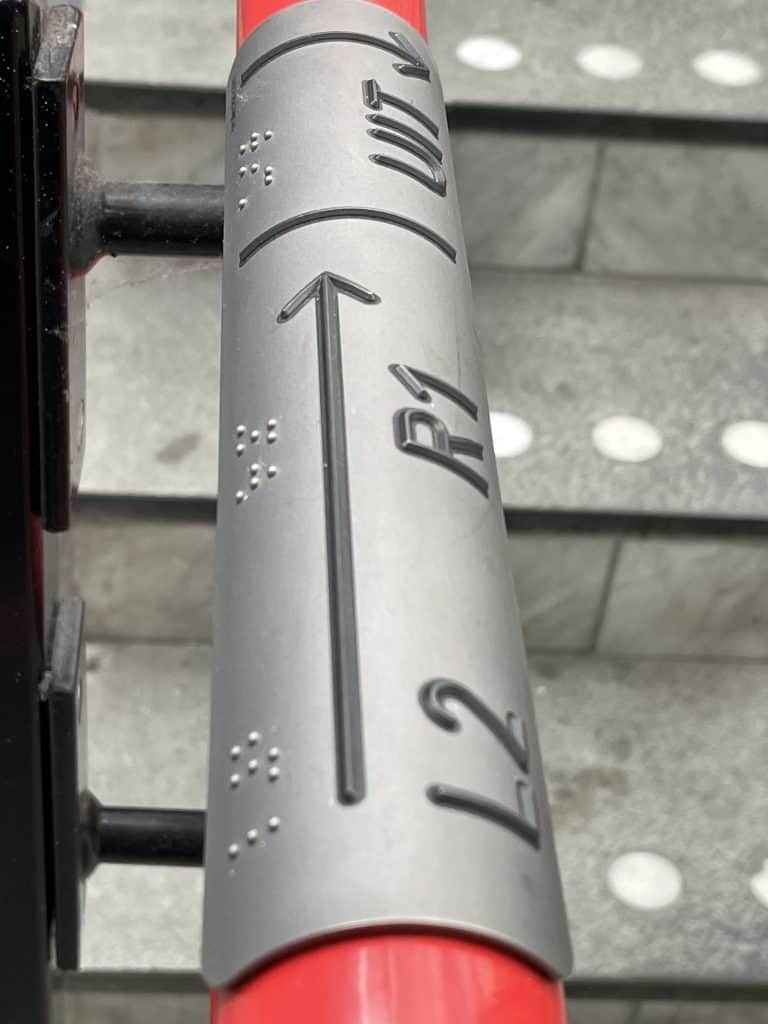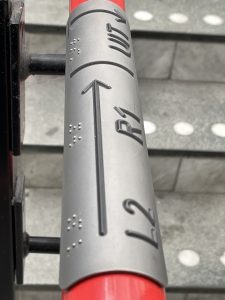 At the same time, Wouters thinks that the Netherlands still has a lot to learn from other countries with regards to treating people with special needs. "Here, it is up to your own initiative to ask for help," he says. "But if you cannot see where to find your help, then you have a problem." He is appreciative of London, where railway staff are available near the gates in the Underground. "They keep an eye on whether you are able to enter or exit the gate," he says. 
Together with ProRail, the company that manages the Netherlands' railway network, the NS aims to make every train station in the country fully accessible by 2030. "The new trains that are coming in are increasingly accessible," says NS spokesperson Boonstra. For instance, the new train doors have retracting ramps to eliminate the gap between platform and train.
"Blind people are regular people," Wouters  says. "It's important for the authorities to invest in public transport and services for the disabled. The infrastructure must be in place."