On a blistering day in June, a lone motorcycle roared into the southern Indian city of Coimbatore. The rider, a 64-year-old man who goes only by the name Sadhguru, was greeted by cheering crowds. He had come all the way from London on a solo journey that spanned three months and 27 countries.
But it was no pleasure trip. Sadhguru's epic journey was part of an increasingly desperate mission to save soil. 
Soil health around the world has been declining steadily over the last half century as a result of modern agricultural practices and climate change. Intensive tilling, the application of chemical fertilizers and pesticides, prolonged droughts and increased flooding all contribute to the destruction of organic matter in soil and, with it, soil's productivity over time. Today, about a third of the world's soil is now moderately to highly degraded, with the United Nations warning that the failure to reverse the resulting decrease in crop yields could cause 10 percent of the world's population to go hungry by 2030.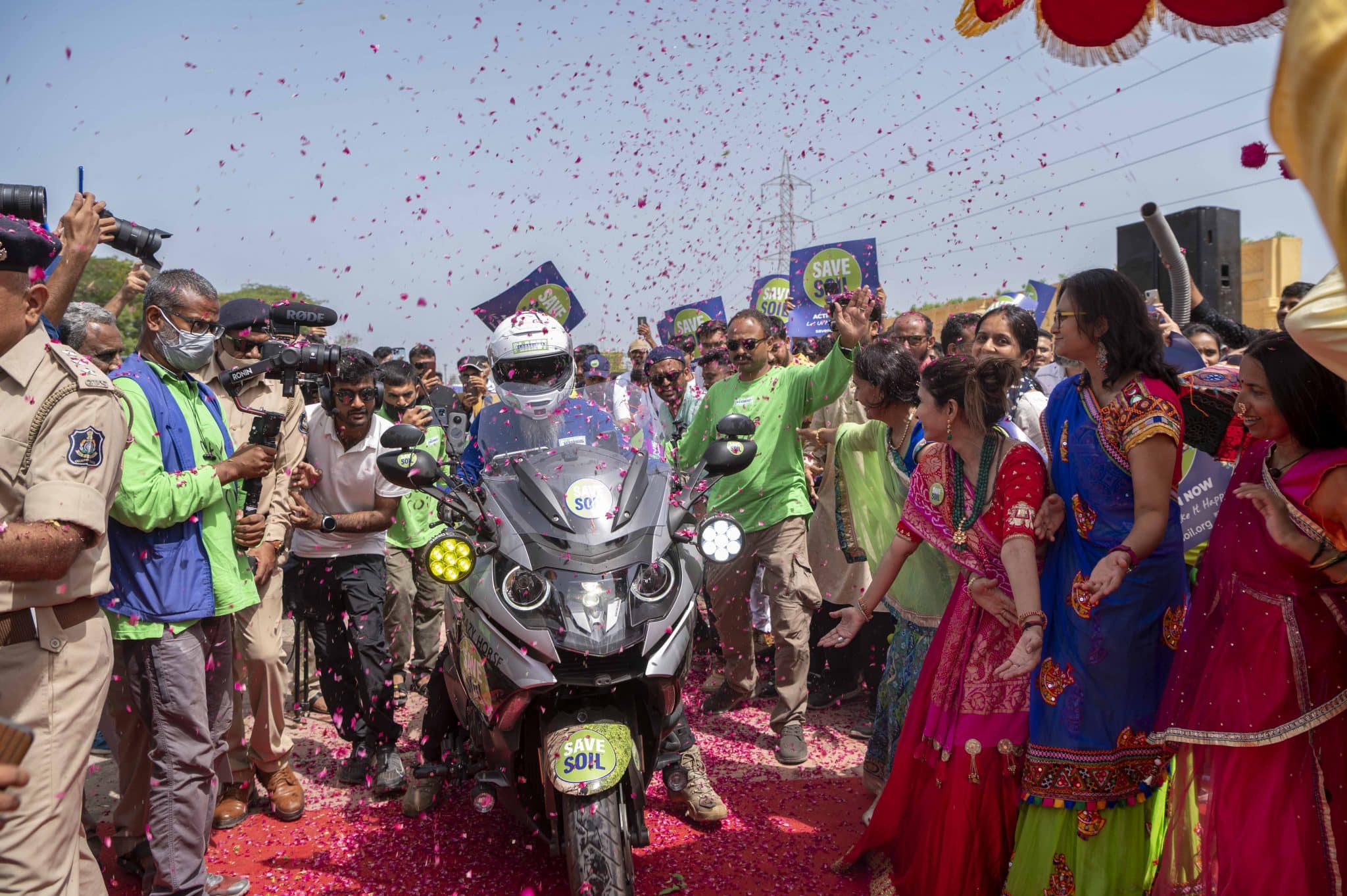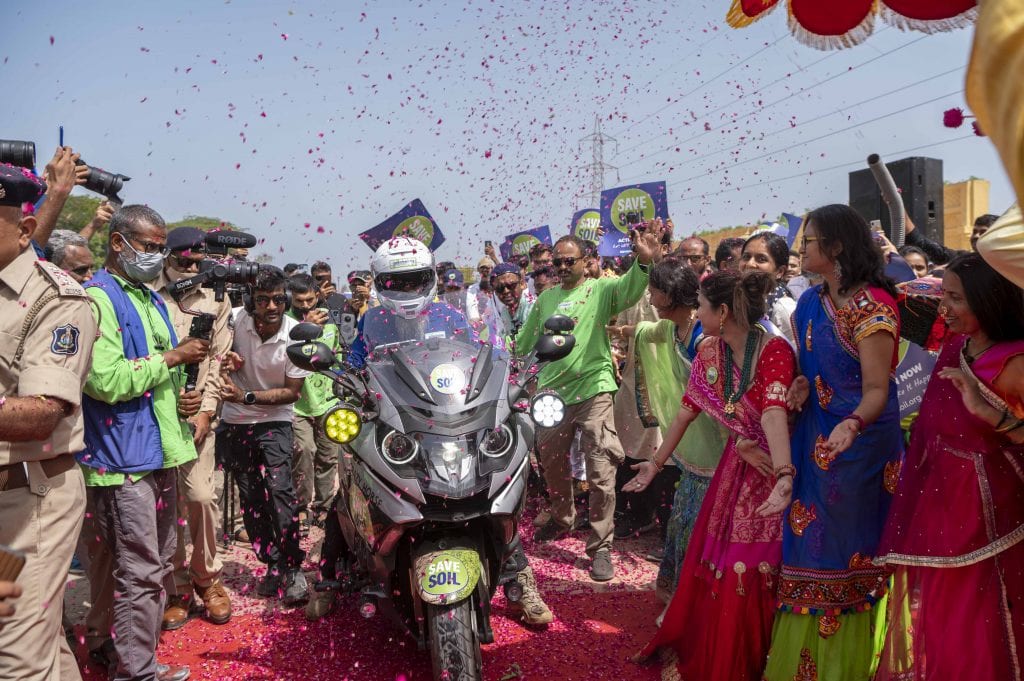 "We are on the verge of soil extinction," says Sadhguru, whose work on issues related to health, wellbeing and the environment has earned him several awards including the Padma Vibhushan, one of India's top civilian honors. "This is the greatest crisis of our times."
Sadghuru's journey was an attempt to call attention to this crisis, with the ultimate aim of encouraging national governments to mandate a minimum of three to six percent organic content in their agricultural soils — the level that typically characterizes healthy, productive soil. During his trip, the charismatic activist and founder of the nonprofits Conscious Planet and the Isha Foundation met with thousands of government officials, scientists and supporters — including Dr. Jane Goodall, the Dalai Lama and India's Prime Minister Narendra Modi — to achieve this.
"Organic matter is all the decomposing plant or animal matter that makes soil soil," says soil microbiologist Elaine Ingham. Ingham is the founder of Dr. Elaine's Soil Food Web School, a company that trains farmers on regenerative agricultural methods. The more organic content in soil the better, she says, but most experts agree that three percent is the minimum amount required to support healthy crops.
Crushed by negative news?
Sign up for the Reasons to be Cheerful newsletter.
Understanding why commercial agriculture could actually lead to less food in the future involves taking a brief trip back to the 1960s, the birth of what came to be called the "Green Revolution." In this era, farmers began heavily applying chemical fertilizers and pesticides to their crops, which led to massive gains in agricultural yields — so much so that Norman Borlaug, father of the Green Revolution, won the Nobel Peace Prize in 1970 for his role in preventing mass starvation. 
But the application of those chemical fertilizers slowly destroys organic content in soil, including beneficial microorganisms that help plants absorb nutrients. Over time, the soil becomes less productive, a process known as desertification. The United Nations Convention to Combat Desertification estimates that desertification directly affects a third of the Earth's land surface, including more than 30 percent of land in the United States.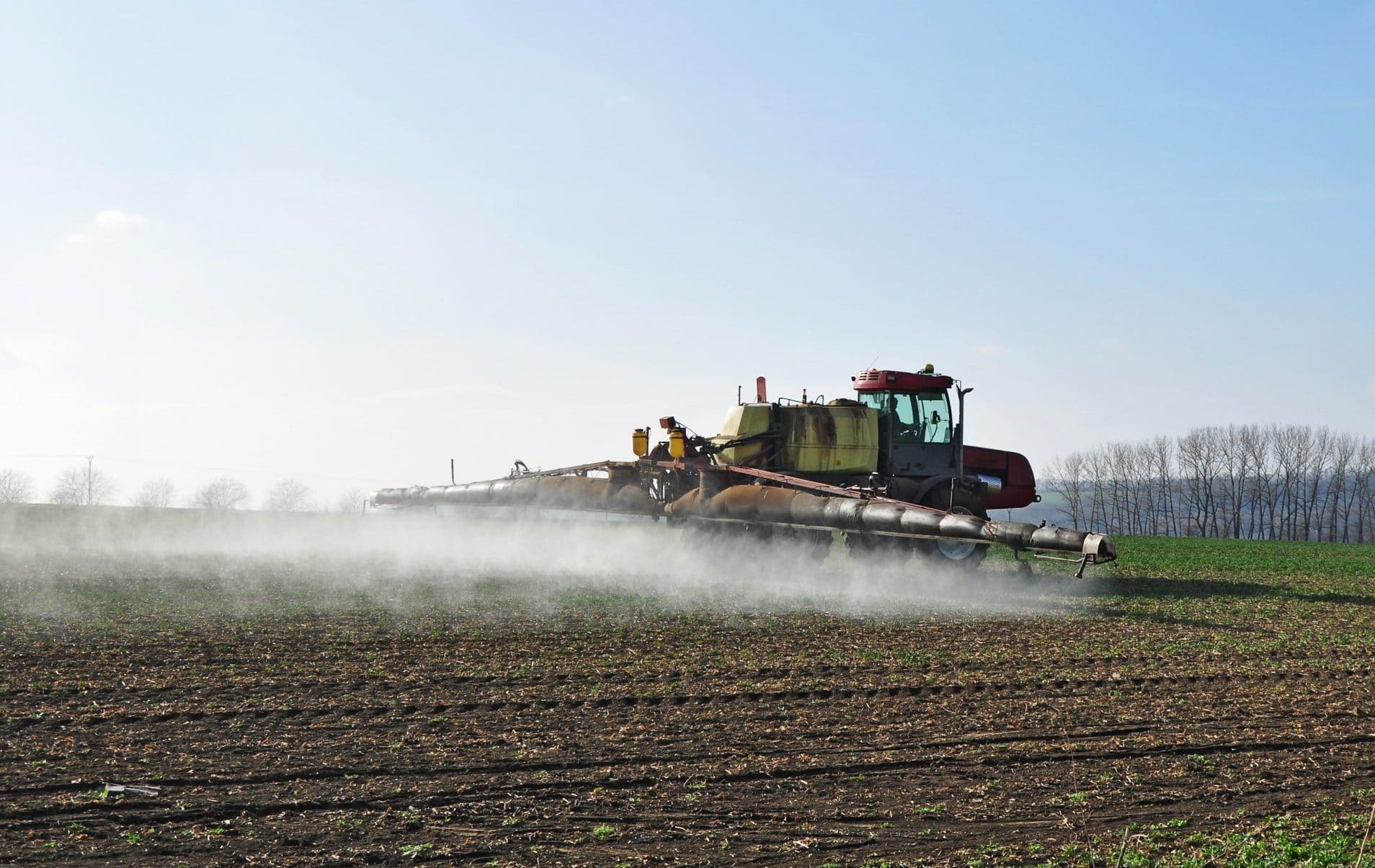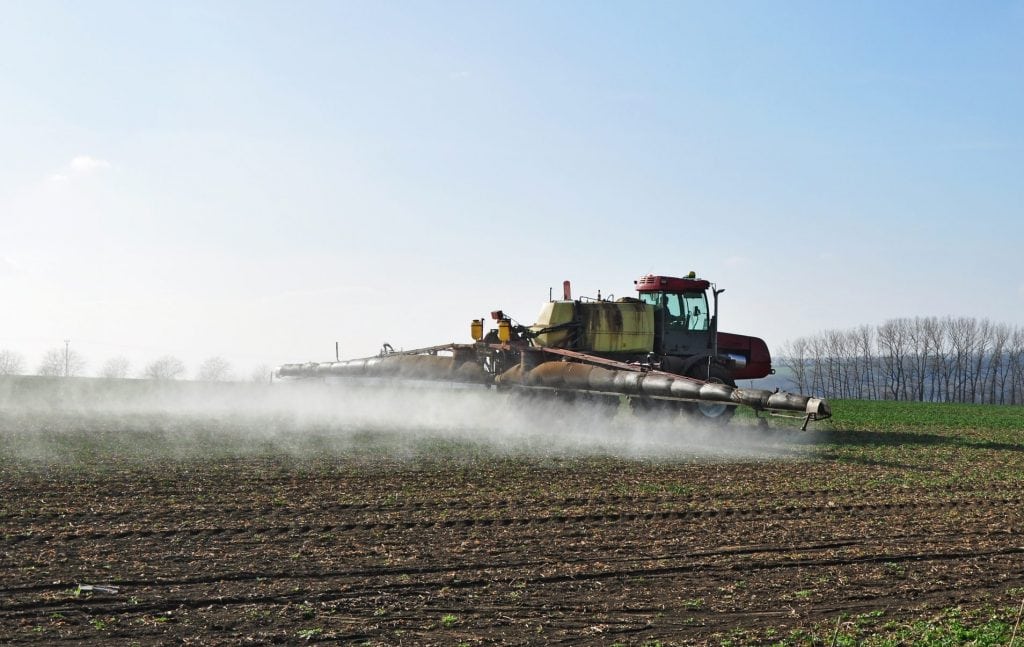 "Under the chemical approach to growing plants, it's 75 years max before you've destroyed the soil," says Ingham. This could lead to forced migration as farmers seek more fertile lands. According to the UNCCD, 135 million people are at risk of displacement due to desertification. This is already apparent in Mexico, where every year between 700,000 and 900,000 people leave their rural drylands to seek agricultural work elsewhere. 
The massive industry behind inorganic fertilizers and the short-term gains they provide make them a powerful drug — for farmers as well as plants. Many farmers have been slow to adopt more sustainable agricultural methods, Ingham says. But now a powerful new incentive has materialized: the skyrocketing cost of fertilizer. 
Pandemic-related disruptions to the supply chain, the war in Ukraine, and the anti-competitive nature of the fertilizer industry are all factors driving the spike in prices to near-record levels. Seeking to bring relief to American farmers and reduce reliance on foreign imports, the Biden administration in March announced a grant program that aims to boost domestic fertilizer production. 
But Kathleen Merrigan, the former Deputy Secretary of Agriculture, argues that merely producing more synthetic fertilizers misses a crucial opportunity to incentivize farmers to seek out more sustainable alternatives. 
"The US should also provide support for nature-based solutions, including farming practices that help farmers reduce or forgo synthetic fertilizers, and biological products that substitute for harsher chemical inputs," she wrote for The Conversation. 
During his motorcycle journey, Sadhguru secured pledges from 74 countries to increase the organic content of their soils through more sustainable farming practices. These include composting, raising crops and livestock together, and tilling less. (With just one tilling event, says Ingham, "[you] slice and dice and crush and destroy 50 percent of beneficial content in soil," and leave it more vulnerable to erosion by wind and rain.) All of these practices will help increase the levels of organic matter present in agricultural soils, reversing the process of desertification.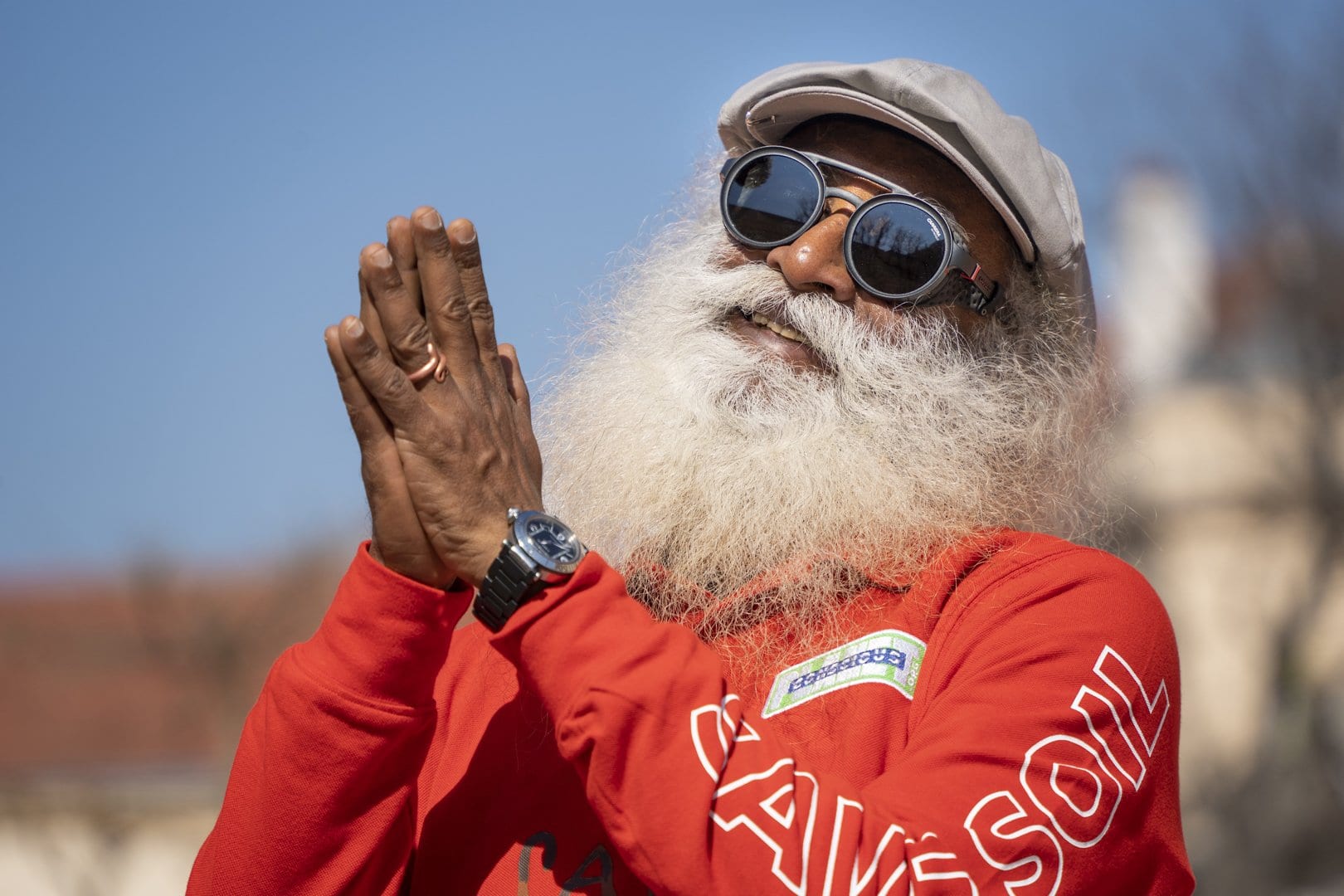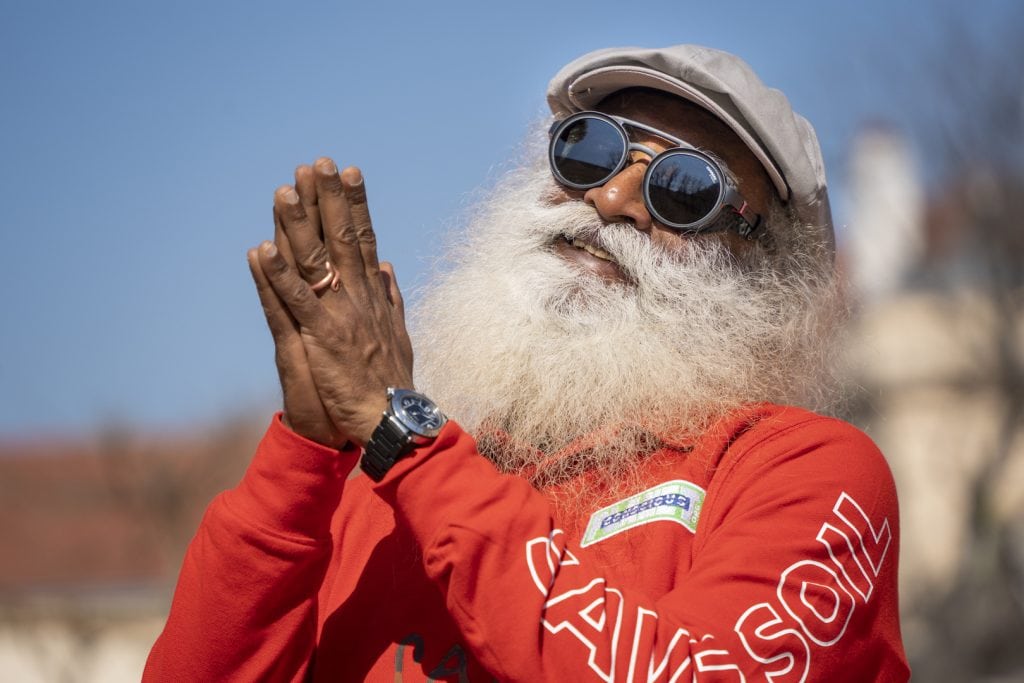 "Enshrining long-term soil health and biodiversity in national policies is vital," says Sadhguru. "If soil degradation does not stop, the planet will not be conducive for human beings to live on … The next 25 years are going to be crucial in terms of what kind of corrections we make."
To maintain the momentum behind his Save Soil campaign, Sadhguru will travel to the US, South America and several Caribbean nations this year. There he will continue his awareness-raising efforts and push for government commitments to improving soil health.
"One day of shouting, sloganeering and crying will not do," he says. "This needs relentless commitment."