Steven Mouritsen grew up about 10 miles outside of Boise, Idaho, and spent a considerable amount of time nestled among the Ponderosa Pine along the Payette River, fishing for rainbow trout.
So when Mouritsen, who is incarcerated at the Idaho State Correctional Center, was given the opportunity to reconnect with nature as part of the Sagebrush in Prisons Project, the 32 year old signed up in the blink of an eye.
"We don't typically get outside a lot," he says. "So to work with plants, get our hands dirty, it's a real good experience. I've always been into the outdoors, botany and hunting."
Mouritsen is among hundreds of prisoners across eight states, including California, Oregon and Nevada, who are restoring sagebrush, a threatened keystone plant that plays a crucial role in United States ecosystems. Led by the Institute for Applied Ecology, a nonprofit, the initiative has since 2014 provided saplings to the Bureau of Land Management (BLM), a federal agency, to replant in lands scarred by wildfire — in particular the habitat of the greater sage-grouse, a chubby, ground-dwelling bird known for its spellbinding mating dances. 
While sagebrush, typically found at elevations of 100 to 7,000 feet in areas with little rain, is incredibly tough, its seeds are tiny and aren't particularly resilient. After a fire, it can take 30 years for sagebrush to regrow. In the western US, where the average annual area burned in large forest fires grew by about 1,200 percent between the 1970s and the 2000s, sagebrush coverage has halved.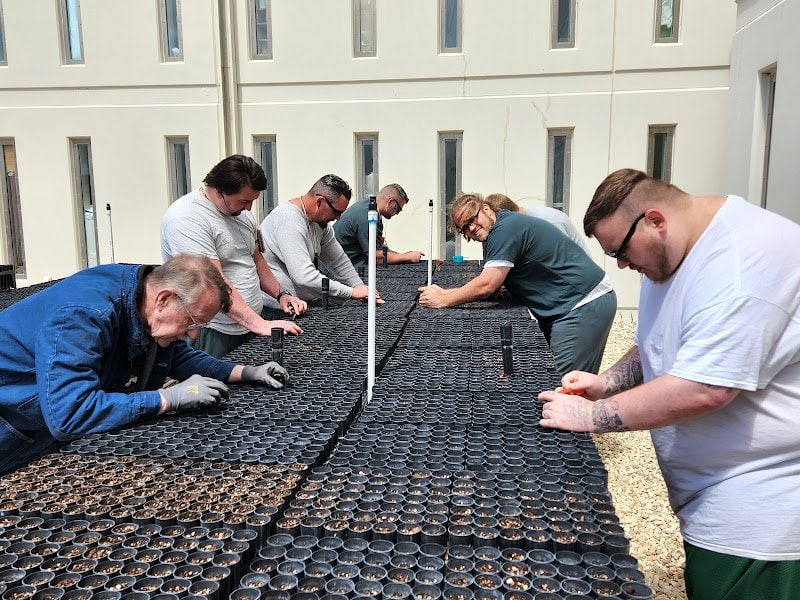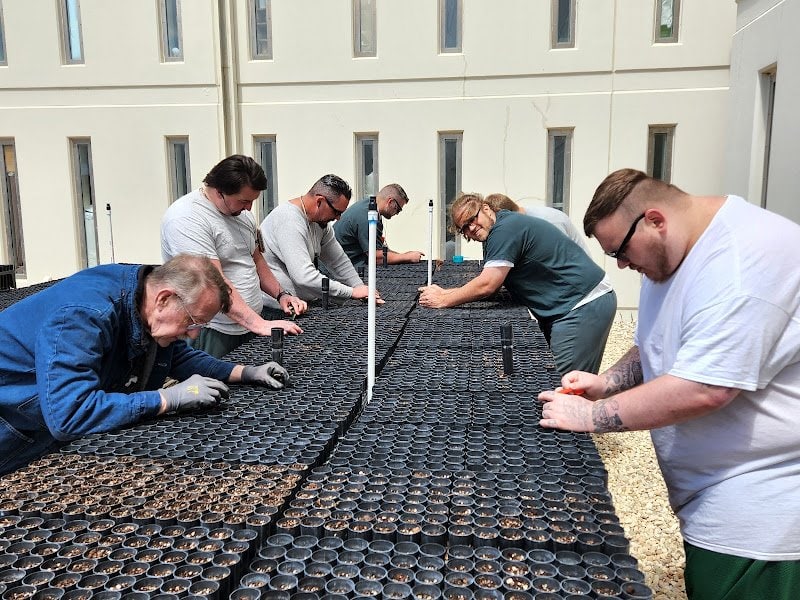 "We struggled in the BLM to get shrubs established on our wildfire areas," says Holly Hovis, Sagebrush in Prisons coordinator and a former BLM botanist. But Hovis says the success rate of planting the program's saplings is 75 percent versus the 25 percent obtained from simply sowing seeds. 
In the first year of the program, participants at the Snake River Correctional Institution in Oregon grew 20,000 plants. By 2021, prisoners at a total of 18 facilities nurtured more than 500,000 plants. They sow seeds and care for the plants, spending several hours a day feeding, watering, weeding and keeping track of plant health. (In the past, diseases have hampered the scheme).
Meanwhile, the Sagebrush in Prisons Project also provides opportunities for incarcerated adults to cultivate team building and horticulture skills, hone an interest in ecology, and improve employability. "The residents are extremely hungry for any kind of education," Hovis says. "It can be life-changing for them."
Work and leisure time opportunities for incarcerated people in the US are usually extremely limited, according to Aaron Littman, assistant professor at UCLA School of Law. He has litigated class actions challenging solitary confinement and inadequate mental healthcare in prisons, problems that have only been compounded by pandemic-related restrictions.
"They're generally not free to participate in the labor market, take jobs, classes and programs," he says. "I think that to the extent these programs are voluntary and safe, I think it's a good thing that they are offering it. It gives purpose to a day that can be full of idleness and it can come along with privileges such as sentencing credit."
Research suggests that the failure to deploy incarcerated people for work more widely is a huge missed opportunity. More than 650,000 prisoners are released every year in the US, yet the lack of employment for that demographic costs between $57 billion and $65 billion annually in lost economic activity, according to a 2010 study by the Center for Economic and Policy Research. In addition to skills-building, campaigners say there must be policy change to reduce barriers against employing formerly incarcerated people.
The Idaho State Correctional Center, which has a capacity of around 2,000, is expected to produce 60,000 sagebrush plants this season, which runs from roughly April to October. "It's a great opportunity for our residents," says David Mehlhaff, the education program manager. "There's some exposure to the outside world that really is helpful in keeping them grounded and better prepares them for re-entry and getting back into society."
While neither the center nor the Institute for Applied Ecology has studied the project's impact on recidivism rates, research by the California-based Insight Garden Program offers insight. IGP, which combines vocational gardening with an educational curriculum inside prisons, found that less than 10 percent of its participants from 2003 to 2009 returned to prison (compared with a national average of 55 percent). It calculated an estimated $40 million savings for the state of California, based on the average cost to incarcerate a person when the study was done in 2011.
Crushed by negative news?
Sign up for the Reasons to be Cheerful newsletter.
There can be benefits for staff, too. Ambrose Richardson, education lead at the South Boise Women's Correctional Center, says being involved in meaningful education gives him job satisfaction. "It makes it easier to come to work each day," says Richardson. "To see how much it means to the residents, the interest and passion they show. It's been very rewarding to be a part of it."
Yet there can be huge variation in the needs and challenges of various facilities. The South Boise Women's Correctional Center, a low-security prison with a capacity of about 300, has fewer staff to help and a much quicker turnover of prisoners. "The population is much more short term, so getting people to commit is an issue," says Richardson. "They might not be there for the whole growing season."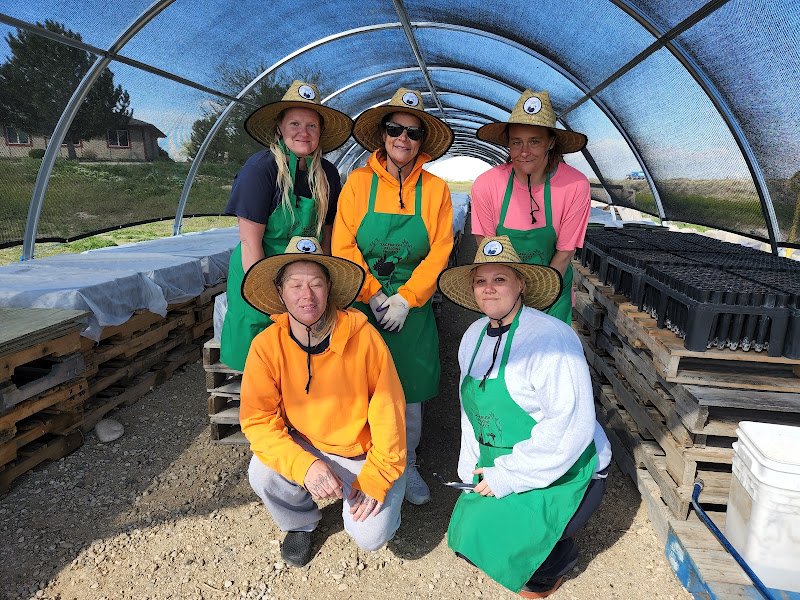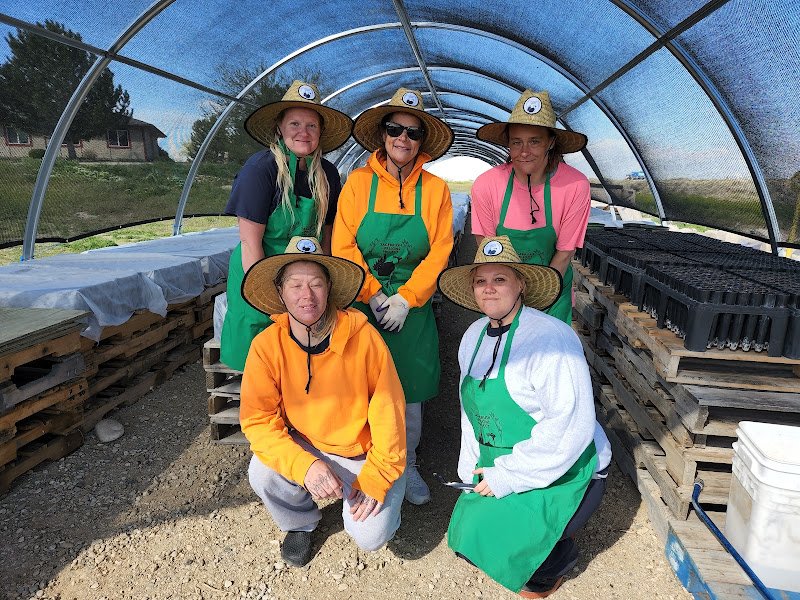 Littman believes it's important to consider the terms on which these programs are offered to guard against the risk of exploitation. California, he says, uses incarcerated people to fight wildfires, which can be dangerous, and often they aren't fairly compensated by the state for their labor. "People might do it under exploitative conditions, even if it's a voluntary program," he says. Other programs, he adds, may have very few transferable skills, such as building license plates. 
The majority of Sagebrush in Prisons participants are unpaid (there are occasional treats like pizza). But two leads — of which Mouritsen is one — are paid 40 cents an hour, a standard rate for prison work that is nonetheless not without critics. But for Mouritsen's part, he says, "It gives an opportunity to grow or learn from this program. It's nice to know we're making a kind of difference."
Hovis argues that the Sagebrush in Prisons Project offers hope for incarcerated people across the nation while providing a vital, underused resource to protect landscapes increasingly embattled by climate change.
"It's all completely voluntary by the inmates, and there's usually a waitlist for people to join," she says. "They get so much peace of mind, stress relief, and the chance to work with, not against, their peers. I can't think of any downsides."