Kay Bromley hadn't done any volunteering since she worked in her local thrift store after high school. But when the IT specialist, now 34 and with two children, came across an opportunity to work remotely from Robinson Crusoe Island, 672 kilometers west of San Antonio, Chile, while also volunteering in the local community of 900 residents, her instincts urged her to go for it.
"I'm so used to working my office role and staying in my little career box, that I was really shocked with just how transferable my skills really are, especially when it came to improving some of the islanders' knowledge," reflects Bromley, who is based in Hastings, UK.
Along with 15 others, Bromley was selected by tech company Lenovo for its Work for Humankind initiative on Robinson Crusoe. The volunteers hailed from different countries and workplaces; they included sustainability analysts and strategists from Brazil and Germany, an animal welfare lecturer from Mexico, and a research scientist from the US. 
For eight weeks, the newly minted change-makers left behind their lawn mowers, shopping lists and Amazon deliveries to identify endangered seabirds and help local school kids connect to the internet, all while continuing to do their jobs — and collect their salaries — from back home. Bromley says she was "blown away" to get an opportunity to explore disconnectedness on a small island with minimal technology.
"The first thing that hits you, before you even arrive, is just how remote it is. You're flying on a tiny eight-seater plane for two hours, and from about 20 minutes in, there's no land in sight until you start catching glimpses of the island," she recalls. "Even once you touch down, there's still another 30-minute boat ride to actually reach the town."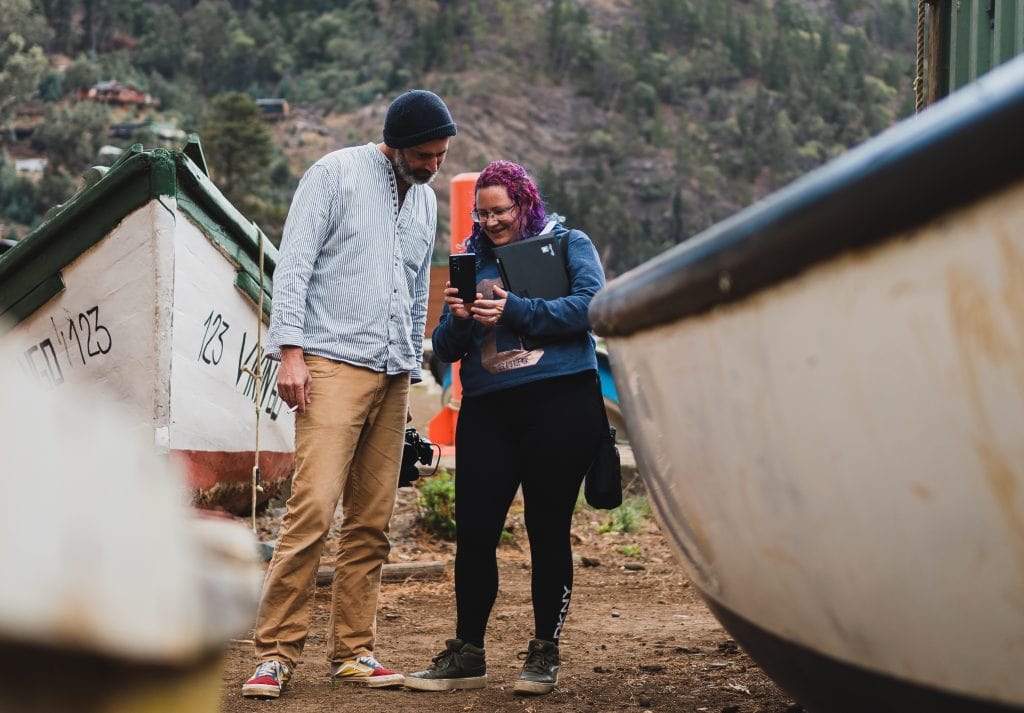 In a recent global study of 15,000 people across 10 markets, Lenovo found that 61 percent deemed giving back and making a positive impact on the local community they're working from as "very important." Meanwhile, in a recent Lonely Planet and Fiverr survey of 1,400 people, half of respondents said they had become "anywhere workers" over the past two years, and almost all planned to continue working remotely and traveling for at least another six months.
That data prompted Work for Humankind, and Lenovo isn't the only company tapping into these shifts and creating innovative ways to combine remote work and volunteering. 
"There's a growing global desire among knowledge workers across industries to work from anywhere, while doing good. Our research highlights the benefits of remote work that go beyond benefiting individuals in saving money and having a better work-life balance, as respondents also recognize the societal benefit," says Emily Ketchen, a Lenovo vice president and chief marketing officer.
Crushed by negative news?
Sign up for the Reasons to be Cheerful newsletter.
Search engine company Ecosia offers team members an opportunity to visit one of its partner tree nurseries for a week. (The company uses profits to fund tree planting around the world.) Assisting "tree teams" in monitoring the impact on the local environment and communities, participants typically use half the trip as work days, and cover half with annual leave. 
Meanwhile, Venture With Impact is a company that facilitates work-and-volunteer packages in Thailand, Colombia, Portugal and Mexico. A matchmaker of sorts, Venture pairs remote workers with nonprofit partners based on the former's skills and the latter's needs. They've "placed" people from all over the corporate world with experience in tech, marketing and business to support sectors such as health, education and human rights.
Collaborating for real impact
Combining remote work, travel and volunteering is a "great idea," says Judy Kepher-Gona, founder of the consultancy Sustainable Travel and Tourism Agenda, but she worries that the trend could take off without appropriate guidelines and ruin communities. 
Kepher-Gona, who is based in Nairobi, Kenya, recently appeared in The Last Tourist, a documentary highlighting the negative impact of over-tourism as well as "voluntourism," or tokenistic volunteer programs aimed largely at entertaining tourists.
"The risk is how do we manage touristification of new places frequented by remote workers. Worse still is the risk of gentrification. Volunteerism benefits places if the need of hosts is identified in advance and matched with volunteers. Otherwise it only satisfies the volunteer," Kepher-Gona explains.
The biggest challenge, she elaborates, is how to make volunteering transformational, given the short amount of time some participants might stay in one locale. 
"'Voluntourism' is often about what tourists can give, not what the community needs," says Kepher-Gona. "I don't see how one staff member of an organization staying in a place for a few months can make any transformational impact unless their efforts are strategic, meaning they work within existing structures, institutions, policies and systems."
Volunteers, she argues, largely don't do this. "They often come with their own mind and their own programs, and rarely make an effort to understand the space and context in which they are operating."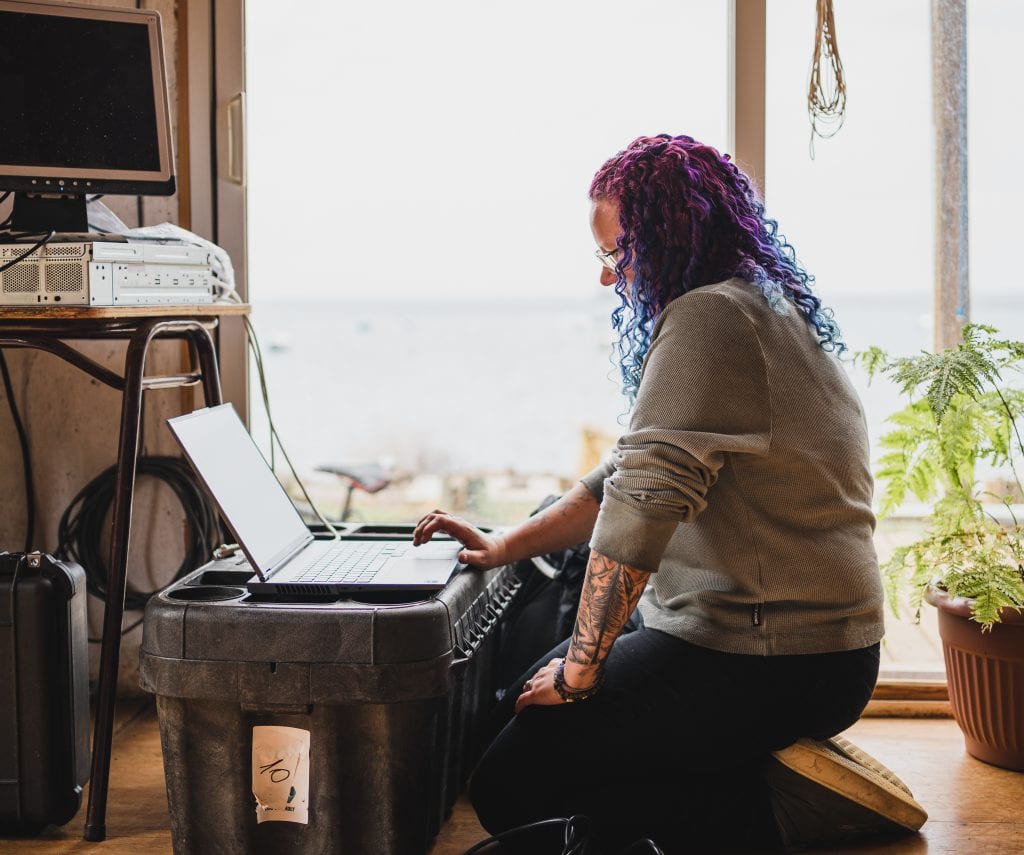 Boundless Life co-founder Marcos Carvalho has seen The Last Tourist, and Kepher-Gona's perspective echoes as the family-focused travel company is shaping a volunteering program. The idea is that guests work from abroad for extended periods, while their children take part in the Boundless Life education program. Carvalho and his team are currently considering how guests could teach their skills to refugees in the community. That could mean English lessons, or training in marketing or technology. 
Boundless Life currently offers live abroad arrangements in Portugal, Greece and Italy, with plans to expand next year. Carvalho first wants to understand how community needs can shape guest volunteering opportunities, rather than the other way around. 
"There's a massive amount of voluntary work done by tourists that's actually not adding value, and is traumatizing more than we can imagine. So we are currently identifying what the local needs are where we operate, and what trusted organizations we could support. Then we'll develop volunteering activities around that," says Carvalho.
For remote workers wanting to combine work, travel and volunteering, Rachel Dodds, a professor in the hospitality and tourism management department at Toronto Metropolitan University, recommends asking the following. 
"Does the organization make clear what arrangements it has with the destination and the specific organization you will be working with? What does the trip include? Does the organization make serious enquiries about your skills and contributions?" says Dodds, a sustainable travel author who also appeared in The Last Tourist.
Work, live, give back
Lenovo, Ketchen says, worked closely with local NGO Island Conservation to shape Work for Humankind. They sought to understand and meet the Robinson Crusoe community's goals of becoming more socially, economically and environmentally sustainable. Volunteer roles were determined by those aims, and the selection was coordinated with island leaders and Island Conservation.
"Even the length of stay was set out by the Robinson Crusoe Island community and Island Conservation as the ideal duration, marrying the ability to have a genuine impact on the community and environment, with the flexibility needed to make this opportunity appealing to the volunteer," says Ketchen.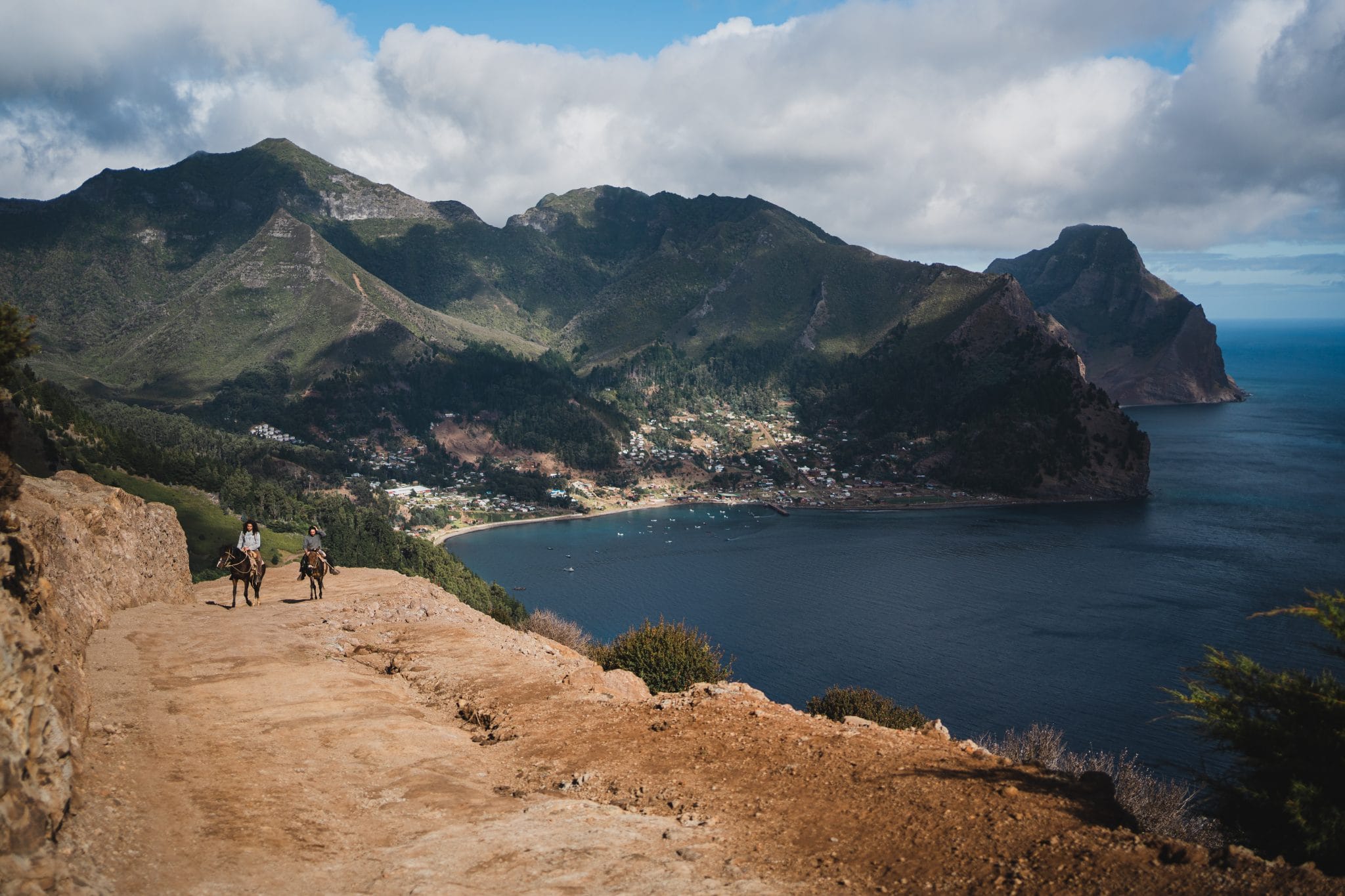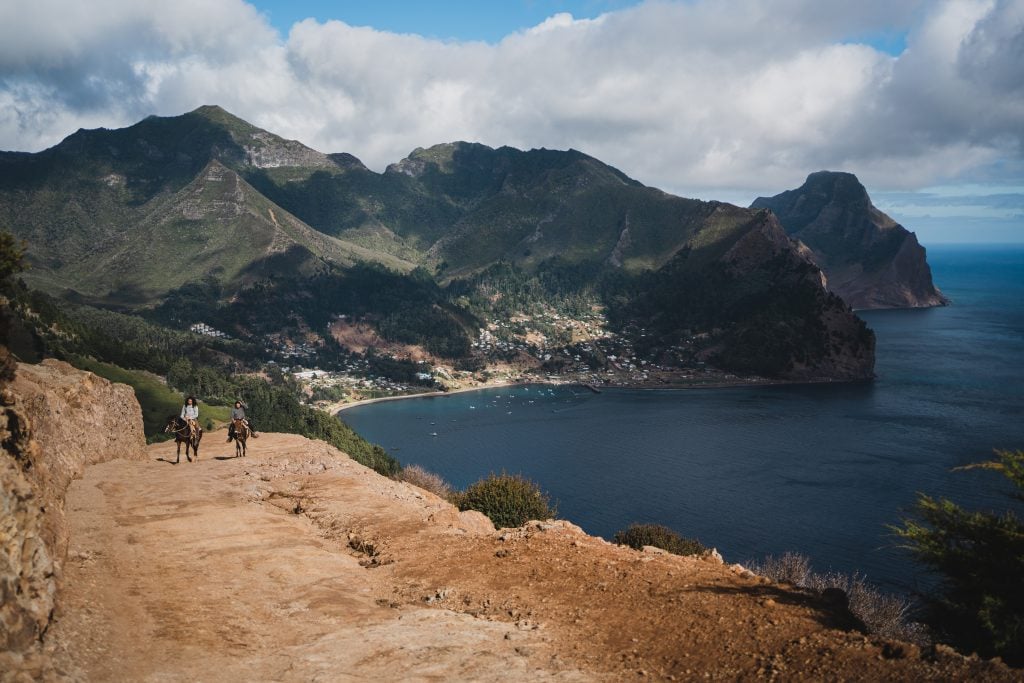 Bromley, who has been a remote worker since 2018, estimates she spent around 40 percent of her time on the island volunteering. She worked her day job in the mornings from the Technology Hub, which Lenovo set up and kitted out with computers, office equipment and high-speed internet. She'd then move on to her volunteer projects across a late, extended lunch, and return to her work in the afternoons. 
Volunteer projects on the island included capturing and processing data on its flora and fauna, including endangered species such as the pink-footed sheerwater, as well as vulnerable tree species. Bromley loved trekking through the varied terrain. "They have everything from Mars-like, dusty desert to lush rainforest," she says.
Bromley used her IT skills on other projects, such as working with the local school's administration to improve both their internet access and skills, and creating an app for the islanders to share important information. She became the town's go-to IT person, helping residents update Windows on their computers and fixing Bluetooth connections.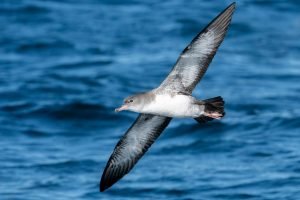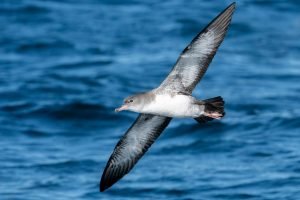 The Work for Humankind partnership made a lasting impact, according to David Will, head of innovation at Island Conservation. Prior, the NGO's staff would retrieve data manually from 70 cameras across the island by hiking long distances over steep terrain, placing the data on a hard drive, and sending it for processing and manual classification on mainland Chile on the bimonthly plane. The process took about four months. 
Work for Humankind was able to reduce this timeframe to weeks, says Will.
"We are now able to implement consistent data collection, develop manageable machine learning workflows turning camera photos into data, and provide real-time access to the data," says Will. "We have now effectively overcome the barriers we previously faced without sufficient internet connectivity, and completely transformed the way our team works."
Over the coming months, a local community-led team will use the combination of technology and quantitative modeling set out by Work for Humankind to shape a data-driven conservation strategy. After the volunteers departed, the Technology Hub assets — augmented reality smart glasses, virtual reality headsets, high-speed servers, education software, smart home devices — were moved to the local library for residents to use. While Lenovo has no plans right now to send more volunteers to Robinson Crusoe, or to anywhere else in the world, it is donating $100,000 for device maintenance, ongoing project support and continual internet access.
In a press release, Robinson Crusoe Mayor Pablo Manríquez Angulo said, "The volunteers from Work for Humankind have laid down the foundations now to really help a remote island community make a positive difference … it's over to our community to continue making significant headway, armed with new skills and their passion enlightened."
Inspired by her experience, Bromley says she'd "jump at the chance to do it again" and hopes more employers will create similar volunteering programs, in light of the rise of remote working. "Being able to make use of my skills and see a difference was just inspiring and something I'd probably never have considered doing before I took this opportunity," she says.