When India first went into Covid-19 lockdown during the sweltering summer of 2020, millions of children in rural areas found themselves without access to basic education. But deep in the drought-stricken district of Satara in the central Indian state of Maharashtra, young kids huddled around the radio sets in their homes for an hour every morning and evening. They were listening to their own teachers on programs based on their school syllabi.
This public education effort was one of several community service initiatives from Mann Deshi Tarang Vahini, a community radio station broadcasting in the region since November 2008. Though the station started with the aim of sharing the success stories of women entrepreneurs from its parent organization, the NGO Mann Deshi Foundation, it has since assumed a wide range of roles. 
Because it predates television and the internet and remains far more affordable than any other medium, radio has traditionally been a primary and credible source of news for millions of people in India. A 2018 Nielsen research report found that radio was India's second-most accessed medium, after television.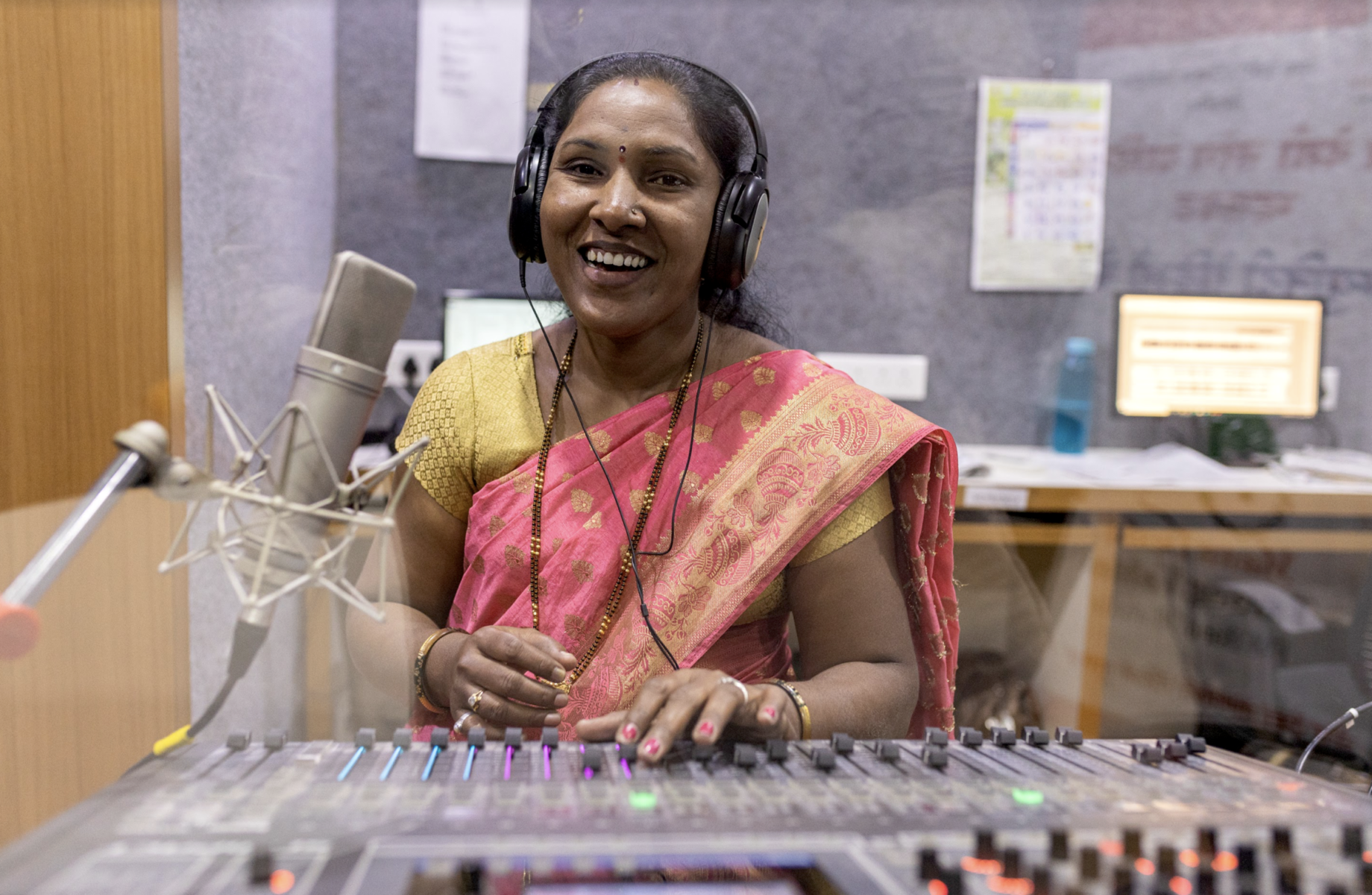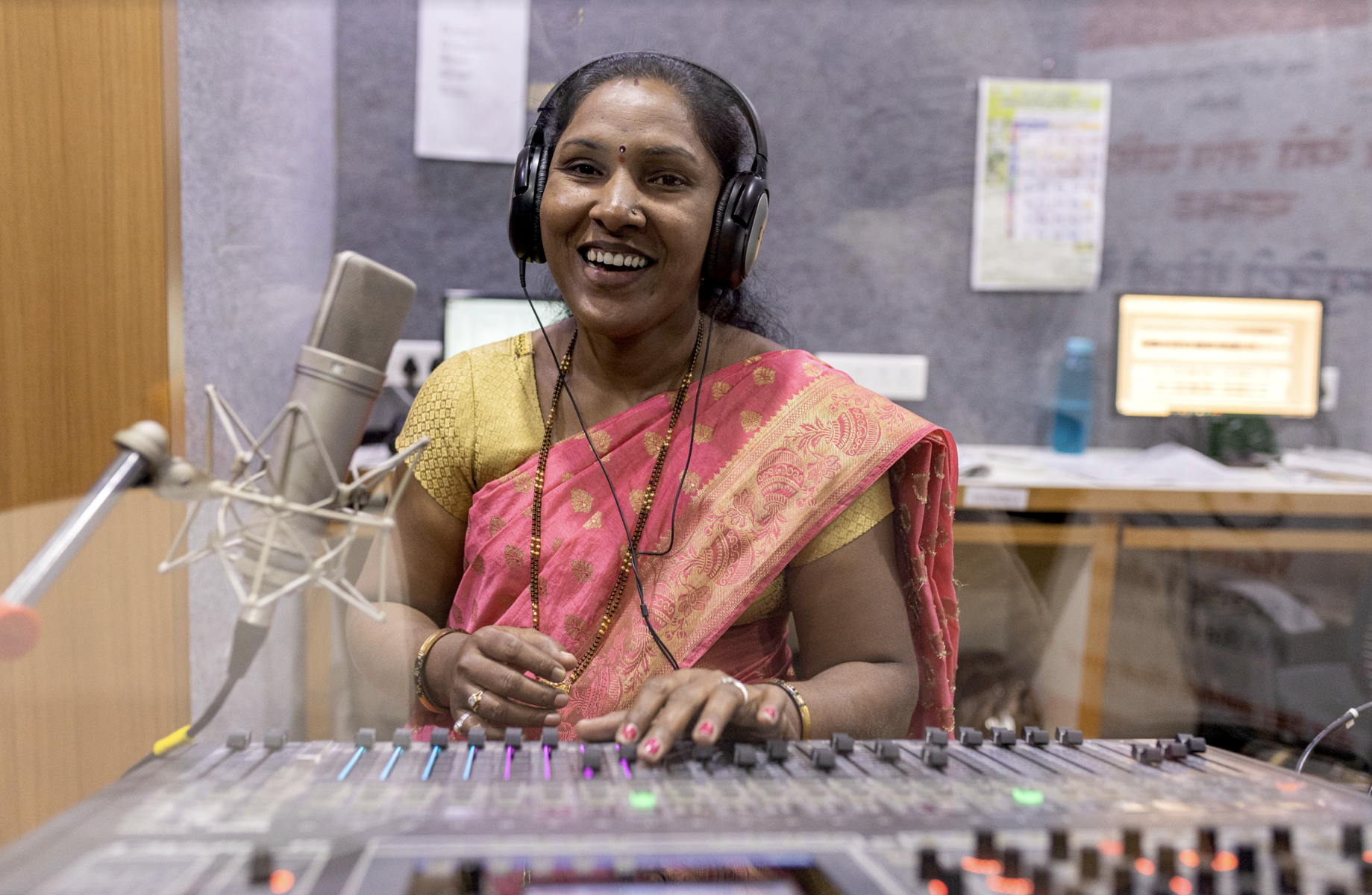 Mann Deshi represents a kind of radio that has been quietly flourishing — and enriching locals' lives — in various corners of the country: community radio. While the government-owned All India Radio often aligns itself with the political agenda of the ruling party and commercial FM radio stations focus on entertainment and bottom lines, community radio stations bridge the information gap between urban and rural audiences.
Often operated out of small rooms with basic infrastructure and a minimal, multitasking staff, these stations transmit information both relevant and important to their audiences in rural India.
Crushed by negative news?
Sign up for the Reasons to be Cheerful newsletter.
Vinod Pavarala, senior professor of communication and UNESCO chair on community media at the University of Hyderabad, says community radio came into being in India to address what he calls "voice poverty" among people living on the margins, such as the urban and rural poor, including Adivasi and Dalit folks (those from tribal communities and those historically persecuted as "untouchables" respectively).
Fittingly, when the Indian government began to give out licenses to communities to set up their own radio stations in 2008, Sangam Radio was the first to go on air. Backed by the Deccan Development Society in the south Indian state of Telangana, the station made history by being run entirely by women from the oppressed Dalit community.
Fifteen years on, over 370 community radio stations operate in districts across the country, from Koraput in constantly flood-ravaged Odisha on the east coast to Banswara in drought-stricken Rajasthan in the west. The content is always in the regional dialect — rarely heard on mainstream media — such as Bundeli or Kutchi or Marwari. This is especially significant in a country with 22 official languages, where the patois changes every few miles.
Community radio stations narrowcast to specific groups, including farmers, fishermen, tribal groups, the physically challenged and the elderly. Each station is allocated a transmitter of 50 watts that covers up to 12 miles, which in India means dozens of villages, with thousands of listeners tuning in either on their radio sets or through phone apps. The listenership varies depending on density: while Kalanjiam Samuga Vanoli in Tamil Nadu, for instance, reaches nearly 90 villages and an audience of 110,000, Radio Bundelkhand in central India has more than 250,000 listeners spread over 150 villages.
In the last decade, these radio stations have proven particularly useful during crisis situations. When cyclone Fani hit Odisha in 2019, Radio Surabhi issued warnings and alerts, urging people in danger zones to evacuate and sharing information about shelters. And during the 2013 floods in the mountainous north Indian state of Uttarakhand, three such stations set up free systems for people to call in for help and communicate with their families through broadcast calls.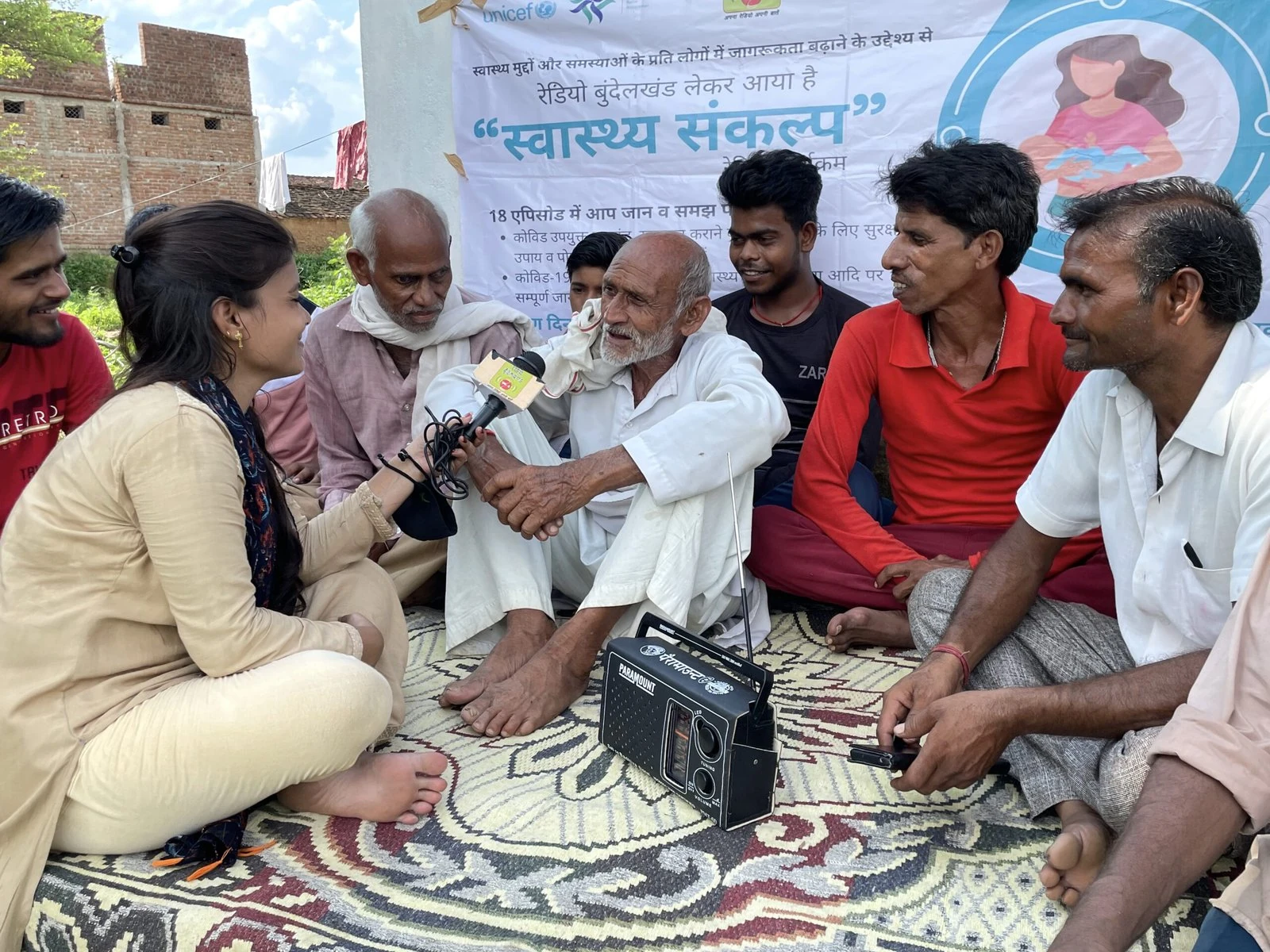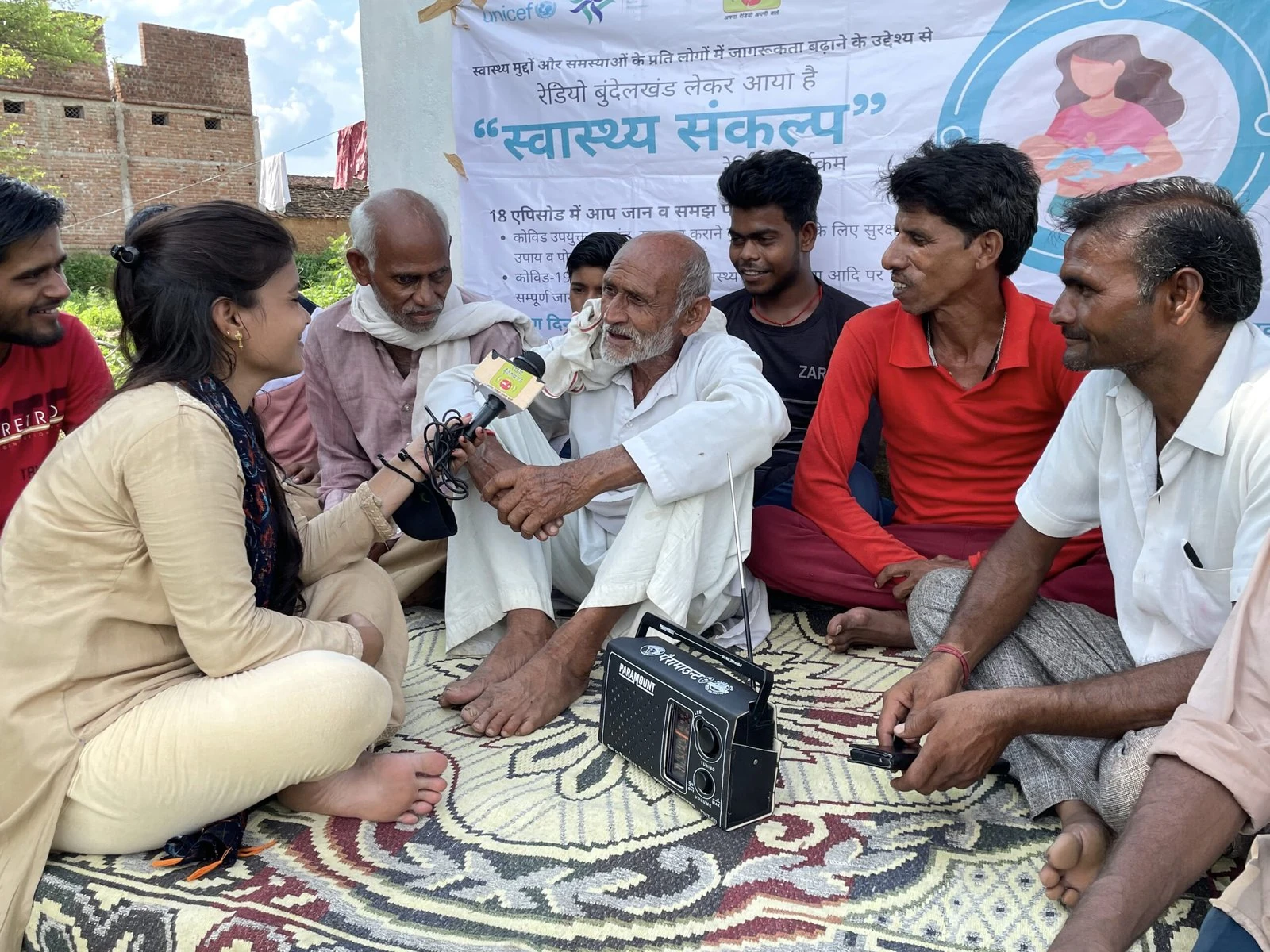 Sangeeta Saini, program lead at Gram Vaani Community Media, which provided the technology for these voice-based platforms, emphasizes the unique role of community radio in sharing hyperlocal news — including civic issues, infrastructure breakdowns, government welfare schemes and public health drives. Such local coverage can also extend to coastal agriculture and cyclone warnings, as at Kalanjiam — set up in the aftermath of the 2004 tsunami that ravaged fishing communities — and banking and saving tips for farmers and women entrepreneurs, as at Mann Deshi.
Community radio really came into its own during the stringent Covid lockdowns. In addition to broadcasting educational programs for children, various stations took on the task of explaining the concept of social distancing, urging people to vaccinate, fighting fake news and providing resources for migrant workers returning home from big cities like Mumbai and Delhi. 
"We wanted to address the misconceptions around vaccines as well as vaccine inequity," says Anagha Kamath, director of strategy, impact and innovation at the Mann Deshi Foundation. They did this by having medical experts answer calls with questions like "Can I take the vaccine if I am pregnant? Will it cause any side effects?" and by setting up vaccination camps (temporary clinics) for women.
Climate change is an important topic for community stations to cover, with content tailored to what it actually means to the audience's lives and livelihoods. Radio Bundelkhand's project executive Kirandeep Kaur says that in the region, "Sometimes there is a lot of rainfall, sometimes there is drought, and so farmers don't really know what to do any longer." Radio jockey Varsha Raikwar, who produces the climate change content on their flagship program Shubh Kal — translated literally, "good tomorrow" — was recently recognized as a young climate leader by the UN.
Similarly, increasingly erratic weather patterns have been leaving the fishermen and coastal farmers in Tamil Nadu uncertain about their futures. "We talk to them about a range of topics like soil management, solar energy, efficient irrigation methods and disaster preparedness," explains B. Muthukumarasamy, project executive at Kalanjiam Samuga Vanoli. 
Much of the content on community radio comes in the form of dramatized narrations, short plays and musical performances, to make it more interesting to listeners. Mann Deshi's most popular radio jockey, for instance, is 70-year-old Kerabai, a former farmer who now composes and sings songs on topics from superstitions to civic issues.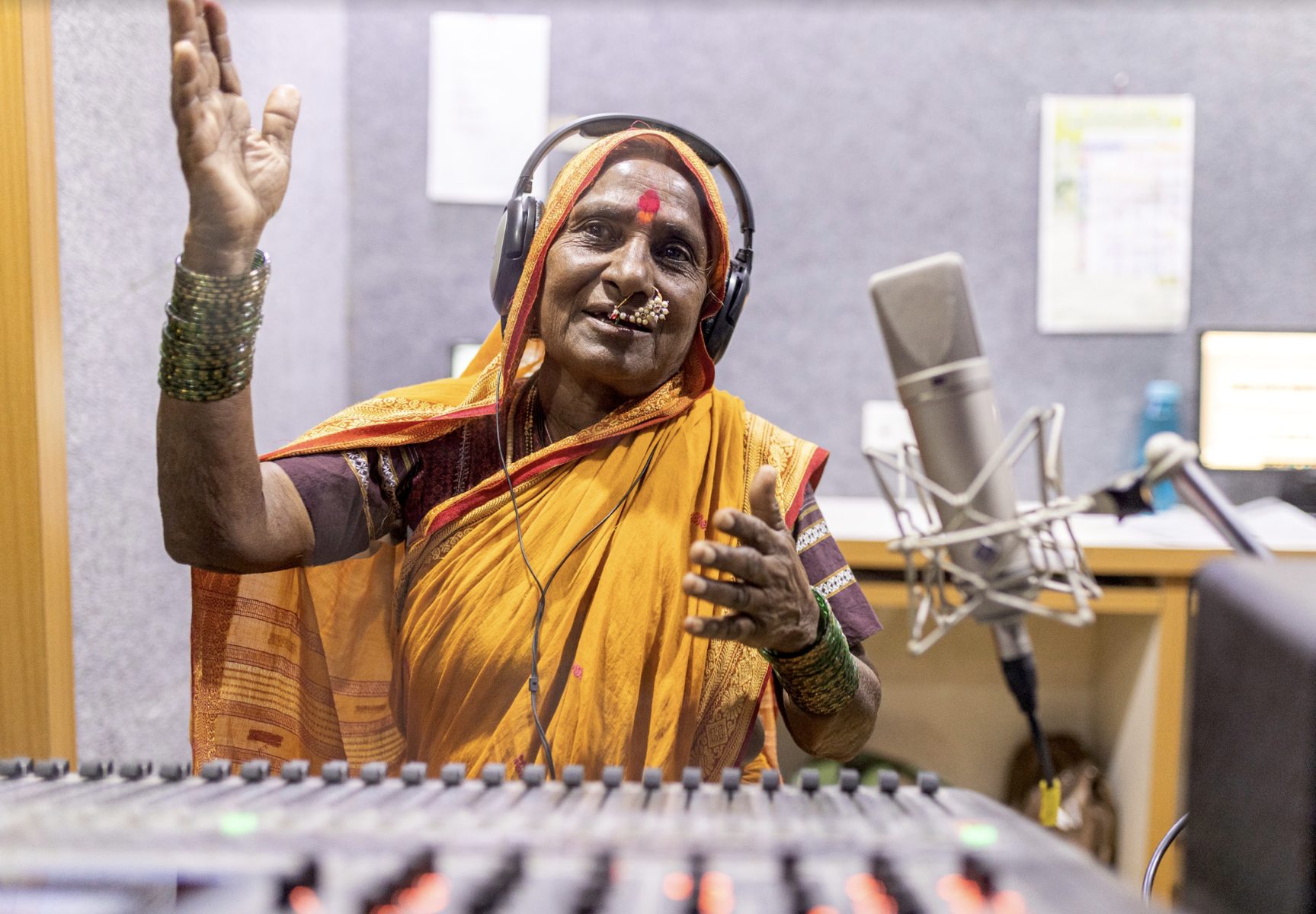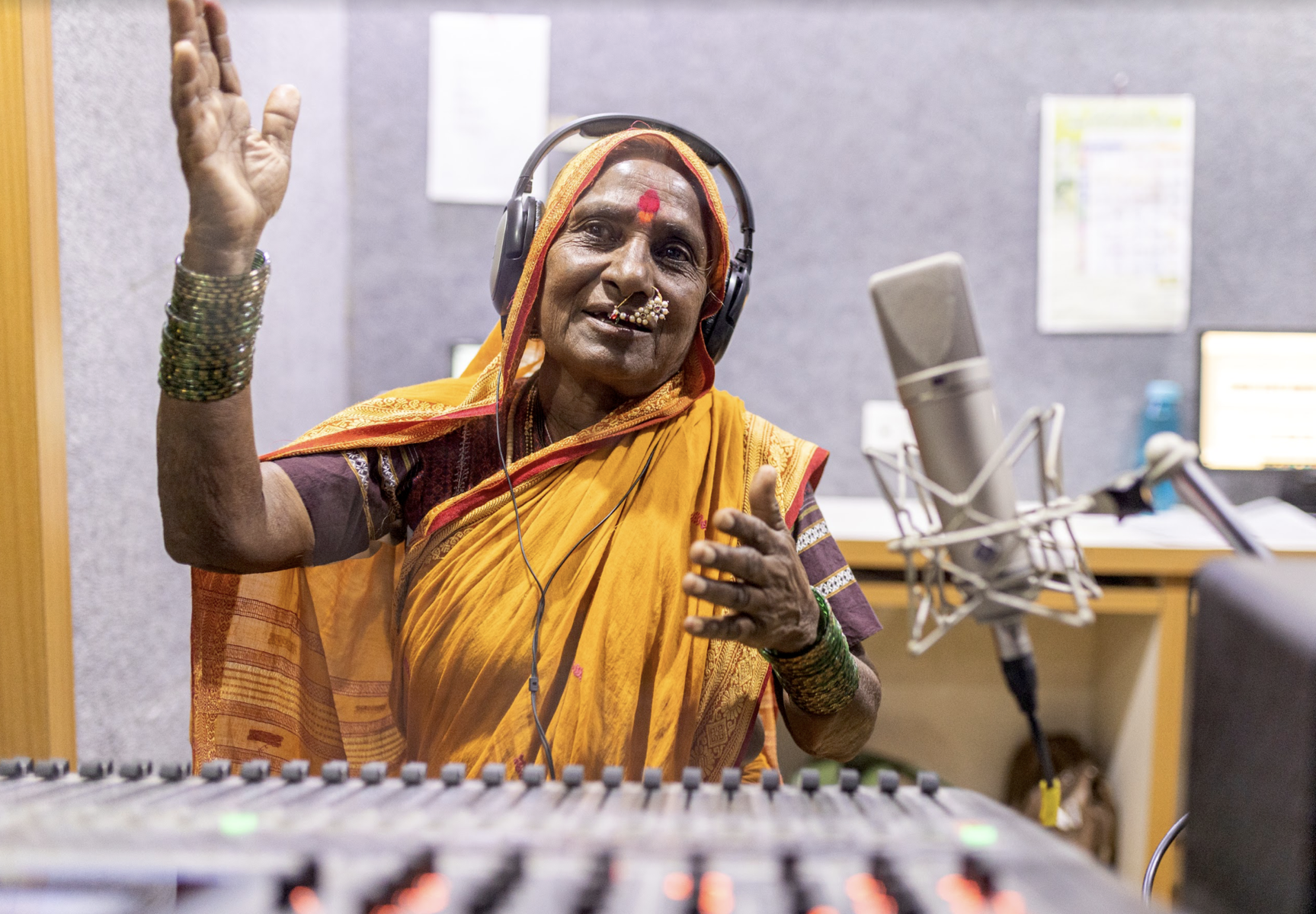 Community stations also hold regular Q&As with experts in farming, banking, health, women's rights, government schemes and other topics. According to Kaur, Radio Bundelkhand often gets calls from listeners who say they have tried everything (to solve their problem) and don't know whom to turn to. 
Almost all these stations rely on a skeletal staff of locals, with employees learning on the job to interact with community members, conduct interviews, create and edit content, and very often, also manage impact surveys. Young local volunteers often help out in the field, which enhances trust and credibility, and makes community stations what Mann Deshi's senior journalist Anup Gurav describes as "radio for the community, by the community itself." 
There are, however, barriers for small groups wanting to set up their own stations, including tight governmental controls, requiring several rounds of approvals from different ministries. And there is the question of financial sustainability: since the stations are typically backed by a local NGO or nonprofit group, funds are constantly tight and revenue streams thin; although advertising is legally allowed, there are few takers in these impoverished areas.
Despite these limitations, India's community radio stations have managed to not just provide access to information on themes relevant to their specific audiences, but also instill a sense of pride and ownership among remote communities. 
As Pavarala puts it, while direct impact is difficult to measure, community radio is becoming a space "where people on the margins can go tell their own stories to others like them."