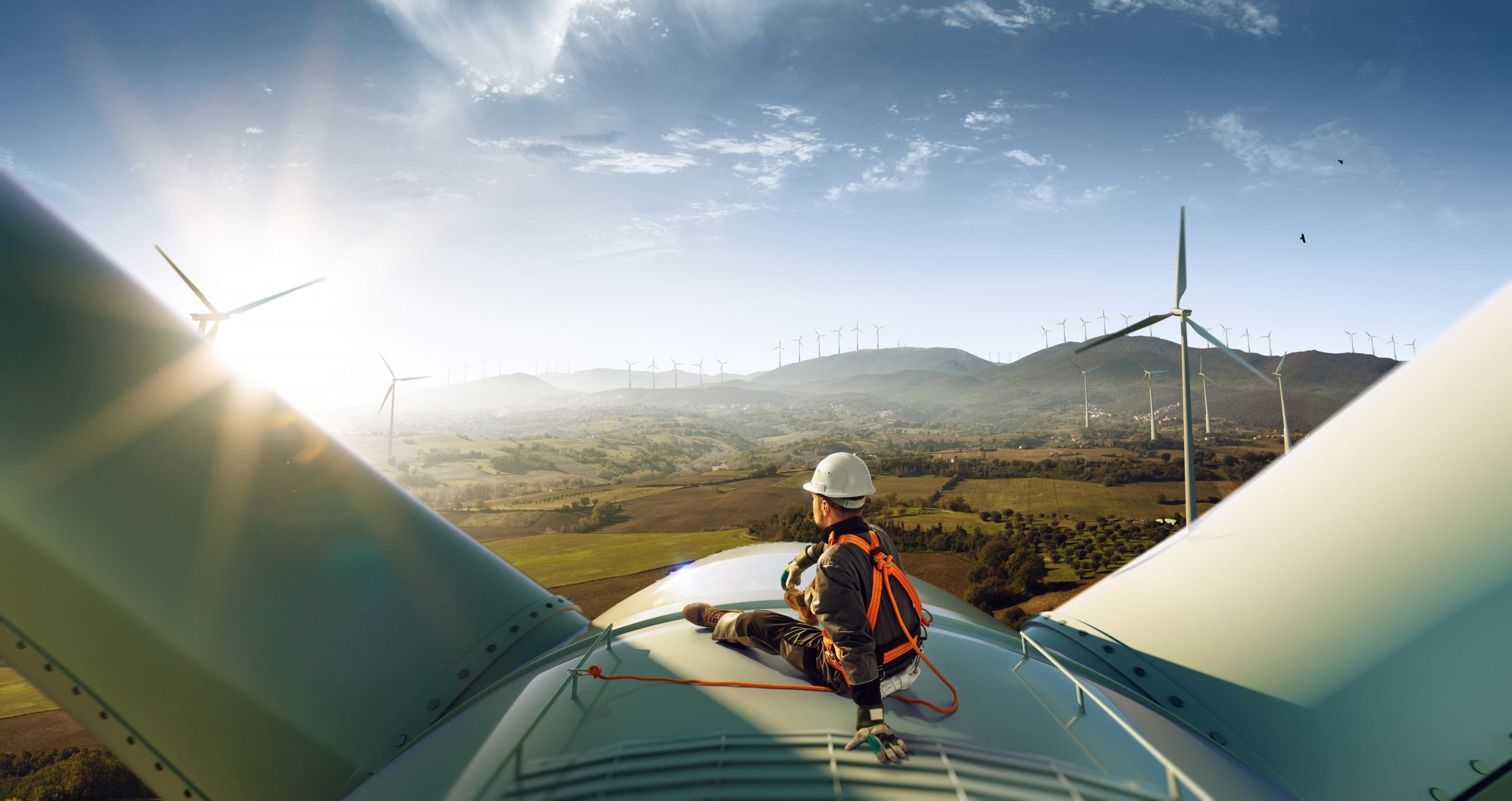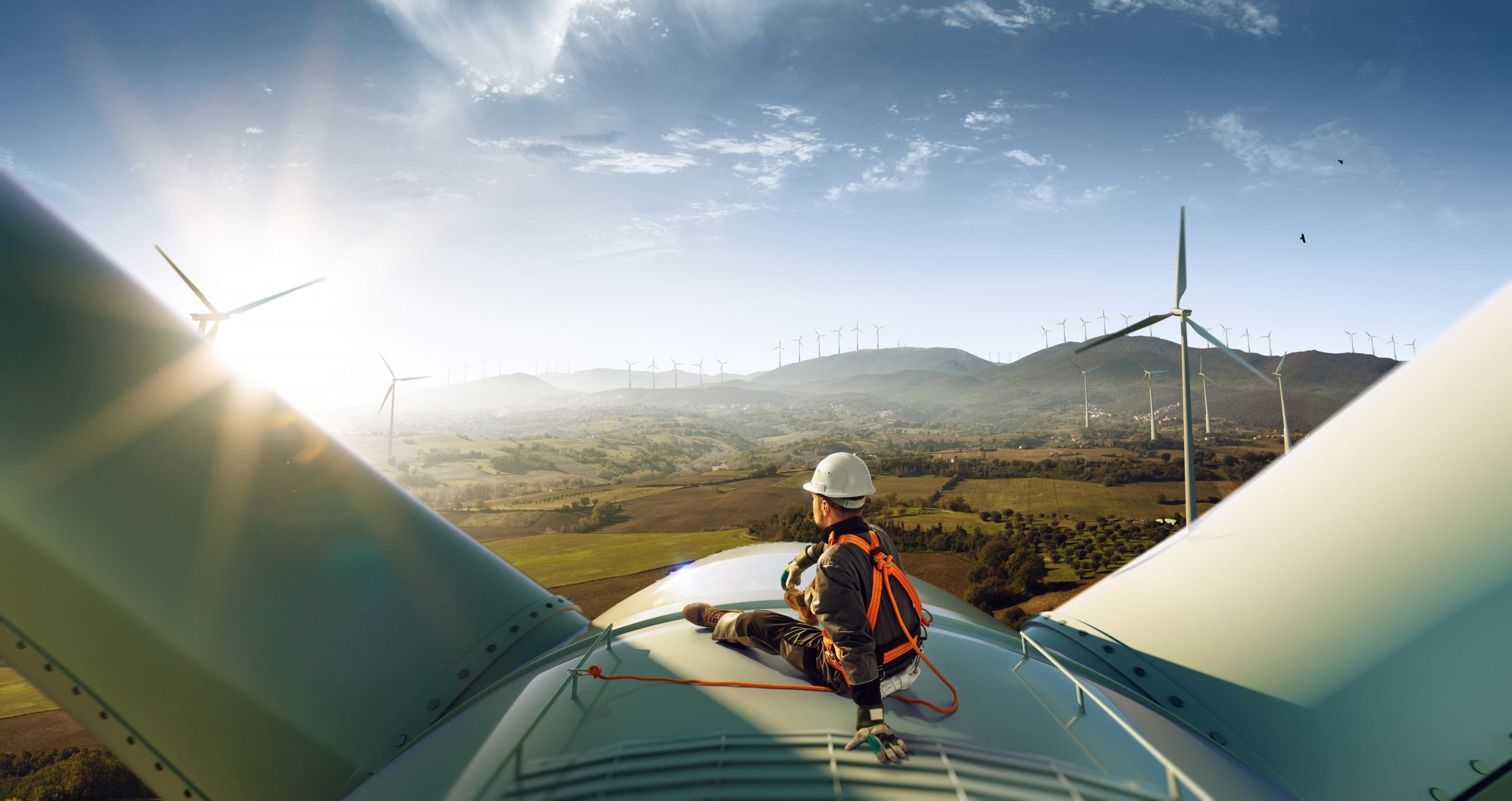 This story is part of The New Climate Economy, a series about how the Inflation Reduction Act is accelerating investments in climate action. It is produced in partnership with Nexus Media News.
This article originally appeared in Nexus Media News.
As a child, Cora Saxton liked to make things: forts, whittled wood carvings, a flying saucer even, so when she became an electrician, at 49, it felt like a perfect fit.  
"I like the puzzle-solving and being able to look back at the end of the day and see the physical result of your hard work," she said.
This made it easier to bear some of the indignities — "subtle challenges," she called them — of working in an overwhelmingly male field. "Little stuff, like people walking by you to find the boss on the job"— not realizing she was the boss, having tools and ladders taken out of her hands by pushy colleagues. "I call it roostering," she said. 
Saxton, who now works at the California nonprofit GRID Alternatives, thinks she had it pretty easy compared to other women in her field. She's heard horror stories about threatening notes left in lockers, tools being stolen and destroyed — "even people getting their hard hats peed in," she said.  
The trades in general and electrical work specifically are overwhelmingly male. Only two percent of electricians are women, according to the Bureau of Labor Statistics (BLS). It's also a sector facing a massive labor shortage as the country looks to transition away from fossil fuels and toward electrifying cars and buildings. 
According to Rewiring America, an electrification nonprofit, the United States will need one million more electricians to make updates like installing solar panels, heat pumps and electric vehicle charging stations to help the country meet its climate goals. 
That is a lot of job opportunities for something so badly needed.  As author and journalist Bill McKibben put it in an interview with the New York Times: "If you know a young person who wants to do something that's going to help the world and wants to make a good living at the same time, tell them to go become an electrician."
Getting more women working as electricians would help resolve a crucial labor shortage, but it could also help close the gender wage gap. In 2021 the median annual pay for an electrician was just over $60,000, compared to around $45,000 for all occupations, according to the BLS. But some master electricians earn six-figure salaries.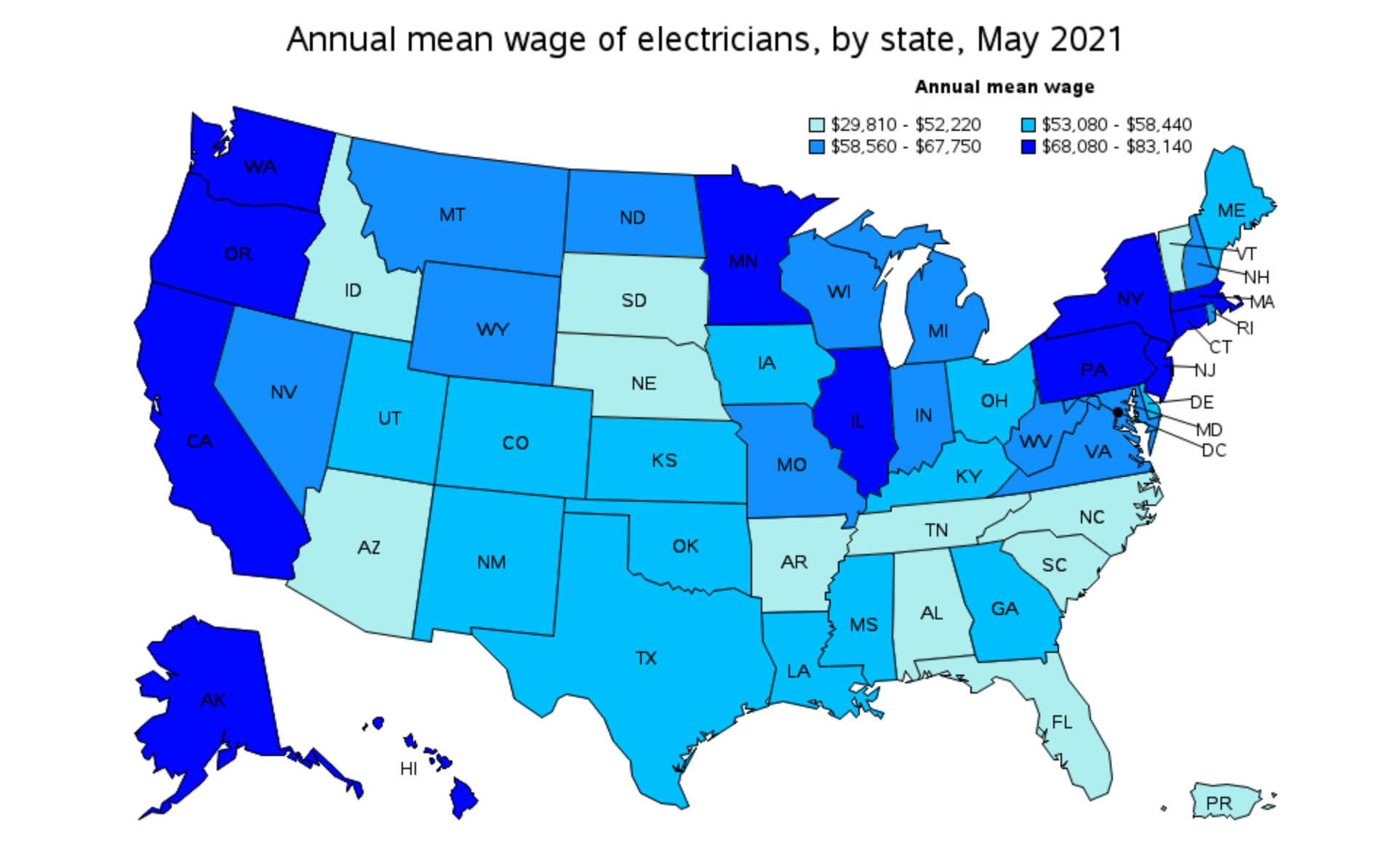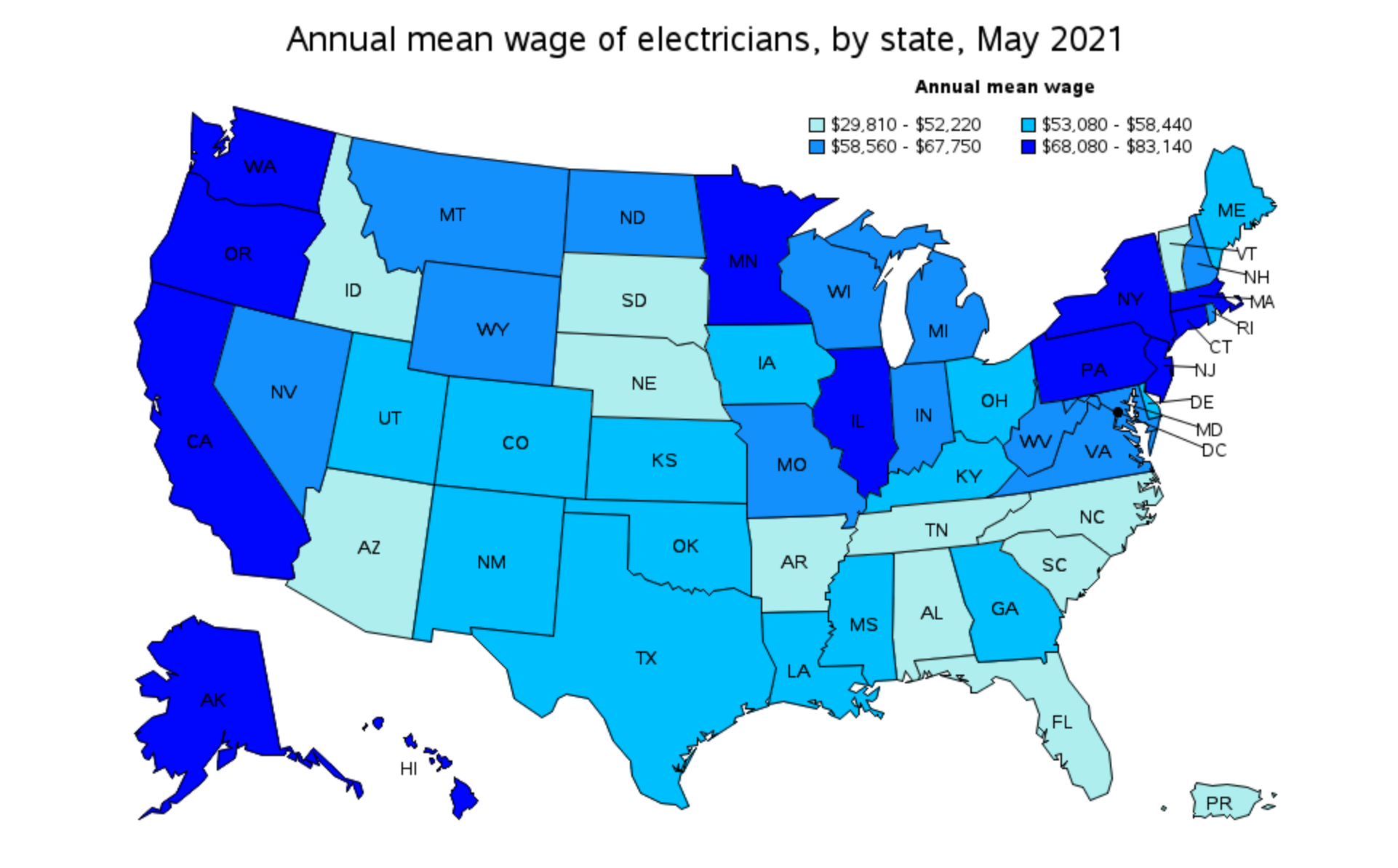 "There are 80,000 openings for electricians each year on average over the next decade just to replace workers who either retire or transition to different jobs," said Sam Calisch, Rewiring America's head of research. "That is all before the IRA" — the Inflation Reduction Act, Biden's signature climate bill, which is expected to increase demand for electricians by creating incentives for Americans to electrify their homes and buy electric vehicles. 
Experts point to a lack of investment in technical schools and a culture that emphasizes four-year college degrees as the main path to a successful career as a few reasons there aren't enough electricians to meet demand. "We don't do a good job marketing ourselves as an industry in general, but particularly with women," said Allie Perez, a plumber and founder of Texas Women in the Trades.  
Perez, who has an eight-year-old daughter, founded Texas Women in the Trades in 2013 because she was tired of being the only "young, Brown woman" in most professional settings. She also wanted to help connect more young women like herself with well-paid jobs that they might not have envisioned for themselves. "We don't share [enough] stories of women in the trades to show that they are also moms, daughters, friends and cousins and that they are able to support their families on this kind of work."
Crushed by negative news?
Sign up for the Reasons to be Cheerful newsletter.
Barriers to more women in the industry include widespread harassment and abuse, lack of visibility, exclusionary unions, childcare and a lack of support for caregivers.
"That relationship-based, white male network — hiring, retaining and training people and keeping people on the core crew from project to project is the culture at most construction companies," said Connie Ashbrook, a retired construction worker and co-chair of the National Taskforce on Tradeswomen's Issues. "If you're not friends with the boss, or if you're not friends with significant numbers of your co-workers, then you don't get to hear about the jobs."
In 2009, Ashbrook was part of a successful effort to convince state officials to invest $2 million in diversifying its highway construction workforce. Funds went toward pre-apprenticeship programs and supportive services, like childcare and human resources. Though gains in hiring more women were modest, a 2022 report on the initiative found it significantly improved retention rates. 
"This is the highest-paid blue-collar work you can get without a college degree," Ashbrook said. "Not having access to these careers keeps women in poverty."
Nontraditional Employment for Women (NEW), an organization in New York that trains and places women and nonbinary people in the skilled construction, utility, and maintenance trades, offers wraparound services as a way to retain recruits.
"Most childcare is set up to be very nine-to-five supportive," said Kate Krug, the organization's executive director.  "If you have to be out the door by 5 a.m., you have to pay someone to sit with your kids until it's time to go to school."
At NEW, students have program managers who make sure, among other things, they're ready for job interviews. "[That means asking] , do you have childcare? Do you need childcare? Do you have a backup to your childcare? Do you have backup to the backup of your childcare?" she said.
Tonya Hicks, who grew up in public housing in Mississippi, had to overcome discrimination on the basis of her gender and race — she is Black — in her quest to become an electrician. (Only about seven percent of electricians are Black, according to BLS data). 
"Women and minorities have been systematically kept out of the unions," she said. "It began as racism, and then just as time goes on, you know, people hire who they know." 
As an apprentice, Hicks was often relegated to cleaning the on-site office trailers. When she struggled to find work locally, she drove from her home in Meridian, Mississippi, to sites in Jackson and Birmingham, leaving her young son with her mother for stretches at a time.
Her endurance paid off: in 2000, at age 28, she started her own firm, Power Solutions, in Atlanta. Today she has a staff of nine that specializes in renewable energy projects and home retrofits and, starting last year, began manufacturing electrical vehicle chargers. She also runs Women Do Everything, a networking group for women in the STEM fields and blue-collar, male-dominated industries like hers.
GRID Alternatives, where Saxton works, recruits women volunteers and trainees for solar installations and offers women-only trainings.  "That may encourage people who would otherwise perhaps be intimidated or just scared to try it," Saxton said. "At the same time, we need men to be mentors and to support women.'"
The Biden administration has expressed a commitment to getting more women into the trades; in November, plans were announced to double the number of women working in the construction industry over the next 10 years. 
The IRA climate legislation offers tax incentives for contractors to hire apprentices — something experts say could help reduce women's higher drop-out rates from apprenticeship programs — and Biden administration officials have "signaled that projects that include efforts to provide good jobs to workers, diversify their workforces, and provide training will score higher in evaluations," making it more likely that will be awarded contracts, said Marina Zhavoronkova, a senior fellow at the Center for American Progress.
"As government agencies, you have strings, you can pull it in a way that you don't when it's a fully private sector project," Zhavoronkova said.
In February, the program office connected to the CHIPS and Science Act — legislation designed to boost the semiconductor industry in the US – released its first funding opportunity, which stipulates that all applicants hoping to receive more than $150 million dollars must submit a plan to provide access to child care for workers.
Hicks, the founder of Power Solutions, compared the task of transitioning the economy away from fossil fuels to the labor shortages during World War II, when millions of women took jobs in factories. Of course, after the war, many women returned to their homes. "The only difference now is that we're not going back," she said.