Photos by Dounard Bondo
On a dull May afternoon in Robertsport, Oscar Commeh readies himself to compete against the best wave riders from around Liberia in the country's national surfing championship. For most of the surfers, the conditions prove to be rather unfortunate — the big waves aren't swelling, rain is in the forecast — but not for Oscar. All day long, the waves have been breaking his way.
Emerging from the ocean in a red swimsuit with a banana-yellow surfboard under his arm, Oscar is confident that he has performed well. "I went in [other] contests and lost several times," he says, "but in this contest, I would get it."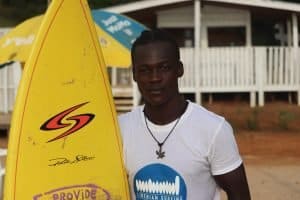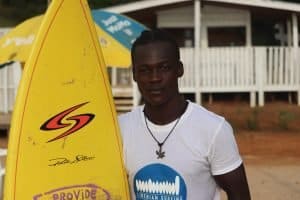 Robertsport, a small fishing town in western Liberia, is about 10 miles from the Sierra Leone border and 50 miles northwest of Monrovia, the capital city. It also happens to be home to some of the world's best waves, and has become an African surfing mecca. What used to be a beachfront getaway for wealthy Europeans is now a place where over a hundred native Liberian surfers find solace from a chaotic past. 
Between 1989 and 2003, two civil wars devastated Liberia. With over 200,000 lives claimed, they were among the bloodiest conflicts Africa had ever seen. Rape, torture and other atrocities fractured and traumatized the citizenry, among which a million people were displaced and forced into refugee camps in neighboring countries.
Even though Oscar was only a kid during the latter part of the war, he is still haunted by memories of brutalized bodies laying in the street and a forced migration into the wilderness.  
"We were sleeping in the night," he remembers. "[Frances Turay, then-mayor of Robertsport] came and said, 'Hey, we are not sleeping in this house, we are going to the mountain to sleep.'"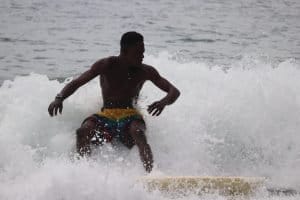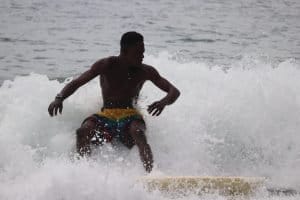 His family packed what they could and fled up the mountainside, from which Oscar "could see the soldiers entering our house. It was [unreal]." From time to time, he and his family would still come down to Robertsport to fish. But eventually his father put them in a canoe and they crossed into Sierra Leone, where they subsisted as fisherfolk until returning after the conflict ended. 
A decade later, the ebola outbreak would deal Robertsport another blow, decimating the tourism economy. "Everything stopped," says Oscar. "Most of the tourists stopped coming because everyone is afraid… I was on a scholarship, and when the [tourists] left I lost it."
According to the 2018 Household Income and Expenditure Survey, more than half of Liberians live below the national poverty line, and 68 percent of the country's poor live in rural areas where the poverty rate is over 70 percent. Sexual and gender-based violence are rife. "There is plenty of this violence," says Esther Teah, a 26 year old surfer. "Every day we get announcements on the radio against rape and SGBV [sex and gender-based violence]."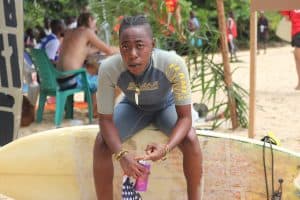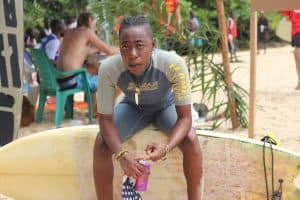 Esther sometimes sees these power dynamics play out in the ocean itself. "The guys don't want to give us a chance. Any wave we want to ride, they would get in the wave," she says. "They behave like they own the water." To help level the playing field, she's teaching other young girls to surf. She sees the sport not only as an escape from Liberia's troubled past, but as a mechanism to improve young lives in the present. "When we are in the water, what are we going to do on the streets?" she asks, adding that surfing is what keeps many young people out of a life of crime. "In the morning, some go to school and return by 2 p.m. After school you eat and get in the water, you don't leave till six, so you wouldn't be on the street."
"A lot of kids seem to surf as an outlet to take their mind off the struggle of life," says Kent Bubbs Jr., a Canadian who arrived in Liberia 14 years ago and is now the executive director of operations for Universal Outreach, the NGO that organized the Liberian National Surf Competition in May. "They also use it to create community… so kids have somewhere to go and a community they feel a part of."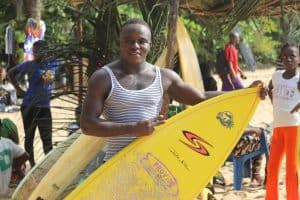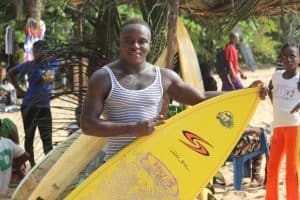 The rigors of surfing in and of itself are enough to keep kids away from violence, says Oscar. "When you are done, you go home, find food to eat, and go and rest."
Keeping children from a life of violence strikes a particular chord in Liberia, where the child soldier, wearing camouflage and holding an assault weapon, was long an emblem of the conflicts.  
Rape was also commonplace during the war, and it left such a lasting stain on the country that last year it was declared a national emergency by President George Weah. Esther and 25-year-old Irene George, better known as Butterfly, believe teaching girls to surf empowers and frees them from the oppression of being a woman in rural Liberia. 
"I feel excited, every time I am on the wave it takes me [away] from trouble and danger," says Butterfly. "Whenever I am in the waves and I am feeling stressed up, it frees my mind." 
Money remains an issue. Most of the surfers can barely afford to buy equipment, and  grants from tourists only go so far. James Brown, a 14 year old who started surfing when he was six, says advances from his father's fishing are unable to pay for both his education and hobby. What little money he can get he uses to pay other surfers to borrow their equipment. "When my dad goes fishing, he gives me money. I give [the other surfers] the money to use their boards," he says.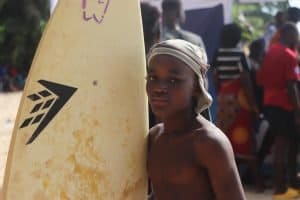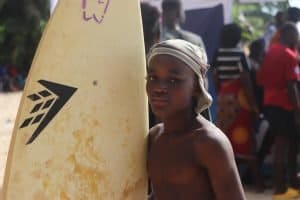 About a year ago, in an acknowledgment of the sport's positive impact on Liberian youth, the government gifted the surfers a plot of land to build a surf club. Universal Outreach, alongside a few other NGOs, has helped the Grand Cape Mount County Surf Club Association, which represents the surfers, raise over $8,700 to build the club, with a water tower and multipurpose building among the structures already completed.
Crushed by negative news?
Sign up for the Reasons to be Cheerful newsletter.
In spite of its past troubles, Robertsport retains its appeal as a tourist destination and Universal Outreach is working to capitalize on this, awarding three Robertsport surfers, including Butterfly, scholarships to a tourism and hospitality institute in Monrovia.
Oscar, who emerged first in the men's senior category in May's national championship, wants to become a surfing instructor and a journalist. And Bubbs is trying to lure the International Surf Association to visit and certify some of the surfers as professional instructors, while exploring the possibilities of having a representative at the 2024 Olympics in Paris. For now, the sport remains an escape for a scarred generation.
"I don't know how to describe it," says Esther. "Especially when the wave is long, I don't want it to end. If I am in the water, I don't even like to come onshore."