A three-story red brick building has stood in Stockholm's southern neighborhood of Hammarby Sjöstad since 1928. Once a hosiery factory, the Trikåfabriken building is the oldest remnant of the area's industrial past.
Today, atop the brick walls sit five additional stories. The facade of the upper floors is a rusty brown; steel panels are interspersed with glass windows. Inside the office building, the walls, ceilings and airy atrium show off the material used to frame this towering addition: wood.
Recent technological developments and policy changes have increased the popularity of timber for building new high-rises. Now, architects and engineers seeking ways to lessen the environmental impacts of construction are also using wood to expand existing buildings. While some eye-catching projects show off the possibilities, experts also see potential for timber additions to increase housing stock and densify cities without starting from the ground up.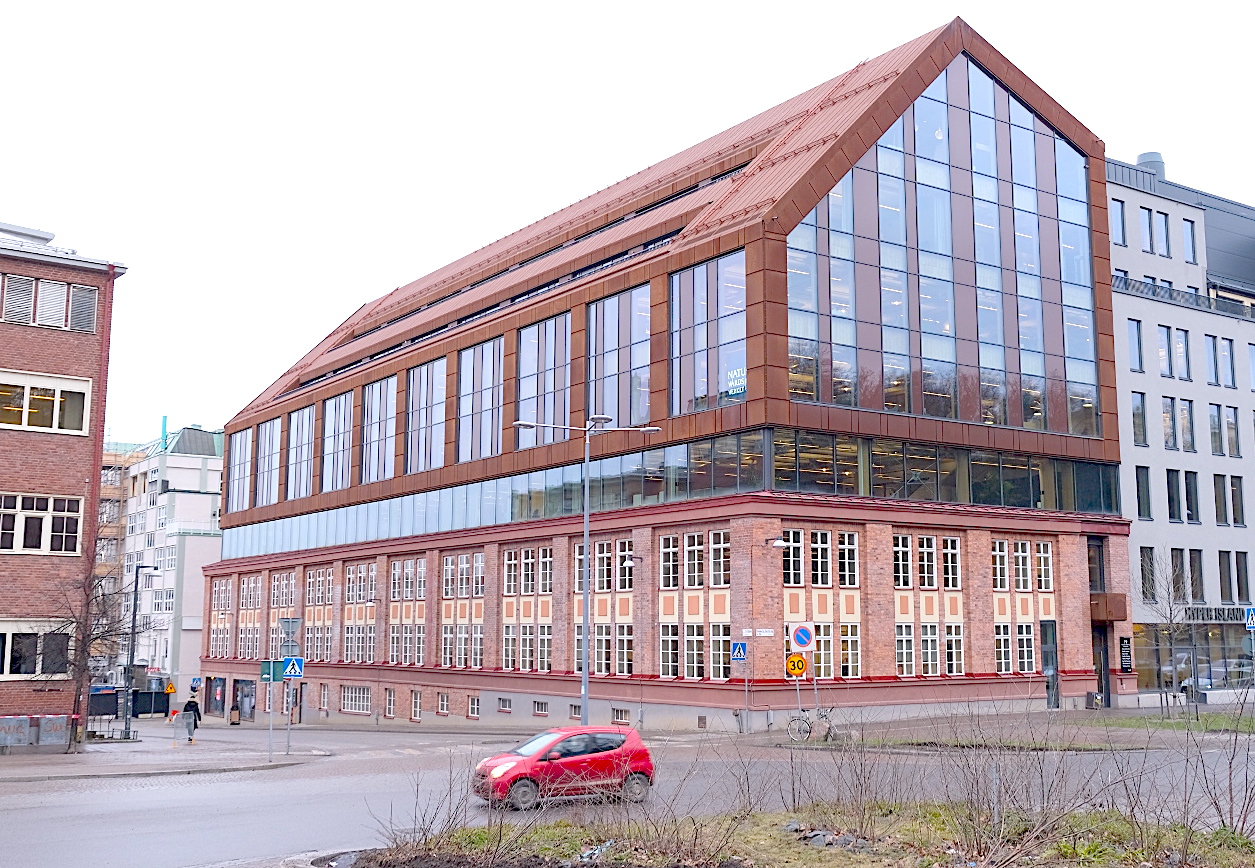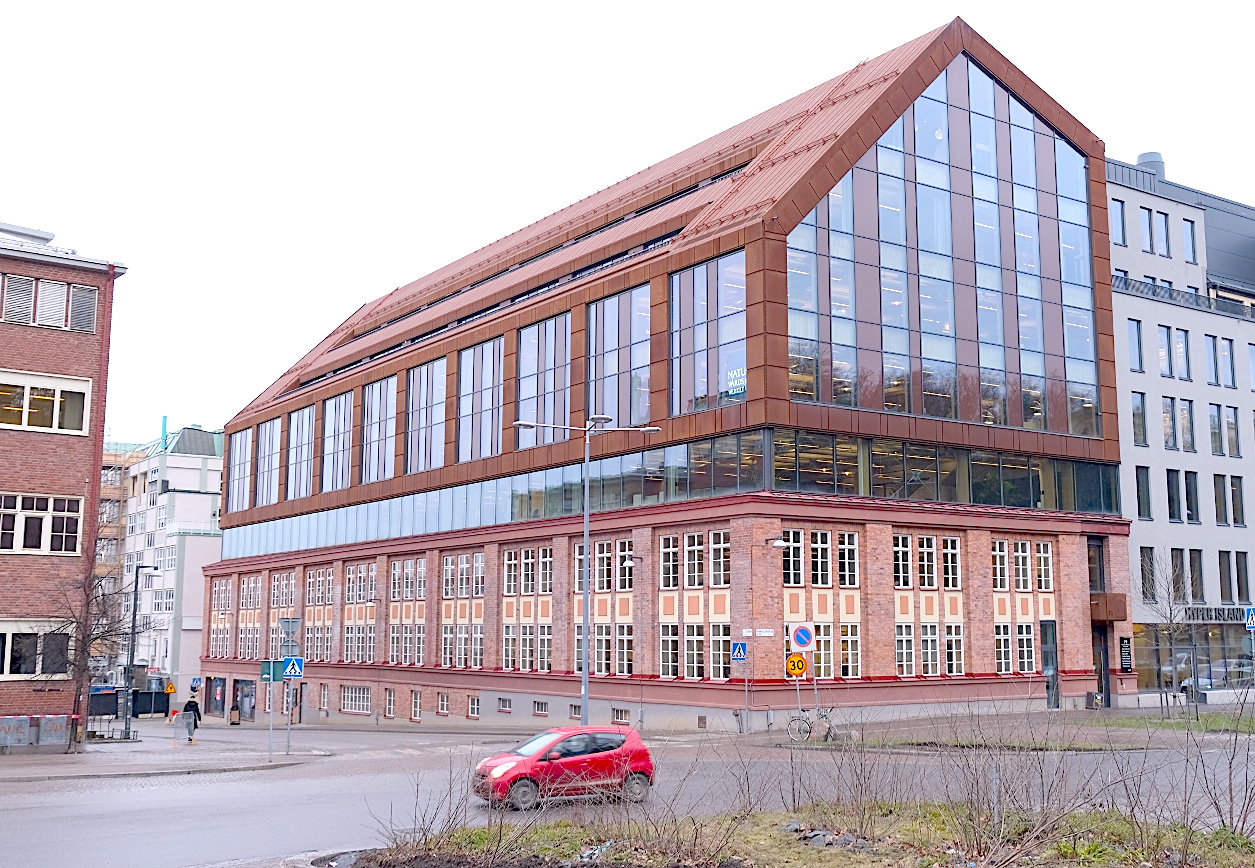 Interest is growing in projects that reuse buildings, says Marie Johansson, who leads research into timber engineering at RISE Research Institutes of Sweden. "We can't use as [many] resources as we do, so we have to use what we have smarter."
Renovating and extending existing sites can help satisfy the needs of growing urban populations, she says: "If we're going to have more inhabitants in the cities and so on, we need more space."
An estimated 11 percent of global carbon emissions comes from the materials, transportation and process of construction. Further, demolition contributes to landfills. In the European Union, a third of all waste is made up of the discards from construction and demolition annually — though recycling is improving.
Awareness of that impact is driving policy change. In the UK, an estimated 50,000 buildings are demolished every year, creating 45 metric megatons of waste. The mayor of London in 2022 issued new guidance that favors retention of full or partial structures over demolition.
Thomas Reynolds, a lecturer in civil engineering at the University of Edinburgh, says that while concrete can be crushed for aggregate and steel can be melted and reused, the most sustainable option is to keep the materials where they already are.
"The opportunity to extend and modify and generally bring the buildings we have up to the standard that they need for current use is one that we've got to take advantage of," he says.
Add-ons mean the emissions released in the original construction won't go to waste. Reynolds, whose research includes spending many hours on tall building roofs measuring vibrations, sees an opportunity for using lightweight materials like engineered timber for additions. Wood-based materials developed in recent decades, like cross-laminated timber, can rival steel in strength. Lighter materials make the most of the extra load that a building can take. Reynolds points to the De Karel Doorman building in Rotterdam, the Netherlands, where 16 floors of lightweight steel and timber were added on top of a four-story shopping center.
"I love that example," says Reynolds. "I just think it must be the kind of structural engineering that we need to do in the climate crisis, and to try and keep housing growing populations whilst making best use of what we've got there already and what's available to us without any additional embodied carbon."
One study found that a mid-rise cross-laminated timber building had an "average of 26.5 percent reduction in the global warming potential" compared to a similar concrete building. Wood sequesters carbon, capturing it in the building as long as it's intact, though there are skeptics who point to unsustainable forestry practices. While the production of steel and concrete releases substantial emissions, there are questions about the full climate impact of timber.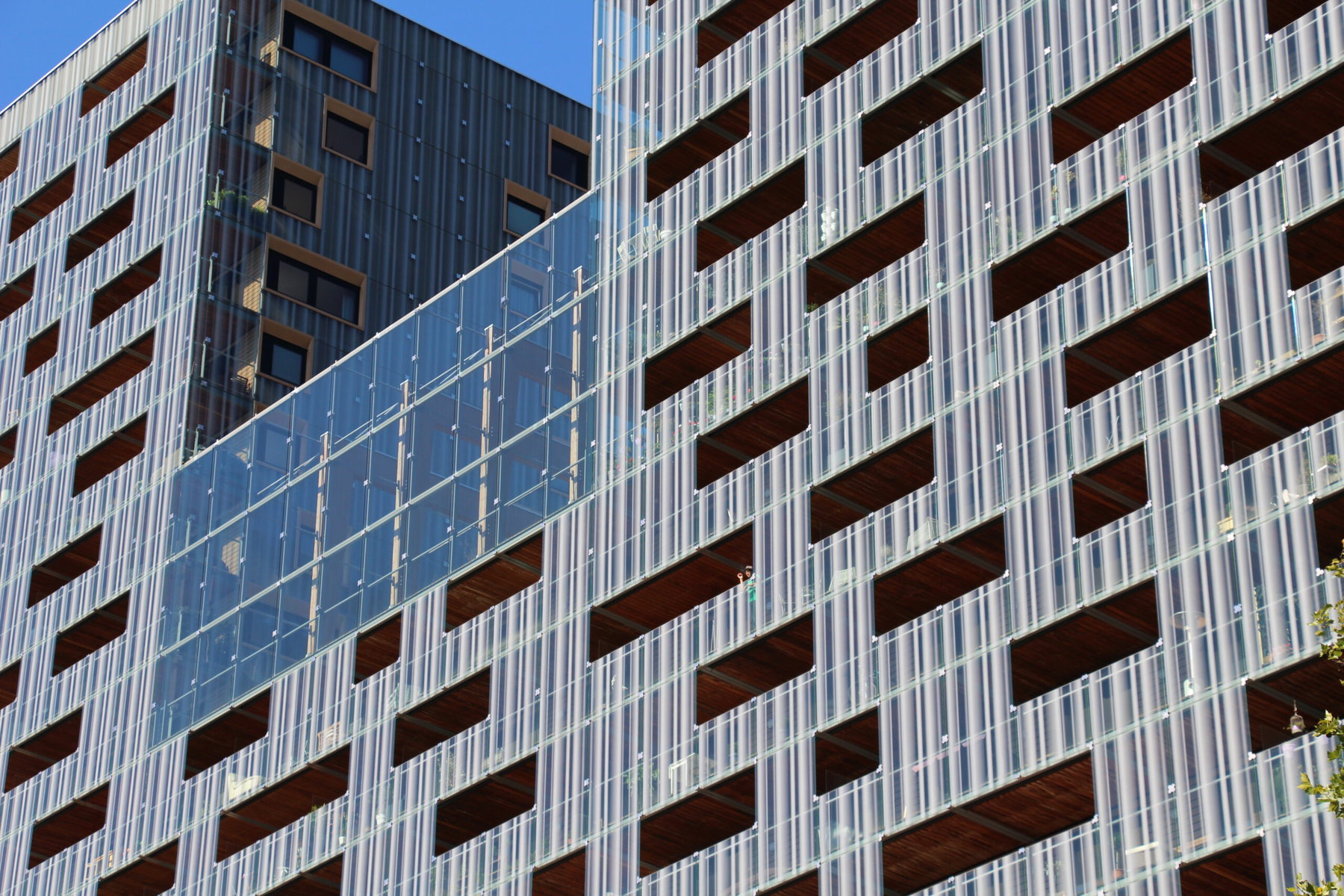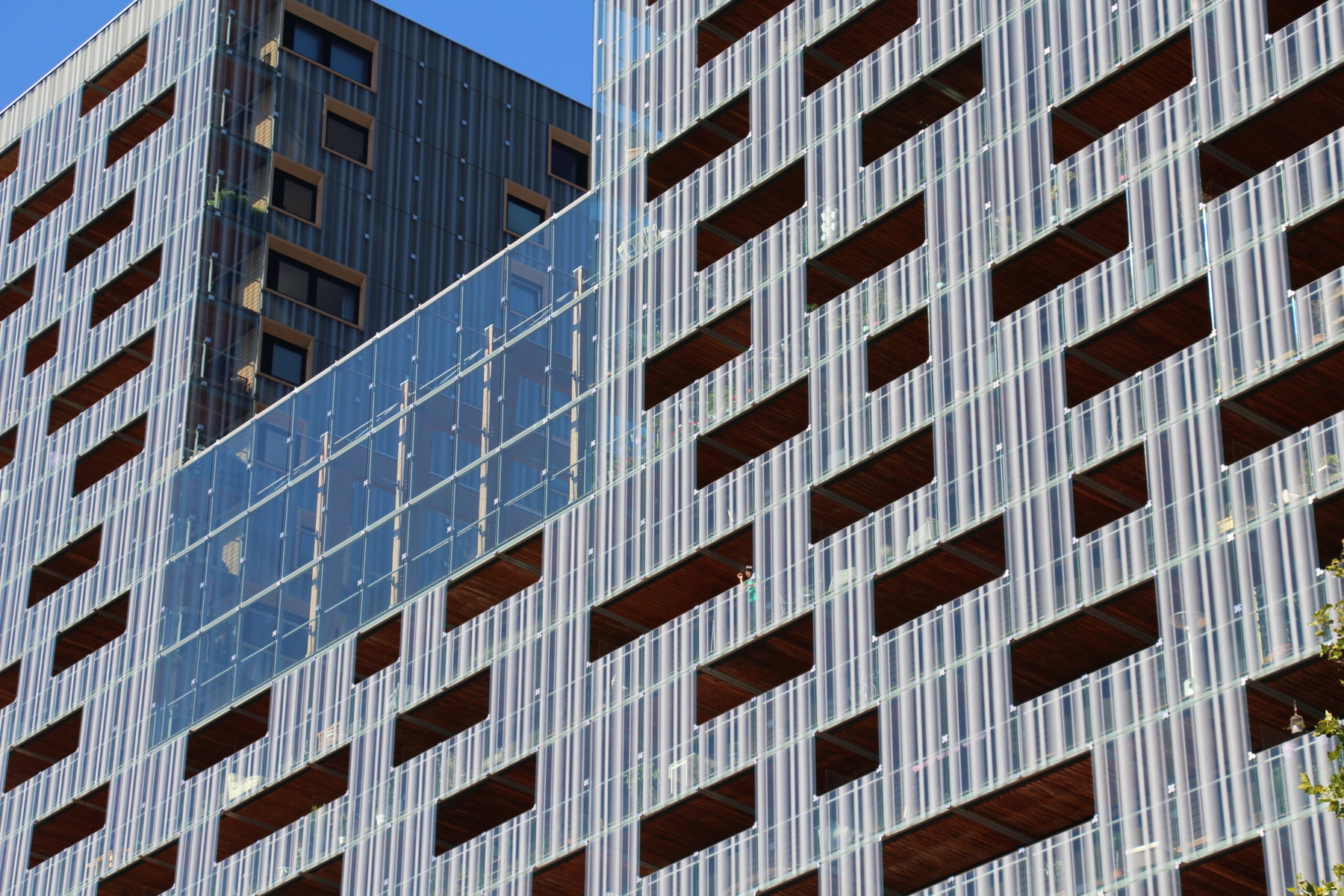 Reynolds notes that forestry operations, production of engineered timber and transportation all emit carbon. "We need to use as little timber as possible and we need to use it in a way that it's going to stay in place in the building for as long as possible keeping that carbon locked out of the atmosphere."
Building extensions are nothing new. But Tomas Alsmarker, an engineer who specialized in timber and now works for the sawmill industry group Swedish Wood, says wood can make projects that reuse existing buildings more sustainable than alternatives.
"What you can achieve by not breaking new ground, by not making a new foundation, et cetera, you might lose it if you're using materials with much larger impacts on greenhouse gases," Alsmarker says.
Tengbom, the architecture firm that designed Trikåfabriken in Stockholm, estimates using timber and saving the existing structure reduced carbon emissions by 85 percent compared to demolishing the existing building and replacing it using concrete and steel.
Long used for houses in Sweden, wood construction of taller buildings is booming in the northern European country, a major timber producer. The number of new apartments in Sweden built of timber in 2021 was 4,397 — almost double from 2015. And though there are no statistics on timber-based extensions, experts see increasing interest. In the eastern city of Umeå, new apartments coil, Escher-like, in a structure built atop a downtown mall. A 19th-century bank in downtown Stockholm now has three new stories on its roof.
The construction process can be smoother for timber additions, notes Jörgen Olsson, a researcher with Johansson at RISE. It's much lighter than concrete, so easier to lift onto the roof. Timber components are usually prefabricated, so on-site work takes less time. Because people may be living or working in the original structure, a shorter timeline is a plus for extensions.
But reusing a building has its limitations. Working from an existing building is more complex than starting from the ground. Extensive research must be done into the state of the structure, accounting for practicalities like working with the existing plumbing, says Olsson.
Crushed by negative news?
Sign up for the Reasons to be Cheerful newsletter.
"The building process is a little bit different from an ordinary building process," he says.
Reynolds, from Edinburgh, says adding to a building requires architects and engineers to understand how well the original design is performing. Wood has some potential day-to-day downsides, too. Wind could cause noticeable vibrations in tall buildings.
Many timber extensions so far are in city centers, but Johansson estimates there are around 20 instances of additional floors being built on apartment buildings owned by municipalities all around Sweden.
Across the Baltic, Finland is eying timber for improving housing stock built amid post-WWII urbanization. Concrete apartment blocks erected between the 1960s and 1980s, most three or four stories tall, need efficiency upgrades and maintenance, says Anu Soikkeli, an associate professor in arctic architecture and environmental adaption at the University of Oulu.
Amid debate about what to do with this housing about a decade ago, Soikkeli says, some considered demolishing and building new. Researchers, including Soikkeli, found that most buildings had capacity for one or two extra stories built of timber. With the revenue generated from the new flats, the buildings could afford maintenance and energy efficiency improvements.
Timber construction is gaining in Finland, with a growing number of extra-story projects emerging in city centers like Tampere, according to Tampere University architecture professor Markku Karjalainen.
Karjalainen says the Finnish government is encouraging more timber construction; he recently prepared a brief on the benefits of extra floor construction for policymakers. "Wood is an ecological, local and renewable building material," he wrote to RTBC in an email.
Soikkeli sees a growing trend of wood extension projects, noting that many of her architecture students are interested in sustainable and environmentally responsible practices.
"I have a strong belief that there will be an increase in this kind of renovation project in the near future."