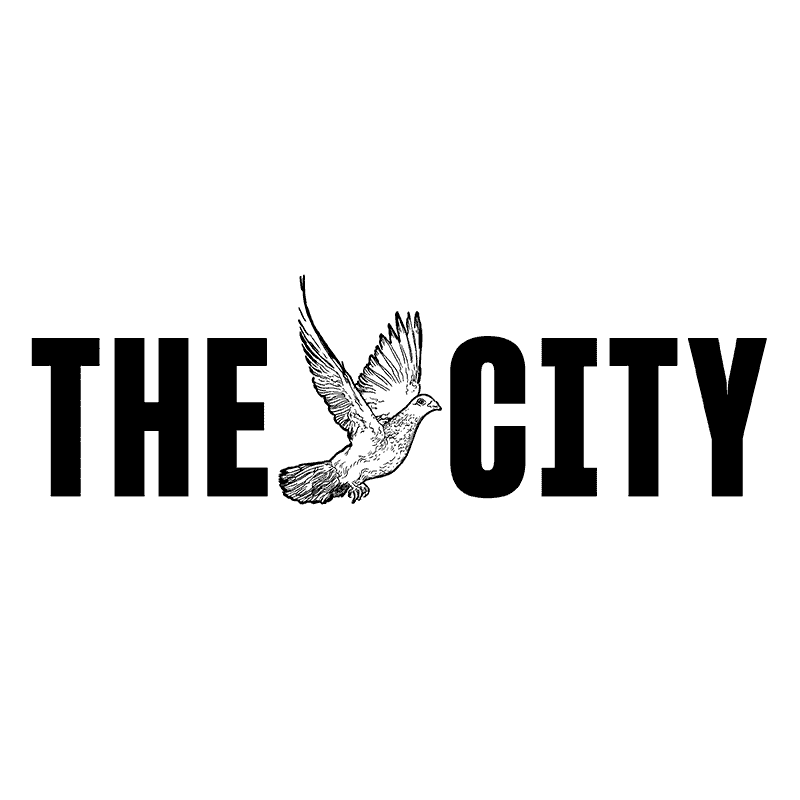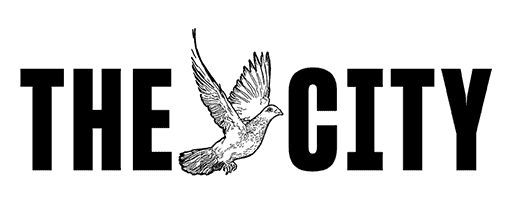 This story was originally published on May 19, 2020 by THE CITY.
Co-Op City is amazing. A massive housing development on the eastern edge of the Bronx, it has its own schools, power plant, newspaper, even a planetarium. It was built by a clothing workers union and the United Housing Federation in the 1960s to provide affordable middle-class housing in New York City. From the beginning, it embraced a social justice mandate that included participatory self-government, ethnic diversity and a sharing of resources — values that laid the groundwork, half a century later, for the story below. — RTBC
Just 49 percent of New York City households have responded to the 2020 Census so far — well behind the national average of nearly 60 percent, in the first tally to ask most respondents to be counted via the internet.
At stake are potentially billions of dollars in desperately needed federal funds as well as seats in the House of Representatives.
But not all Census tracts are created equal. In Co-Op City, the world's largest co-operative housing complex, with more than 15,000 apartments, residents are not only well ahead of the rest of the Bronx and of New York City — they also outpace much of the nation.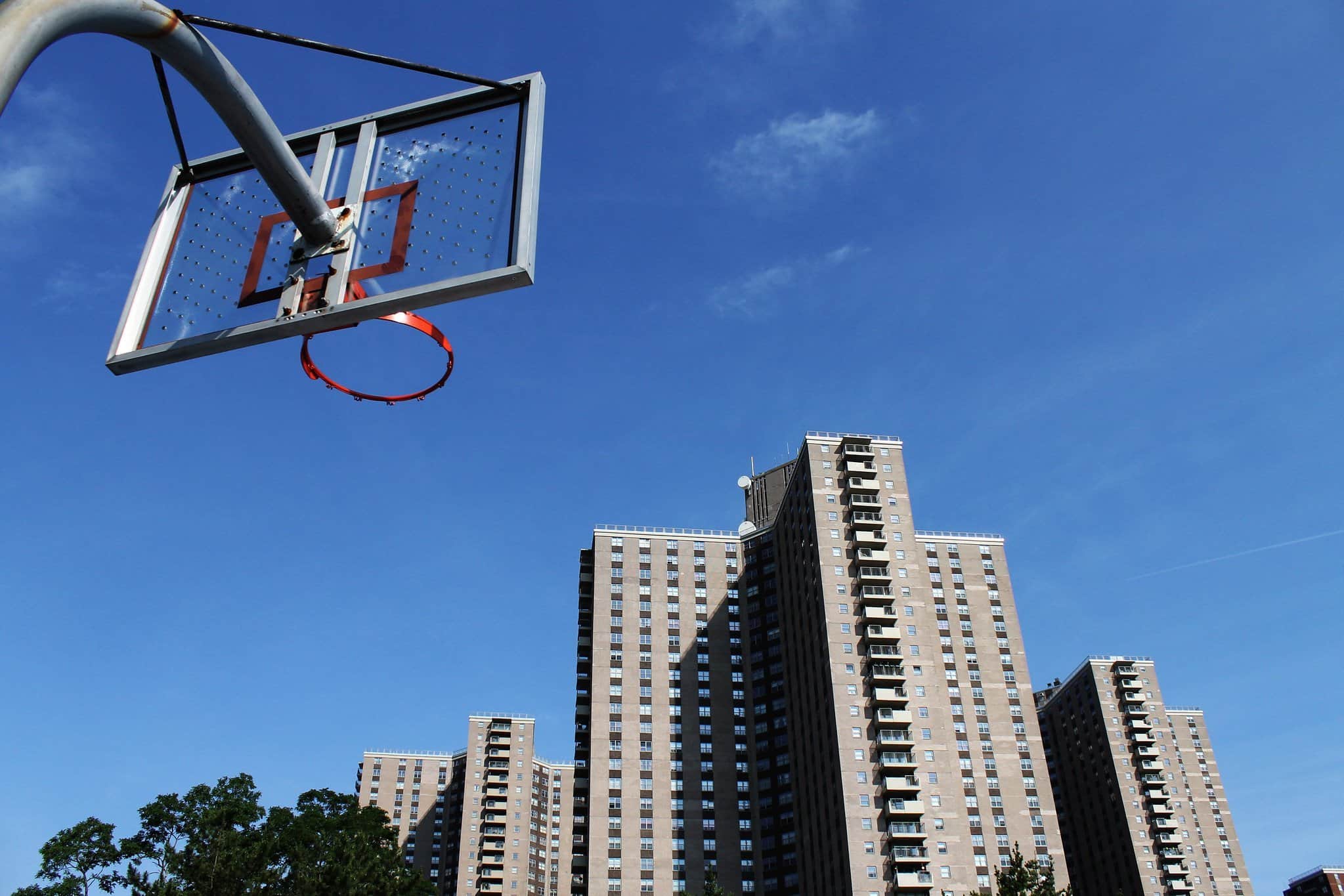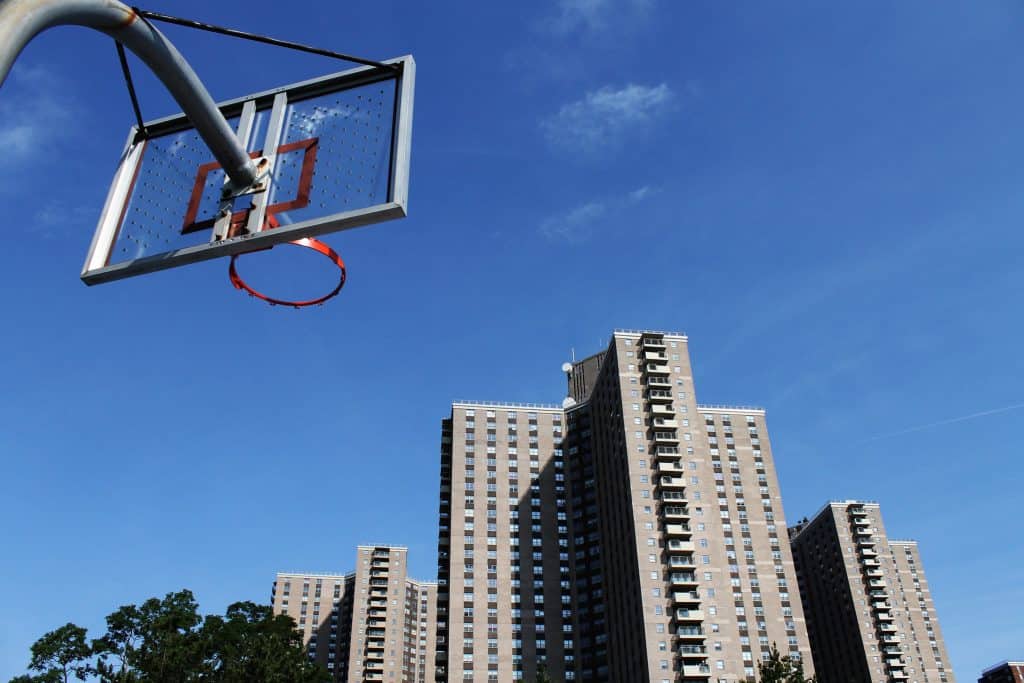 Among Co-Op City's seven tracts, five exceed 70 percent in participating, and the others are not far behind — making "the city in a city" an outlier in the Bronx, where fewer than 40 percent in many tracts have responded to Census Bureau mailings.
Co-Op City resident George Torres said he filled out his Census as soon as he got it in the mail.
"I think it's the nature of the people who live in the cooperative," said Torres, who is also district manager of the Bronx's Community Board 12. "We are active federal, state and municipal workers. The people who live here are the backbone of the unions representative of this great city."
Connected Community
Clues abound explaining Co-Op City's high response rates.
Noel Ellison, 67, general manager for Co-Op City's property management company, Riverbay Corporation, said the coronavirus crisis has galvanized residents, bringing an already tight community even closer.
So did Co-Op City's unusual inclusiveness, he suggested.
"In 2019, we had celebrated Co-Op City's 50th anniversary," said Ellison, a resident since the 1970s. "So, we had galas and such that tended to bring out people who used to live here, people who grew up here, and it sort of spurred a sense of community."
When the MTA proposed changes to bus routes last year, residents protested and bonded over that experience, Ellison said, further uniting neighbors.
"Trying to encourage people to do the Census was a natural extension of the sense of community mission that we've been building up," he said.
Ellison also noted that Co-Op City promotes the Census through its internal TV station, robo-calls and community newspaper, the Co-Op City Times.
Rozaane Boone, the newspaper's editor, said when her staff recently discovered that Co-Op City placed third among Bronx communities in Census response, they wanted to motivate residents to participate even more by highlighting the stats in the paper.
But then they learned they rose to first. Boone opted to hold off on airing that bit of information.
"Our goal now is right back where we started — to encourage 100 percent participation, not to give the impression responses are no longer needed," Boone said.
"Everyone has been emphasizing and reemphasizing how important the Census is and encouraging full participation, and we will continue to do so to achieve that or get as close as possible to that goal," she added.
Mail Option
Co-op City stands out in two important ways, said Steven Romalewski of the Center for Urban Research at the CUNY Graduate Center, which maintains a Census map highlighting response rates in historically hard-to-count areas.
"No other area in NYC has the concentration of high-response-rate tracts like the Bronx does in Co-op City," he said in an email.
He noted that Manhattan, Queens and Staten Island also have tracts where more than 70 percent of households voluntarily responded to the census — but just one apiece.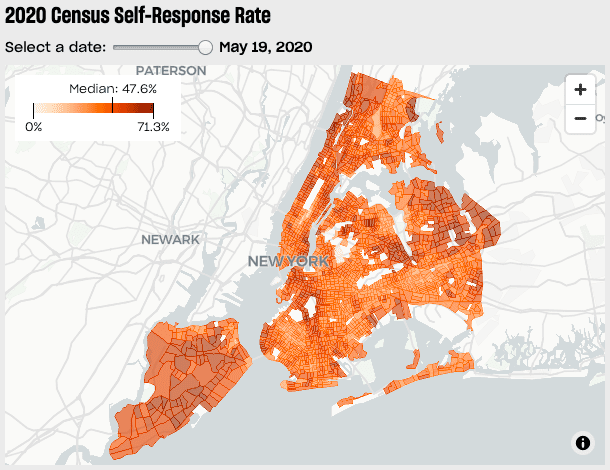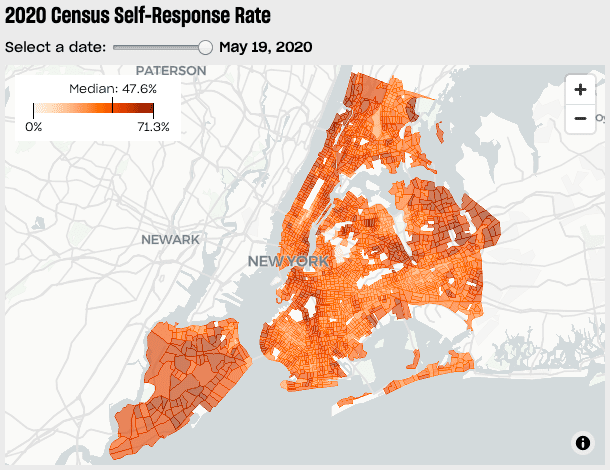 Second, the U.S. Census Bureau targeted several Co-Op City tracts with special "internet choice" packets, mailed to some selected areas with nationally high populations of senior citizens, low internet access and low participation in the American Community Survey.
So while most households are being asked to respond to the Census on the internet, in several Co-Op City tracts, residents have the option of mailing their form in, too.
Romalewski said that the typical response rates for internet choice tracts are lower than average nationally — but that Co-op City's tracts were just the opposite.
"Something is happening there that's very different than what's happening in most other places," he said.
Speaking to Neighbors
Higher authorities also lend a hand.
Angelo Rosario, CEO of the Bronx Clergy Task Force, part of the Bronx Borough President's Office, said the group asked leaders of roughly 20 houses of worship in the Co-Op City area to call members and explain the importance of filling out the Census.
Clergy also offered reminders during virtual sermons and prayer conference calls.
"We gave them a challenge." said Rosario, also bishop at Church of God's Children in Co-Op City.
"People of faith are just people of faith — whatever their faith may be. Jewish faith. Hindu faith. Christian faith. And they know that this is a need."
Outreach in different languages has also been key, said David Coulibaly, Census program manager for the nonprofit African Communities Together.
Crushed by negative news?
Sign up for the Reasons to be Cheerful newsletter.
Coulibaly said before the coronavirus crisis hit, his team of a dozen workers was door-knocking, engaging Africans face-to-face in Co-Op City. They have since transitioned to phone-banking, harnessing their ability to collectively speak at least 14 languages, from Afemi to Mandingo to Yoruba.
"When we're speaking to some folks who do not really understand what we're speaking, we have the ability to switch," he said.
That's key to conquering fear within the city's African communities, including over unfounded concerns information collected could be shared with immigration authorities.
"Someone speaking your language makes you feel at ease and comfortable to share your information with that person, and to listen to that person," Coulibaly said. "That has been one of our strategies to really increase trust in our community."
Coulibaly's nonprofit has already exceeded its goal of confirming that 3,000 people completed the Census. "I'm confident that I've gone above and beyond," he said.
Scared to Say
Participation isn't going as smoothly in other parts of The Bronx.
Alida Quinones-Reyes, census manager for the community organization BronxWorks, said some folks feel jaded, don't trust the government and believe one person isn't going to make a difference.


Others tell her they've already filled out the Census, when, in fact, they're referring to the Bureau's annual American Community Survey, which is different, she said. The longer ACS is sent to a smaller number of households, and seeks more detailed information.
"I already did it," they say.
"No, you didn't," she tells them. "You gotta fill out the Census."
Some are scared to disclose they live with immigrants, and she only finds out later — once they have underreported the number of people in their household. It is not possible to change Census responses once they are submitted.
"They say, 'You know, I have like three other people living in my house, but I don't want to say anything, because I didn't want to get into trouble,'" she said.
Now, before she helps someone fill out the Census, she asks about everyone in their household — even people they might be afraid to mention.
Lemuria Alawode-El of the United Way of New York, which manages 66 nonprofits that received City Council Census outreach grants, also noted the fear immigrants experience.
"While New York is obviously a sanctuary city and a city that has tried to be very welcoming to immigrants, there's still this fear that folks don't know who to trust or what information is being shared where," she said.
Alawode-El referenced a family she knows not having access to food, but being too afraid to take advantage of public benefits because of concerns it could jeopardize their immigration status.
She echoed the questions they ask: "If I respond to the Census, will they tell the police? Are the police connected to ICE? Does that mean they're going to come get me?"
Ultimately, says one Co-Op City old-timer, cooperating with the Census stems from love for the community.
Bernie Cylich, 79, moved into Co-Op City when it opened half a century ago. He said he's seen the complex evolve from mostly Jewish to a diverse population.
Through the years and changes, he's noticed a constant throughline: people who take ownership and care for their neighborhood.
To Cylich, it isn't surprising that Co-Op City's Census response rates soar.
"Evidently, it's a reflection of people who take pride in the fact they live here," he said.