Somewhere deep in the densely forested "bush" of Nimba, a bucolic county in north-central Liberia, Joe Gater has a thick slat of beehive in his hands.
"Do you see how the honey is still wet?" says Gater, who is clad in a white protective suit, rubber gloves and a bulbous, netted hat. "In a few months, it will all be sealed and ready to harvest."
Hundreds of Apis mellifera scutellata, a particularly aggressive species of African honey bee, swarm in response to the intruder, their close-proximity buzzing as loud as a chainsaw.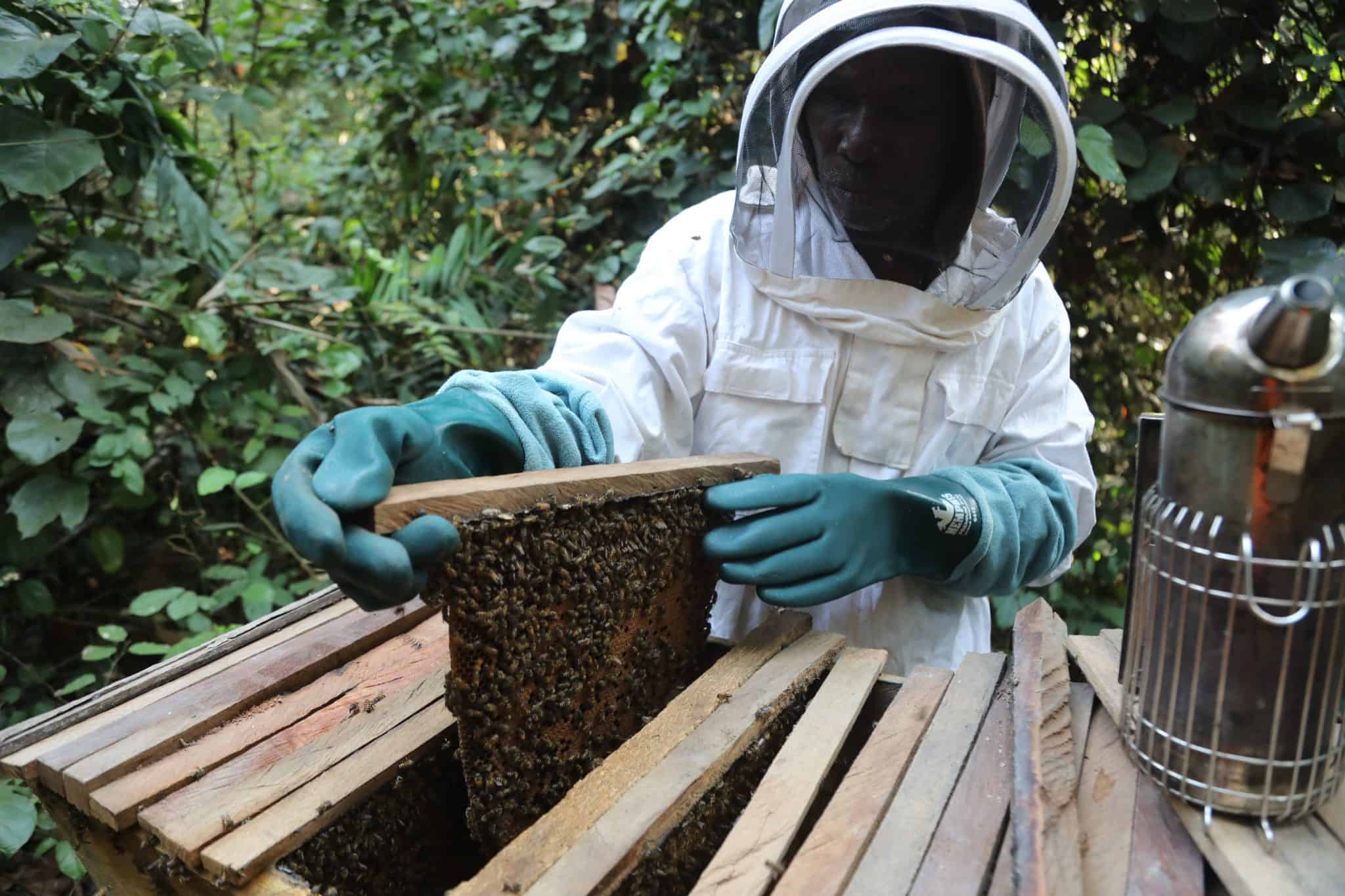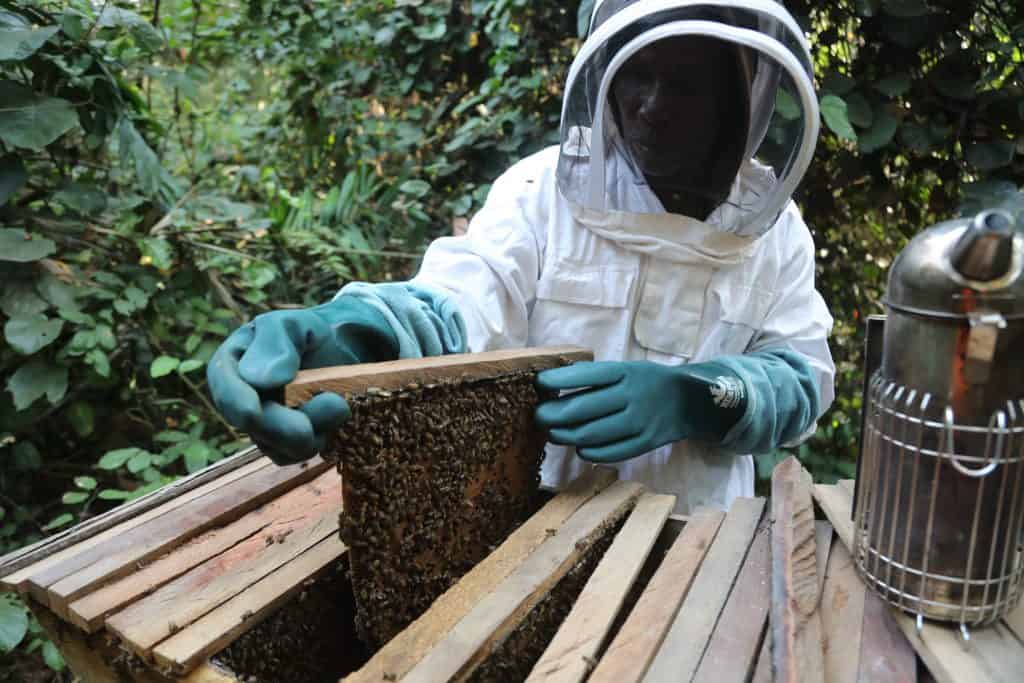 But Gater is far from an enemy. He, like thousands of other Liberians, are rearing these pollinating insects. The west African nation offers excellent conditions for beekeeping, and honey – a relatively high-value commodity that requires little work to produce – is offering rural communities a sweet supplementary source of income.
Since 2012, the international nonprofit Universal Outreach has trained some 5,000 Liberian beekeepers like Gater in the basics of self-protection, beehive placement, and attracting and maintaining colonies. "We believe that beekeeping has massive potential to transform lives in Liberia," says Cecil Wilson, country coordinator for the foundation. "It boosts and supplements their income, and once you have the skills to build one beehive you can make 100."
Poverty has long been widespread in Liberia, which has struggled to rebuild in the aftermath of debilitating civil wars and a deadly Ebola epidemic. Many rural communities barely scrape by. Agriculture is the main source of income for 60 percent of Liberia's population, and the average person earns just $1.70 a day.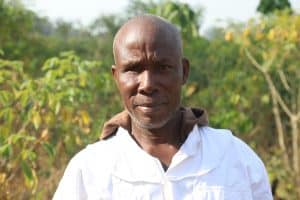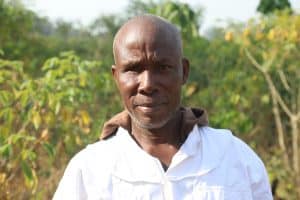 During the war, Gater was forced to flee his home and live in a forest for months. Even now, there's no electricity or internet signal in his village. But the 64-year-old has dozens of working hives and says the bees have put his four children through school. "Beekeeping is something that even an old man like me can do," says Gater, who previously farmed cassava and rice full-time. "It's changed my life greatly."
Many others concur. Zarwolo Boe, a beekeeper from the town of Tunukpuyee in Nimba, was trained in 2015 and has dozens of hives in the surrounding area. "I was a very poor man," says Boe, who produces about 50 gallons a year. "But my conditions have changed because of it. It allowed me to build my home – it's a house of honey."
The ease of the work also means that some Liberians are beekeeping as a savvy side hustle. Maron Flomo, a 40-year-old police officer from Nimba, says she uses it to supplement her basic income. "It's very important for us," says Flomo, who produces around 10 gallons a year. "Us brothers and sisters are doing it together."
Such is the success that Cecil Wilson of Universal Outreach says Liberian beekeepers could teach their Western counterparts a thing or two: the top-bar hives they use, unlike frame hives common in the US and Europe, allow bees to build comb and structure the nest according to natural instincts. Single crop farming, a cause of stress and poor nutrition for colonies, is rare in Liberia – as is the use of chemical insecticides. "That's what makes African honey better in our opinion," he says.
Some drizzle the thick, brine-colored honey over barbecued cassava, pour it onto porridge-like "soft rice", mix it with tea, or – according to one enterprising beekeeper in Nimba – ferment it with oranges and grapefruit to make "bee wine."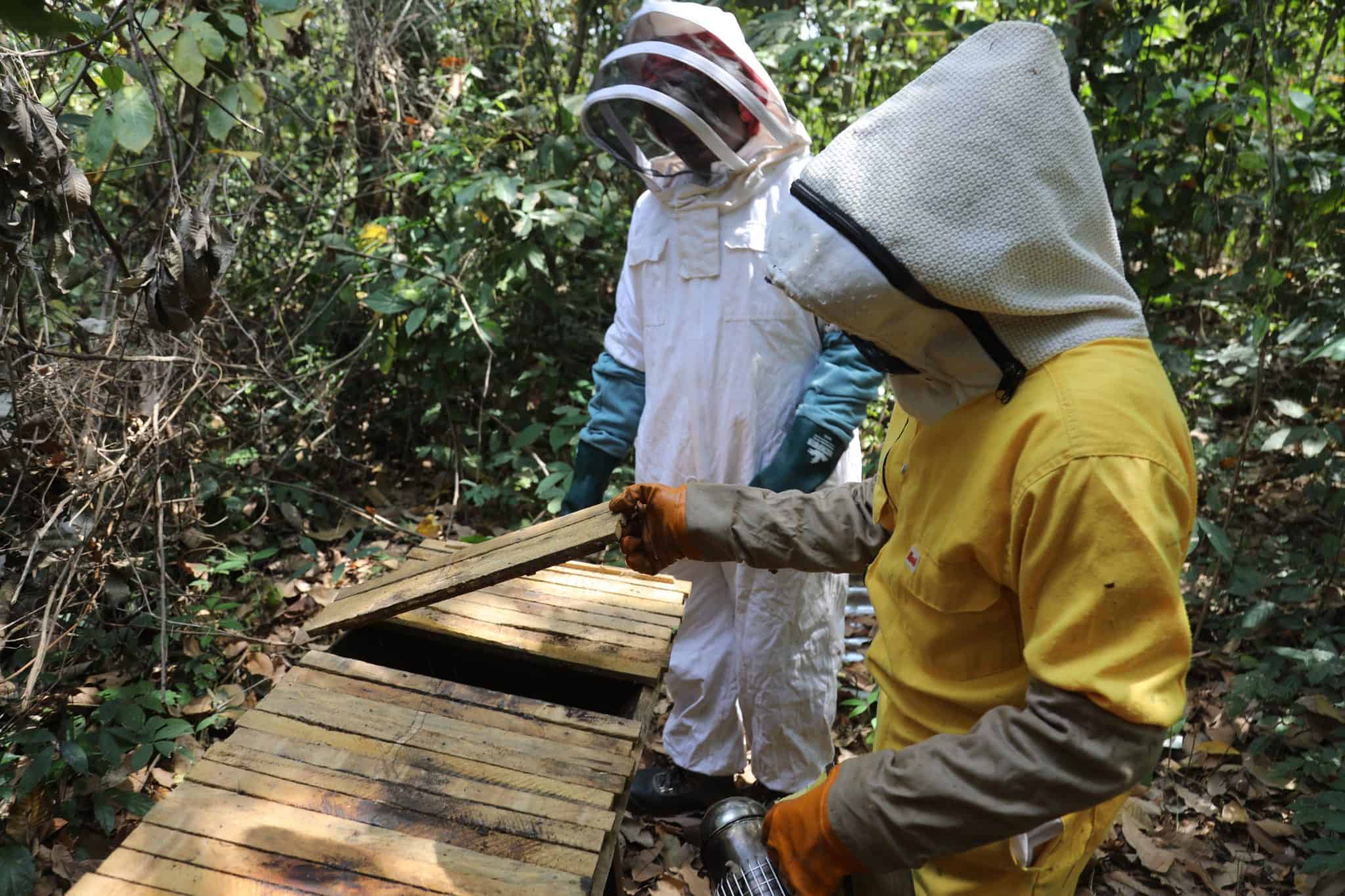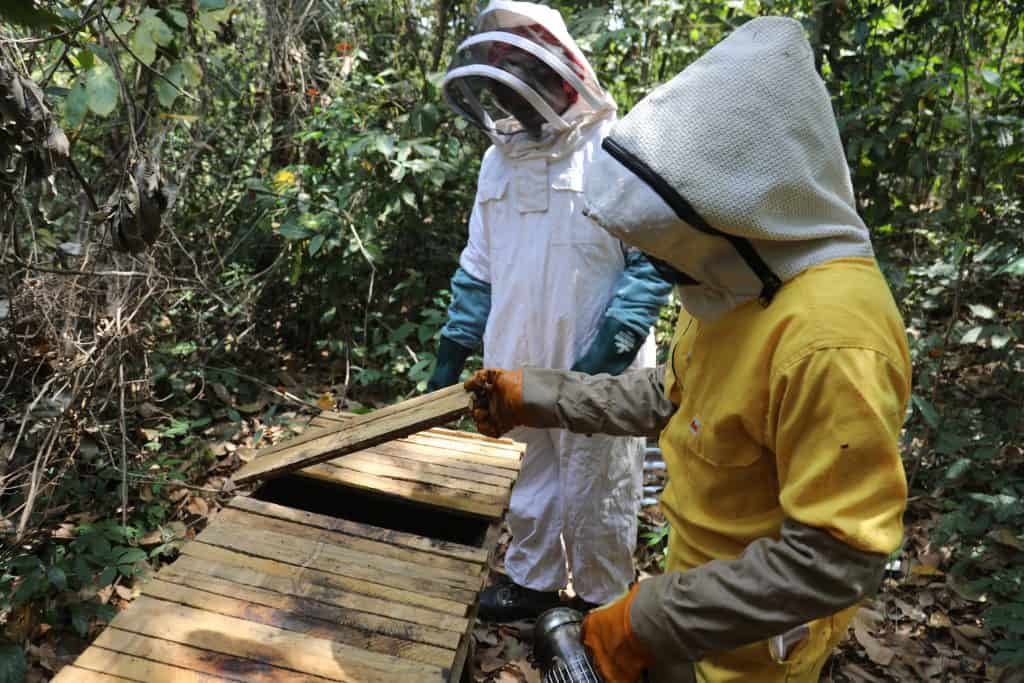 The production of honey is also far easier to sustain financially in countries like Liberia, where maintenance and production costs are low, according to Francis Ratnieks, a professor of apiculture at the University of Sussex, England, who has researched in countries such as Egypt, South Africa, Mexico and Jamaica.
"Beekeeping can be a good source of income," he says. "An apiary with around 20 or 30 hives could provide an income comparable to that of a school teacher. In the UK or USA you would be nowhere financially with an apiary in terms of making a living."
Ratnieks adds that beekeeping can be straightforward to set up and maintain in rural parts of Africa. "There's nothing fancy about it," he says. "If you've got a good floral resource and enough rainfall, it's just a matter of having a suitable beekeeping methodology that works and somewhere to sell the honey."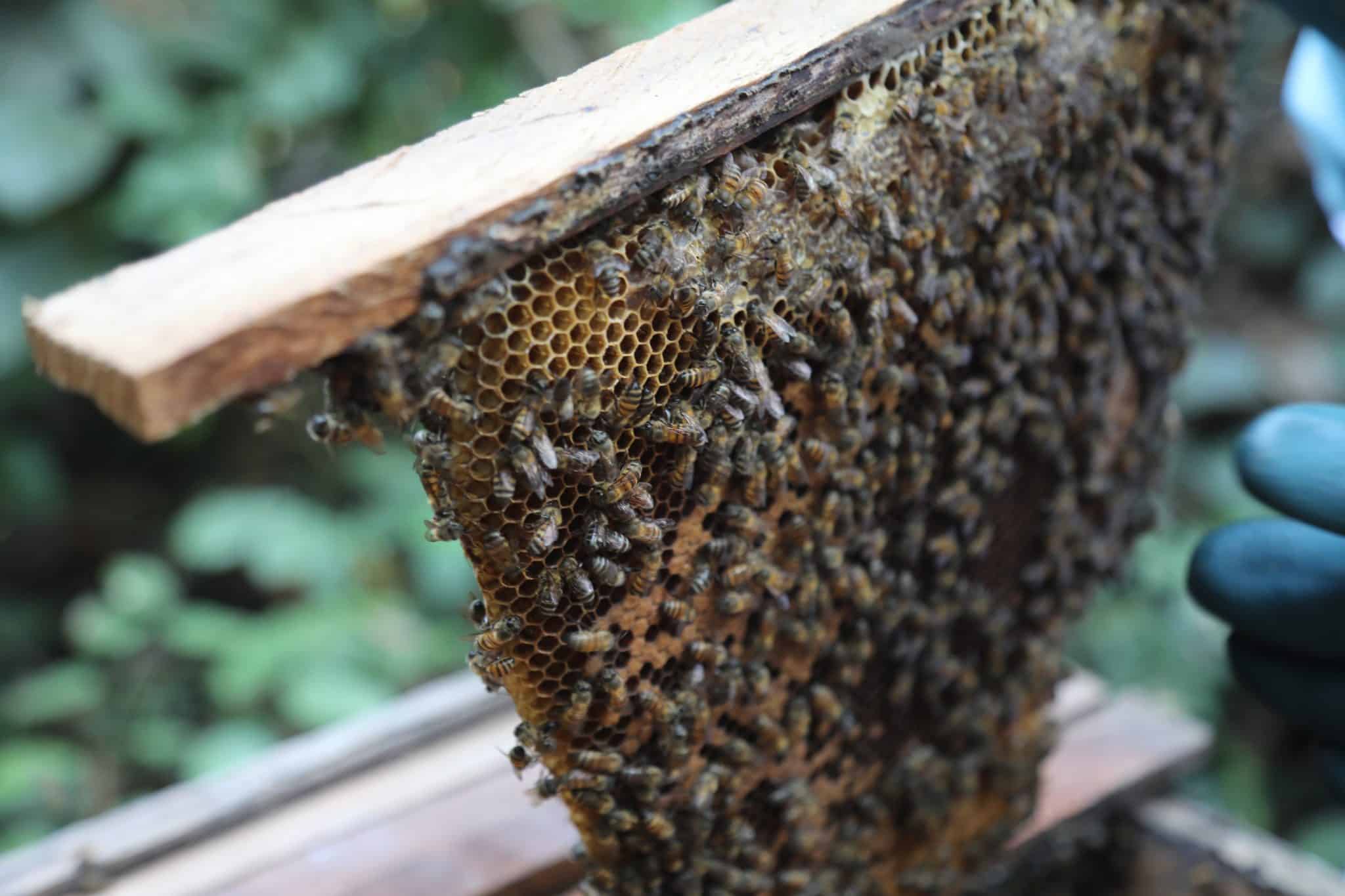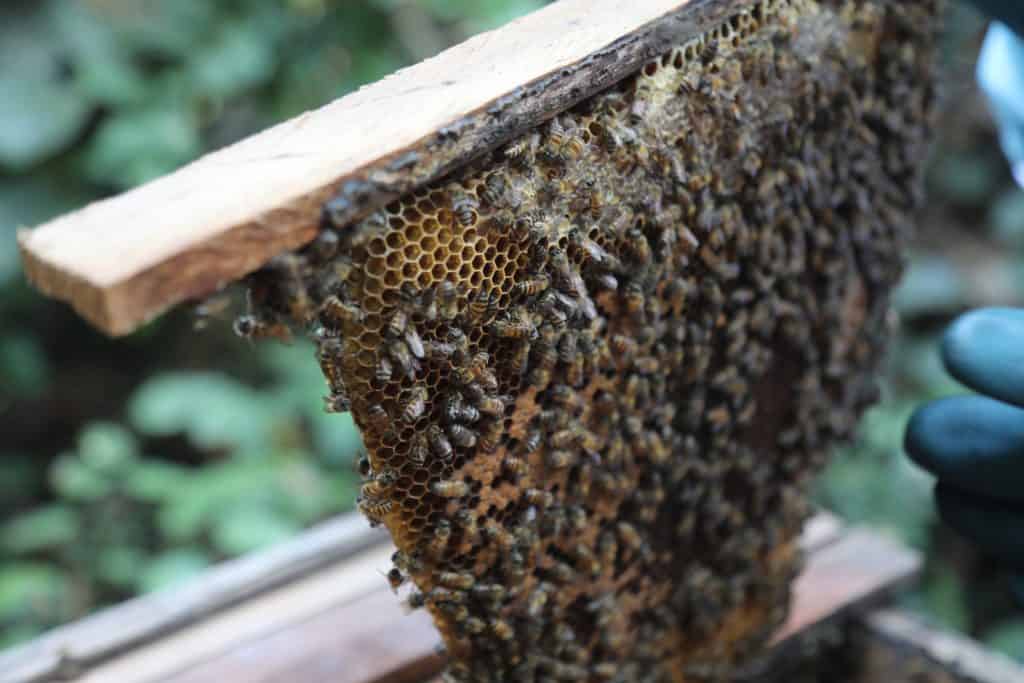 Indeed, initially Liberian beekeepers struggled to find a market. But Universal Outreach launched Liberia Pure Honey, a social enterprise that guarantees to buy all the honey produced by beekeepers at fair trade prices, also packaging the product for sale. Following an incubation period, it now operates as an independent business.
Appetite for Liberian honey has since taken off. In 2012, Liberia Pure Honey bought 635 gallons of honey from farmers. By last year it paid for 1,774 gallons, at an average of $17 per gallon. While that represents a fall from the peak of 3,092 gallons in 2019, Wilson says that is down to the fact that beekeepers are increasingly selling to external businesses – a sign of their growing independence. 
"Our dream is to get bigger and even have a market in Europe," says Sayemie Gaboe, head of the Beekeepers Association of Nimba, which has around 300 members. For now, he says, most Liberian-made honey is consumed in the capital, Monrovia.
Further expansion is on the way: Soon Universal Outreach will train beekeepers in the more technical process of reproducing queen bees, allowing them to multiply colonies. An agroforestry scheme will also encourage beekeepers to simultaneously cultivate cash crops, sustaining colonies with improved biodiversity but also fighting deforestation by permanently taking up and protecting the land.
There are challenges, however. Beekeepers in Nimba report that pests such as rats can break into the hives and eat the honey, and if not properly cleaned, hives can develop fungus. And for those who don't own land – not uncommon due to Liberia's civil wars, which displaced many thousands – the process can be a little more sticky.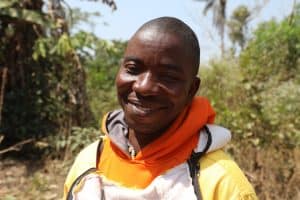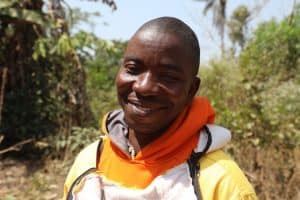 Nyeman Freeman moved to Nimba when he was nine so that his dad could be treated for leprosy. That means the 46-year-old doesn't have inherited family land and must reach agreements with landowners to install hives – usually giving them a third of his profit. "Sometimes they will tell me they want to move the hives," he says. "And that leads to lower yields of honey. Eventually I will buy my own land."
But those issues are barely a sting in the tail, and the buzz around beekeeping appears to be justified – alleviating poverty and creating a new generation of land guardians in Liberia. "They are like my children," says Gater, small bees still crawling over his white suit. "It's quite amazing to see a little insect do this great work. It's a miracle."