Classical music audiences have been trained to show their appreciation with polite applause, only between songs, with their butts planted firmly in their seats. But at the concerts of classically trained musicians Wil Baptiste and Kev Marcus, the rules are different. 
"We performed for about 1,500 kids yesterday — screaming, yelling kids," Baptiste, who plays the viola, says with a laugh. "They had a good time." 
Baptiste and violinist Marcus are better known as the music group Black Violin, whose unique sound fuses classical string instrumentation with hip-hop. The African-American duo has played with the National Symphony Orchestra and Alicia Keys, but they find that there's something special in playing for kids and school groups. It's what inspired them to start the nonprofit Black Violin Foundation last year, and what motivates them to play for over 100,000 low-income children annually. 
"They think they're coming to this lame violin concert," says Baptiste. "So their perception of the violin completely changes. And their perception of someone who looks like us changes. Those two things right there, that's everything."
Baptiste and Marcus aren't alone in wanting to change America's perception of what makes a classical musician. While popular music is constantly evolving, classical music is stubbornly frozen in time. The field is overwhelmingly white, from the conductors to the audience. And the canon remains defined by powdered-wig-wearing male composers: Beethoven, Bach, Mozart — 18th and 19th century Europeans who loom large enough in history that most Americans know their names, if not their music. 
The field's resistance to growth and change, along with a national defunding of music education, may be why interest in classical music has been steadily eroding for decades. In 1982, nearly one out of three of Americans attended classical music events; by last year, that number had dropped to less than one in ten. Meanwhile, the age of the average audience member has steadily risen. To survive into the 21st century, classical music needs to be re-envisioned as a medium for people of all ages, races, genders and ethnicities. Across the country, a movement is emerging to build a bolder future for a genre trapped in its past. 
An American orchestra
When Kev Marcus was nine years old, his mother caught him stealing and put him in a weekend music program to keep him off the streets; the violin was the only instrument unspoken for. When Baptiste was 14, he signed up to play saxophone in his school band; instead, he was mistakenly placed in the viola class. Neither musician would have picked up a string instrument on his own. 
But Baptiste recalls that "the moment I started playing, I started hearing music differently." As young people, Marcus and Baptiste both began mimicking the sounds that they heard on the radio, using their bows to play hip-hop — because, in Baptiste's words, "we never thought that we couldn't." They were too young to have absorbed society's message that classical music — one of our nation's "least racially diverse institutions," according to the New York Times — wasn't for them.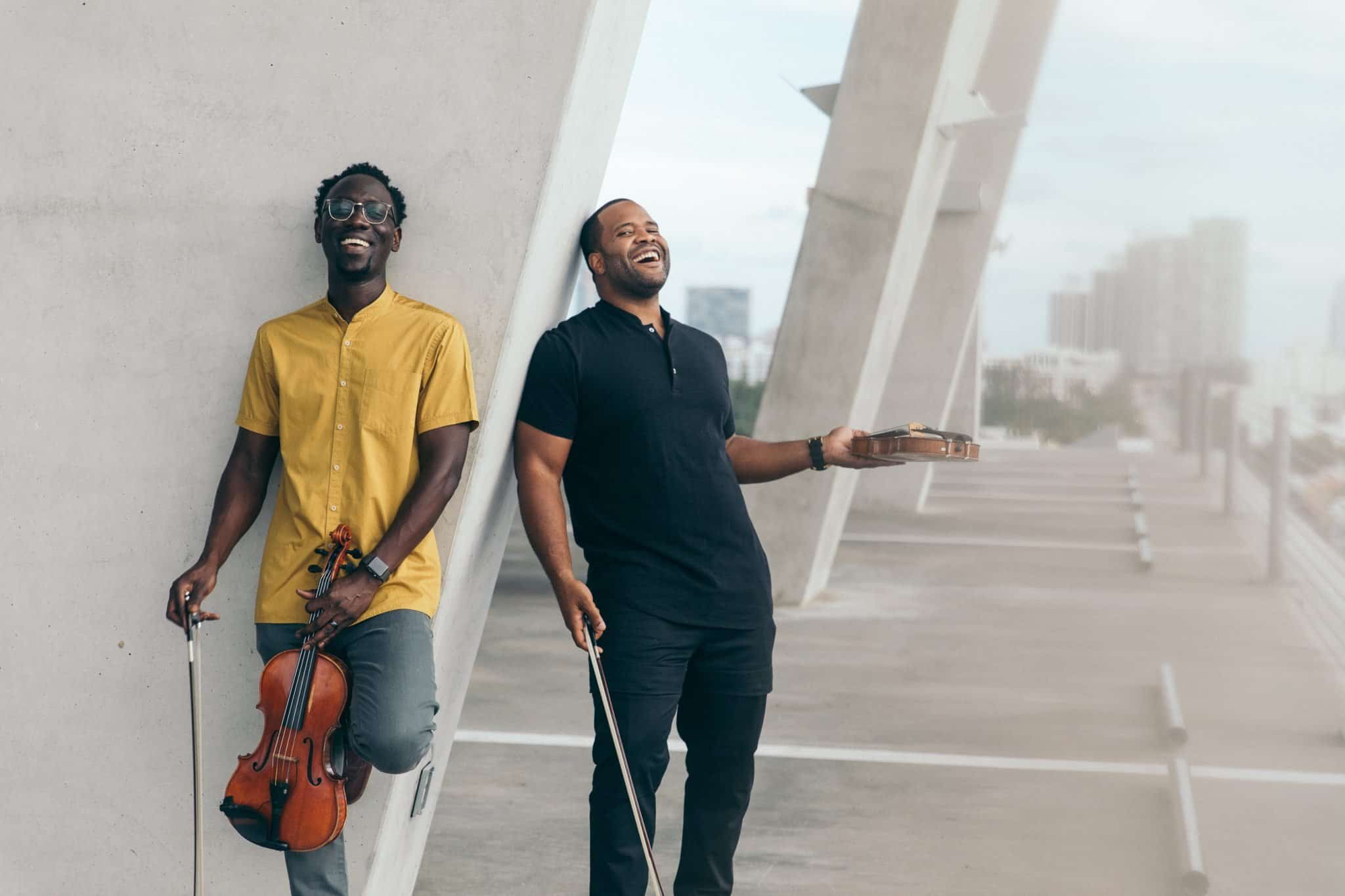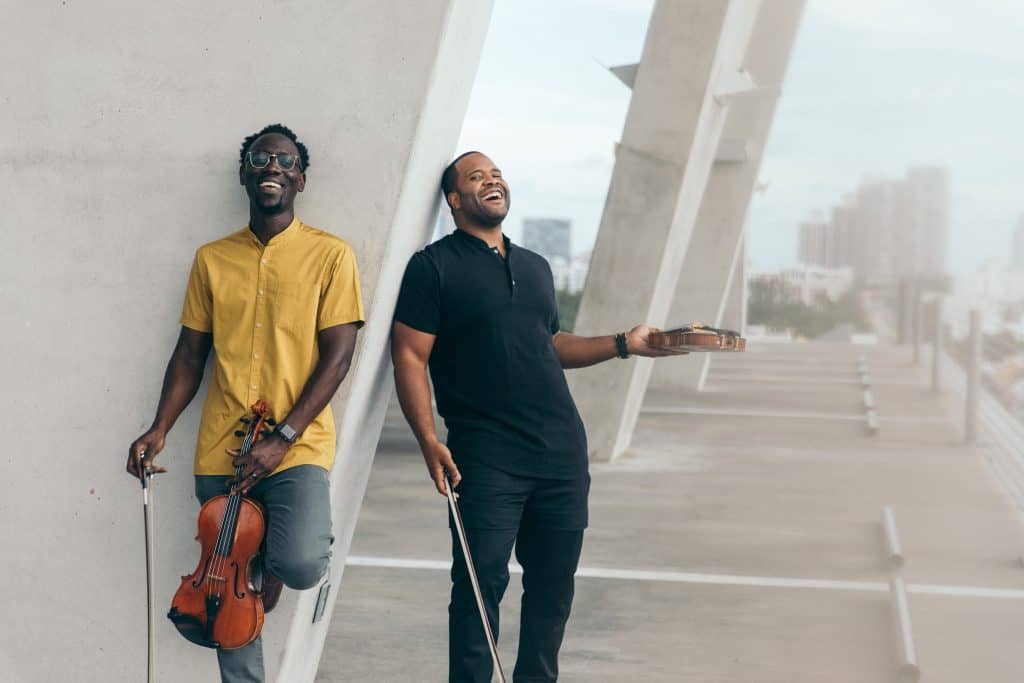 Across the country, black musicians make up only 1.8 percent of orchestra members, and Latino musicians just 2.5 percent. Asian and Pacific Islander musicians have fared better, representing nine percent of orchestra members. That means white musicians comprise the remaining 85 percent of orchestra members — as well as 79 percent of conductors, 85 percent of staff and 92 percent of board members. 
In other words, the racial makeup of an average orchestra is nothing like that of the United States, which has a population that is around 12 percent Latino, 12 percent black or African-American, and five percent Asian or Pacific Islander. The difference becomes even more pronounced when you look at the urban centers these orchestras represent. For example, the population of Philadelphia is 44 percent African-American, but black musicians make up less than five percent of the Philadelphia Orchestra.  
Furthermore, orchestras rarely play work by people of color outside of Black History Month. Last year, the Philadelphia Orchestra played a piece by a living black female composer, Valerie Colman's Umoja, for the first time in its 120-year history.  
It didn't have to be this way. Historian and musician Joseph Horowitz points to a brief moment before World War I when the door cracked open for black classical musicians to achieve mainstream recognition. As early as the 1830s, the Negro Philharmonic Society in New Orleans was performing concerts for the city's "free colored." During the years following the Civil War, the music of black Americans was increasingly embraced by popular culture (and notably, appropriated by white performers in blackface "minstrel shows" that became America's most popular entertainment between 1850 and 1870.) 
In 1892, renowned Czech composer Antonin Dvorak, director of the National Conservatory of Music of America, became so taken with the unique sound of plantation spirituals (learned from his assistant, black composer Harry Burleigh) that he worked the melodies of "Go Down, Moses" and "Sing Low, Sweet Chariot" into his 1893 "New World Symphony." In a newspaper article, Dvorak predicted that the future of American music "must be founded upon what are called negro melodies," the foundation of "a great and noble school of music."
Florence Price String Quartet in G Slow Movement, performed at the University of Arkansas in January 2015.
As the roots of jazz, gospel and the blues began to spread, so did the beginnings of an African-American classical music canon. By the 1930s, audiences were lining up to hear major orchestras perform works by black composers like William Levi Dawson, William Grant Still and Florence Price. Dawson's 1934 Negro Folk Symphony premiered at the Philadelphia Orchestra and received a standing ovation during its second performance at Carnegie Hall. But due to a number of factors, including the rise of modernism (an atonal musical style at odds with traditional melodies and rhythms) and run-of-the-mill racism (a refusal to hire black performers), those opportunities dried up. 
As a result, black musicians moved on from orchestral music. As far as Horowitz is concerned, America squandered its opportunity to "absorb the influence of African-American music so that we could create our own idiom."
"The black musical motherlode wound up fostering and creating other music genres, which to this day identify American music the world over, whereas classical music in America remained stunted and white," he says.
Of late, the classical world has been rediscovering historic African-American composers like Price, whose Symphony No. 1 was one of the top 10 most-performed, published classical works of 2019. Meanwhile, some contemporary classical musicians are trying to build a better future for the genre: one in which black composers and performers are no longer a rarity. 
Building a pipeline
Earlier this month, hundreds of classical-music innovators gathered in Detroit for SphinxConnect, a global leadership conference dedicated to fostering diversity in the arts. It's one of the many programs of the Sphinx Organization, founded 23 years ago by Aaron Dworkin, who was President Obama's first appointee to the National Council on the Arts. 
"Our founder is a biracial violinist, who often found himself to be the only person of color in any musical setting," says Sphinx president and artistic director Afa Dworkin, Aaron's wife. "He felt that it was definitely not an issue of talent, but it was an issue of access and exposure. "
This month, cellist Gabriel Martins won first prize at the 2020 Sphinx Competition.
Sphinx began by hosting a prestigious competition for young black and Latino string players, in the hope of creating a network for emerging talent. It soon became apparent that this flagship program wasn't enough to highlight accomplished musicians; they needed to "build the pipeline" to offer music education and opportunities to children who might not otherwise get them. Today they provide music education to 10,000 young people year-round, and concerts by Sphinx's black and Latino orchestras reach two million people between live concerts and broadcasts. 
"The ultimate aim is, of course, a reality where America's orchestras would be reflective of the diversity of the communities in which the orchestras reside," says Dworkin.  
She's optimistic, citing the fact that over 100 American orchestras have partnered with the Sphinx Organization. "There's a good deal of recognition that diversity is important, not only to better the field, but for the field to stay relevant and to survive," says Dworkin. "There's a good deal more commissioning opportunities for composers of color. I have seen a lot of change, and I'm definitely encouraged."
A more open canon
While groups like Sphinx work to change classical music in partnership with established organizations, others are looking to make change from the outside in. 
Jeri Lynne Johnson, one of the few black women conductors in the field, began her music career on a traditional track. After completing a master's program in music and winning a prestigious conducting fellowship, she made the final round of auditions for several major American orchestras — only to be rejected each time. At her final audition in 2007, the search committee chairman took her aside to give her feedback. It was all positive, except for one thing. 
"He said, we just don't know how to market you," says Johnson. "And I didn't understand. I said, what are you talking about? And he said, you just don't look like what our audience expects the conductor to look like. "
Johnson was devastated. "For months, I was just bitter and angry," she says. And then she resolved to stop following in other conductors' footsteps and clear her own path. The Black Pearl Chamber Orchestra, the intentionally diverse orchestra that Johnson founded and conducts, has been playing to sold-out audiences in Philadelphia for a decade.
Beethoven Symphony #8 performed by the Black Pearl Chamber Orchestra at the Pennsylvania Convention Center in March 2009.
"Classical music has a tendency to believe that, as an art form, it's above the political fray," says Johnson. "But its lack of diversity is in itself a political statement. And so Black Pearl, while we are an orchestra and we perform, we are also a statement about how politics, race, class, gender and power play out in people's perceptions. And I think that has been the most powerful force behind our existence for the last ten years." 
In addition to committing to diversity "from the board to the staff to the musicians onstage," Black Pearl's repertoire seeks to "open up the canon," showcasing the work of historic female and non-white composers alongside their better-known contemporaries. For Black History Month, they opened with a piece by Chevalier de Saint-Georges, a black 18th century composer who was a court musician for France's King Louis XV and a contemporary of Mozart and Hayden. Black Pearl's upcoming 10th anniversary concert will feature only compositions by African-American women, including two living composers, Jesse Montgomery and Valerie Colman. 
Thanks to the tireless efforts of classical music changemakers, historic and present-day black composers are beginning to find the audience they deserve. And if those cheering kids at the Black Violin concert are any indication, the genre has an exciting future. 
Read the companion piece to this story, Do School Plays Lead to PhDs?