"Do you want to witness the power of the sun?" grins Pierre-André Aubert, taking a scrap of wood and holding it under the beam of light emanating from what looks like a giant satellite dish covered in mirrors.
Within a second it begins to smoke and char at the edges, the point more than dramatically made by the sizzling summer heat of Marseille. "Now that's what you call firepower," adds Aubert. "It reaches about 600 to 700 Celsius at this point."
In this leafy corner of the southern French city, away from the bustling vieux port and next door to the engineering faculty of Marseille's Polytech University, is Europe's first ever 100 percent solar-powered restaurant. 
Sitting on 2,700 square meters of land, Le Présage, which launched in April, currently serves up refined, emissions-free gastronomy to dozens of diners per day. The early success of the project has shone a light on the huge potential for solar power to transform a sector infamous for its intensive, inefficient use of energy.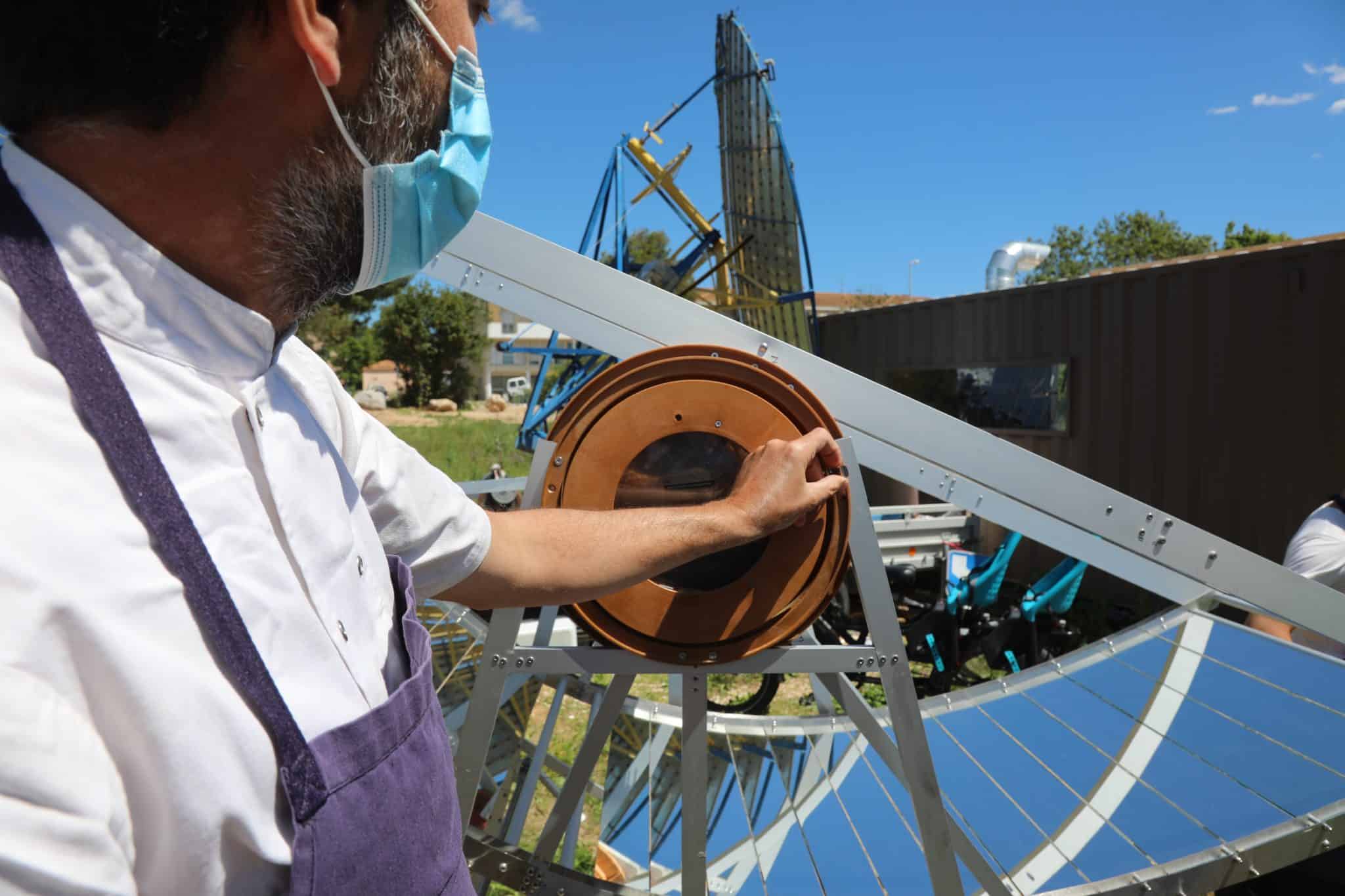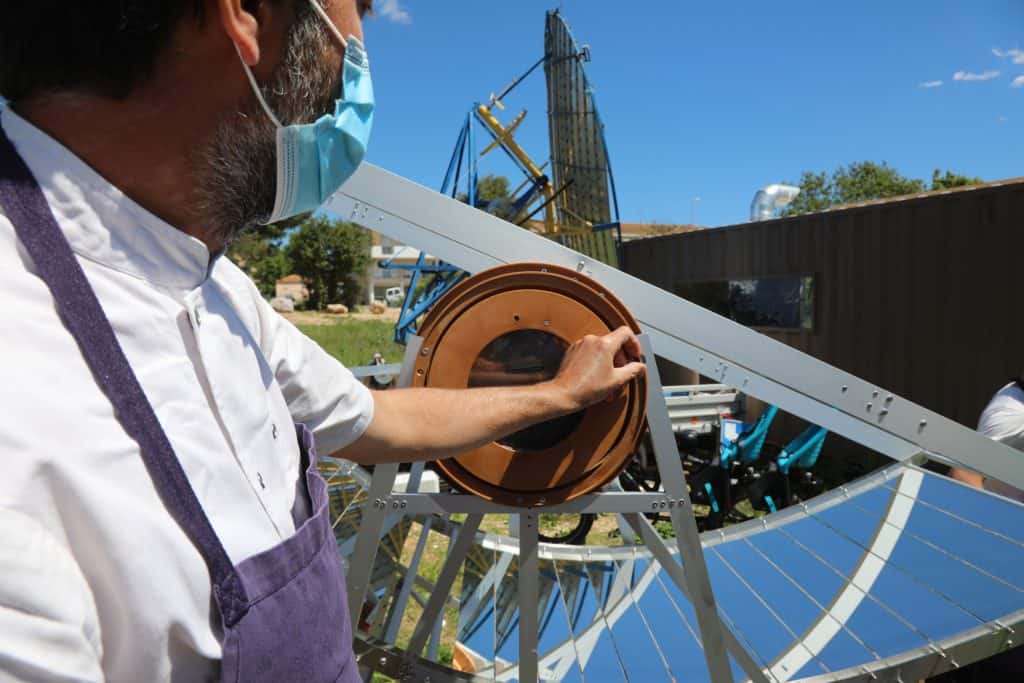 The restaurant's kitchen stove is powered by a large device known as a Scheffler Mirror, developed by a company called Simply Solar and adapted in-house, and a 37-liter solar oven created by French start-up Solar Brother. A tank of water is also heated by the sun to 80C for both cooking and cleaning. 
Squeezing out every drop of efficiency, the chefs have studied recipes that maximize energy use, which means no pasta (requiring a lot of boiling water for not much food), but plenty of whole vegetables (which can be roasted for hours without extra energy needs while maximizing flavor). The result is dishes as enviable as one would find at any conventional restaurant, from fava bean, butternut squash and courgette tagines to poached apple and elderberry crumbles.
For Aubert, a former aeronautical engineer who worked as a chef for a decade before founding Le Présage, harvesting the energy of the sun is just like harvesting any other kind of local ingredient. "The idea of this restaurant is simple: it's to use the natural resources from the area," he says. "Obviously, we use fruits and vegetables, wild herbs like fennel, mustard and rocket that grow in the area. But the other natural resource, which is most available here in Marseille, is sunlight."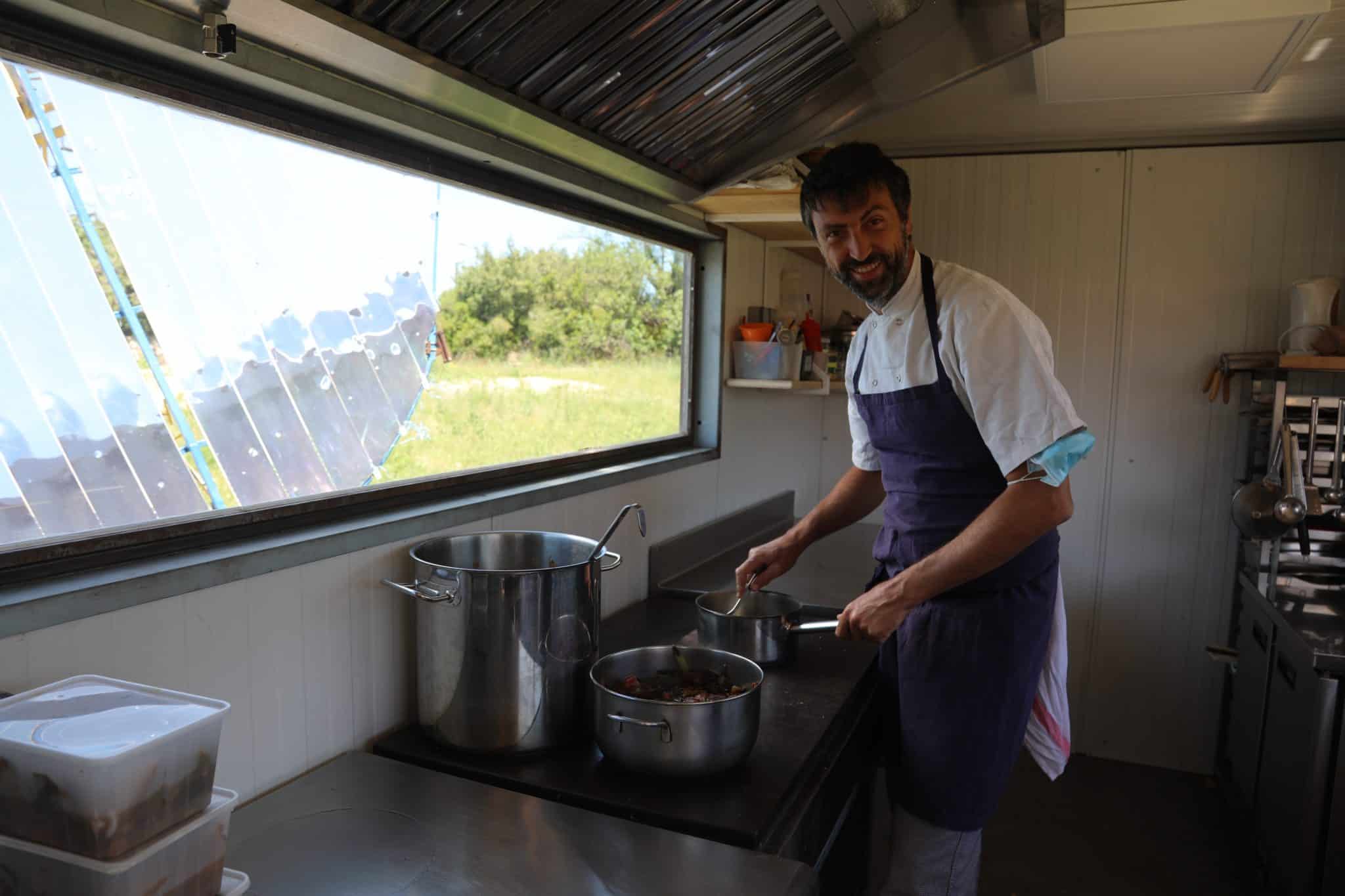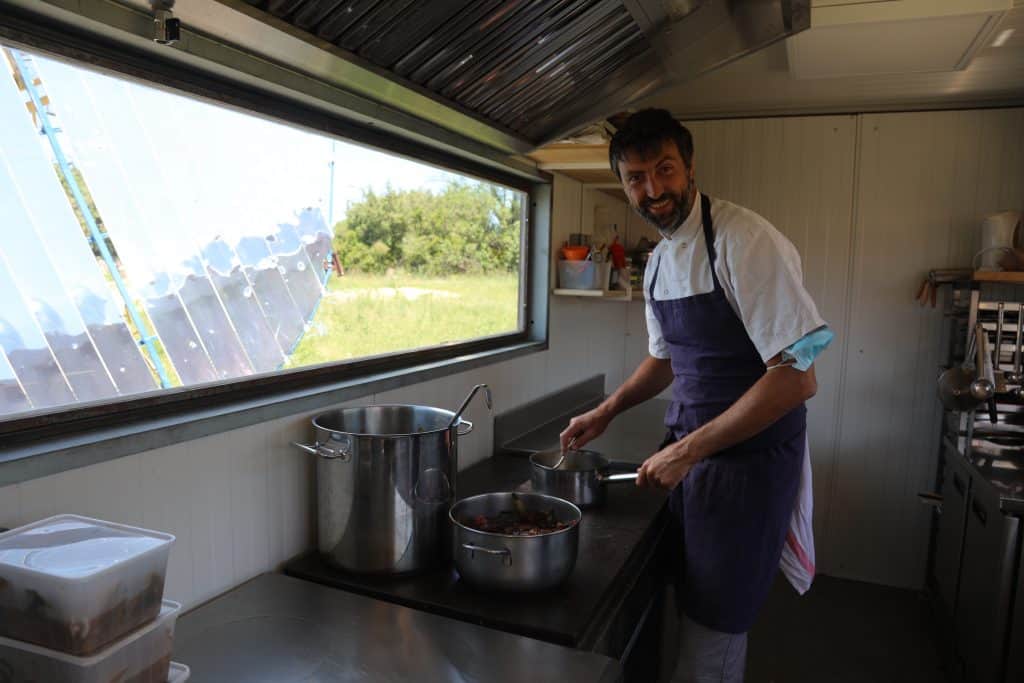 The concept was tested in the neighboring town of Aubagne over two short seasons in 2016 and 2017, during which some 1,500 meals were served and logistics were ironed out. But the Marseille site is the first permanent establishment. It is set to expand further next year with more capacity, a new herb and vegetable farm, and a circular system to power the restaurant with biogas and compost from the organic waste that it produces.
The project has immediately cooked up interest. Barbara Pompili, France's Minister for Ecological Transition, stopped by for a meal in April. And Le Présage, which plans to launch several other sites in the next three to five years, is in the midst of raising €1.7 million to fund its further development.
Crushed by negative news?
Sign up for the Reasons to be Cheerful newsletter.
Its success suggests that renewable energy has far more potential to make the restaurant industry sustainable than is currently being realized, according to Michael Oshman, CEO of the Green Restaurant Association, an international nonprofit that runs a certification system to recognize restaurants with good environmental credentials.
"It's come a long way, but the restaurant industry is far from a sustainable industry," says Oshman. "It really needs to shift. Realistically, society isn't going back to a hunter-gatherer lifestyle, so we need energy and it's got to be clean. But solar is a great story — it's a huge part of the solution."
Willy LeGrand, a professor at the IU International University of Applied Sciences in Bonn, Germany, and an expert on sustainability in the hospitality industry, agrees that there's significant work to be done. "Energy use is a major concern for the industry," he says. "There's cooking, refrigeration, lighting and heating. Restaurants are pretty intense in energy use. But the beauty with solar power is the standalone potential — you can produce it on site — and it's often the cheapest energy source available."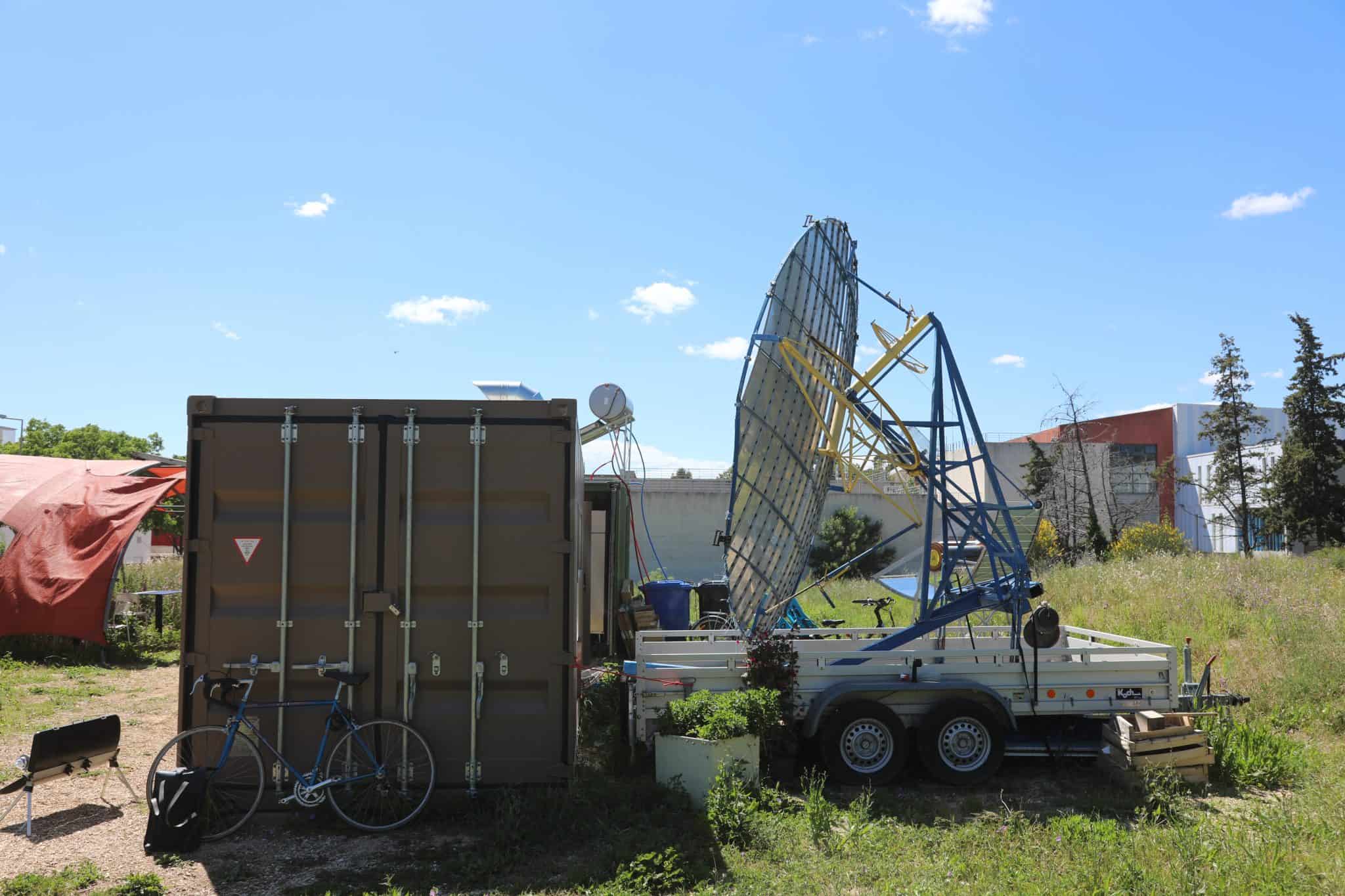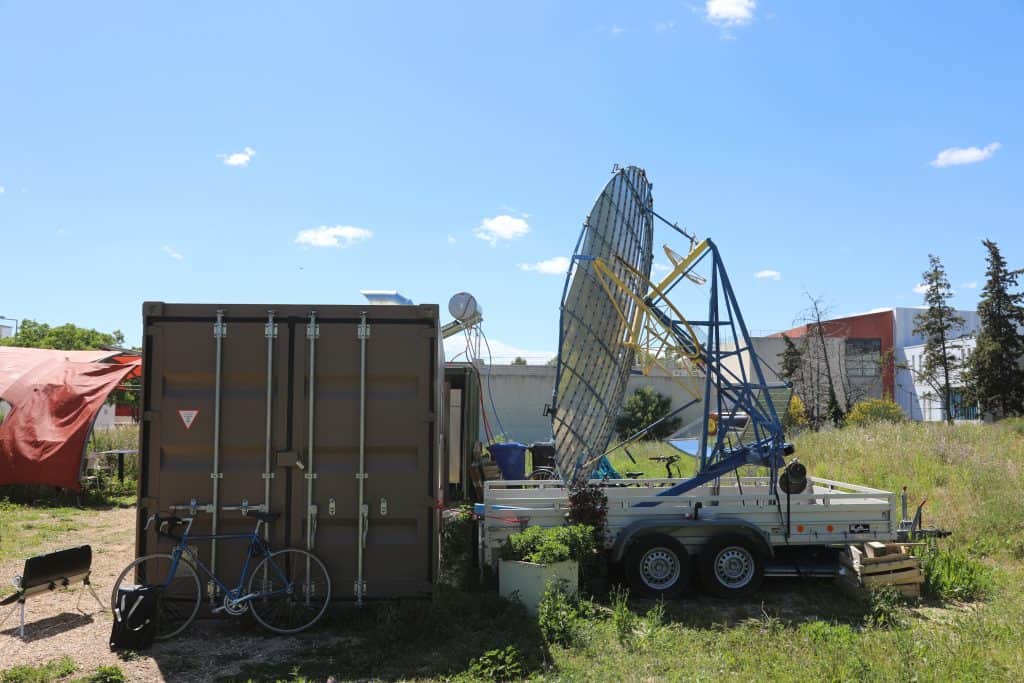 The gains could be enormous. The U.S. Environmental Protection Agency estimates that restaurants use about five to seven times more energy per square foot than other commercial buildings, such as office buildings and retail stores. "If solar energy could offset 20, 50 or 80 percent of that use, it's a huge part of the pie off the environmental balance sheet," says Oshman.
Of course, it helps that Marseille, France's second largest city, receives 300 days of sunshine each year. "If it rains for a week, that's going to be an issue for us," says Aubert. "We sometimes have to deal with the vagaries of the weather. But what's good about Marseille is that it rarely rains."
But even in locations that do have sufficient sunlight, layout and lack of space could hinder solar power's rise.
"If you have plenty of roof space and it's sunny, then it's fantastic," says Oshman. "In Florida, it tends to be that development is spread out, as is the same in California. But in places like New York City, restaurants might not have access to the roof or the landlords might not want to install solar equipment."
Aubert prefers to focus on the sunny side. He believes this model can be replicated around the world, providing more than just a glimmer of hope in making restaurants greener.
"We could put one at the MUCEM [art museum], one at the Calanques [nature reserve], another at Saint-Tropez," he says. "Then in California, South Africa, Australia and Chile. We are convinced that this restaurant can be reproduced in all places where the sun shines."