"This is a revolution, dammit!" shouts John Adams, his voice thundering against the fluorescent lights in the acoustic-tile ceiling. "We're going to have to offend somebody!" 
The original congressman from Massachusetts is addressing his fellow founding fathers, twenty of whom are huddled on a 16×20 foot platform, arguing over word choices in the newly-written Declaration of Independence. Adams' long dreadlocks are twisted into elegant coils as dignified as any powdered wig. 
In this production of the historical musical, 1776, Adams, Thomas Jefferson, Ben Franklin, and other representatives of the original 13 colonies are played by residents of Sing Sing Correctional Facility in New York, which means the cast is largely black and Latino. (Black people in the U.S. are incarcerated five times more than white people, and Hispanic people are almost twice as likely as white people to be locked up.) 
The men are dressed exquisitely in period-accurate waistcoats and jackets, loaned by a Broadway costume house; only those familiar with Department of Corrections dress codes would notice that none of them are wearing blue or gray (colors reserved for corrections officers); orange or green (the colors of jail and prison uniforms, respectively); or black (prohibited in prisons because it's hard to see, and therefore considered a security risk). Audience members with front-row folding chairs may notice that the scenery, a colorful sketch of Independence Hall, has been tagged with contemporary graffiti.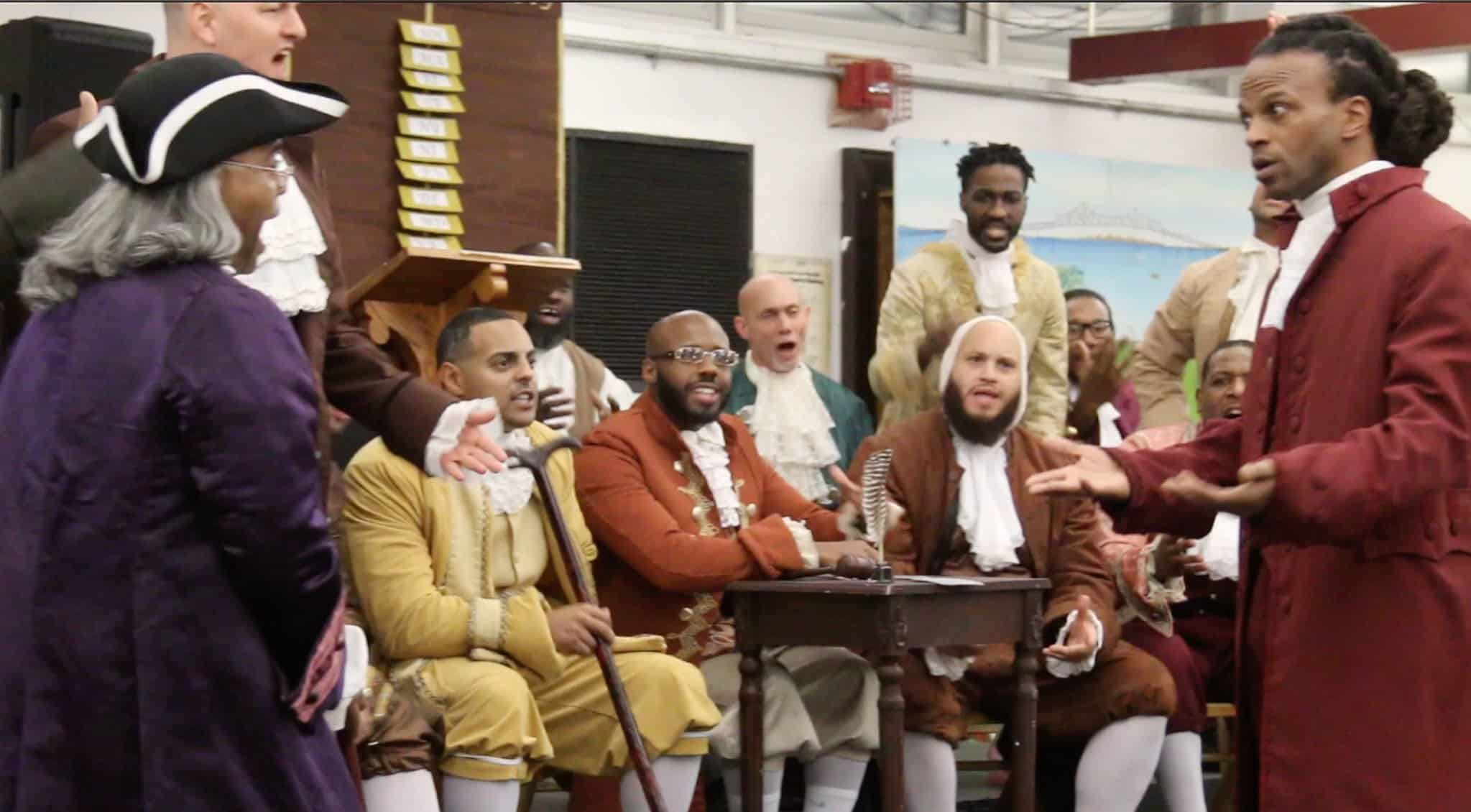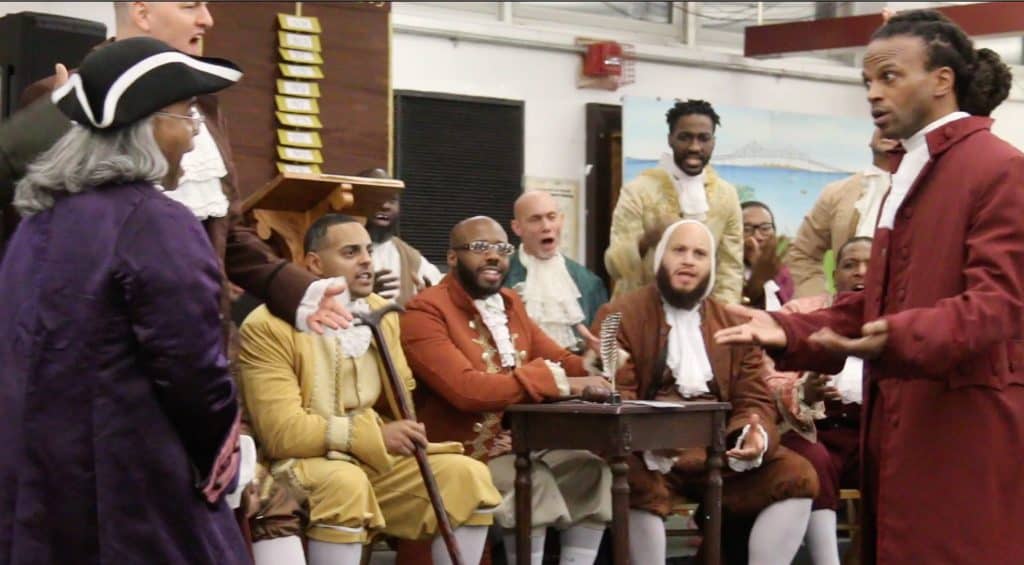 1776 is the third musical ever mounted by Rehabilitation Through the Arts (RTA), a nonprofit that has produced 49 plays in New York state prisons. Founded in 1996 by Katherine Vockins (who remains its hands-on Executive Director), RTA has expanded from a Sing Sing theater workshop to a full-fledged arts outreach program, offering music, dance, visual arts, and writing opportunities to hundreds of prisoners a year. But the theater program is RTA's signature achievement. 
To participate in an RTA play, inmates wait for their turn on a 100-person wait list, then agree to devote the better part of a year to rehearsals. Usually professional directors are brought in to direct (often in collaboration with an "inside" director in the prison), and professional actresses come in to play female roles. (Most New York prisons house only male inmates, so RTA finds plays with largely male casts — not a difficult task.) For 1776, RTA has brought in a professional music director and sound designer. All are volunteers. Every other position, onstage and off, is filled by incarcerated men.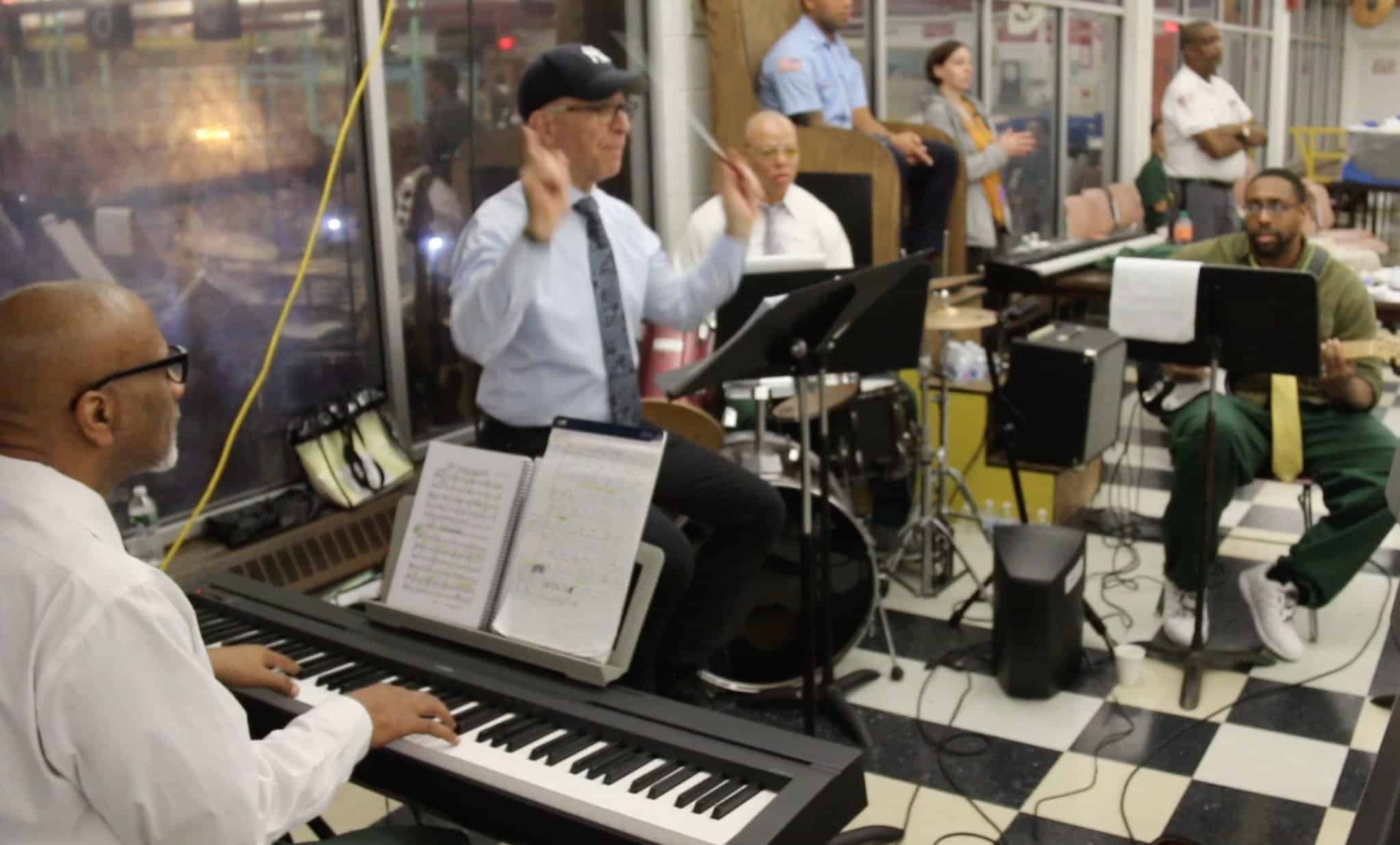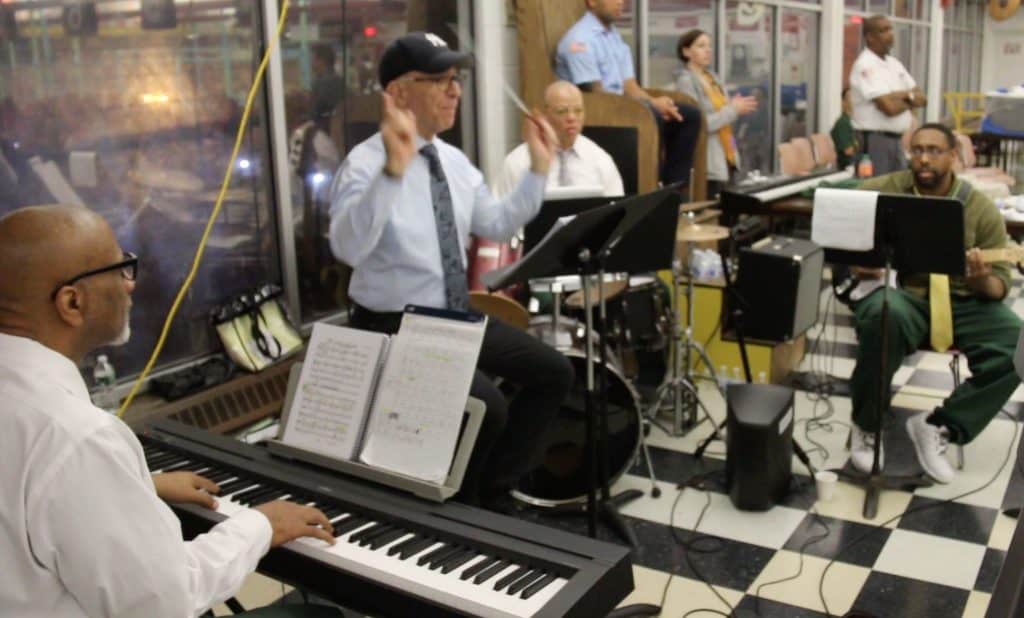 Most of the 1776 actors were initially unfamiliar with show, a long-running comedy that won the Tony award for best musical in 1969, was adapted into a feature film, and will return to Broadway for a second revival in 2021. Set in Philadelphia during meetings of the First Continental Congress, the show follows John Adams' efforts to convince the thirteen original colonies to declare independence from England.  
"I thought it was a watered-down Hamilton, but no, it's the real deal," says Jermaine Archer, who plays the lead role in the Sing Sing production. "And I love John Adams. He was the only one who didn't own slaves. So I get to play someone I'm proud of playing."
Archer, one of the 79 percent of Sing Sing residents incarcerated for a violent crime, is due for release next year. In addition to participating in RTA, he has spent his prison term learning three languages, earning his bachelor's and master's degrees, and working as an anti-gun-violence advocate. While Archer (whose family and friends have maintained a vigorous internet campaign arguing his innocence) has achieved more than most, he's not an exceptional case: membership in RTA has been shown to motivate prisoners to get an education, and many of the men in 1776 are actively working towards at least one college degree.
And then there's the practical education that comes with RTA. "Some of these guys have been in prison since they were teenagers and they don't know how to be adults," says 1776 director Lori Steinberg, a Broadway veteran. Some of the residents are quick to agree. During ten months of improvisation and rehearsals, they learn teamwork, conflict resolution, and real-world communication skills. 
"I've learned proper pronunciation, articulation, and there's no 's' in 'all,'" says 1776 performer James Henry Fulton, when asked about his big takeaways from RTA. "And I've learned not to speak with my hands. I'm black and Italian, so I talk with my hands! But I've learned to present myself properly in job interviews."
Some RTA members are wary of speaking with journalists. They don't like the way that the mainstream media tends to focus on their crimes, portraying them as hopeless cases who are redeemed by benevolent volunteers. Steinberg wants to make it clear that the Sing Sing residents are doing the heavy lifting.
"It's their creativity and their inventiveness that's up there, and I just felt honored to channel it into a cohesive production," says Steinberg.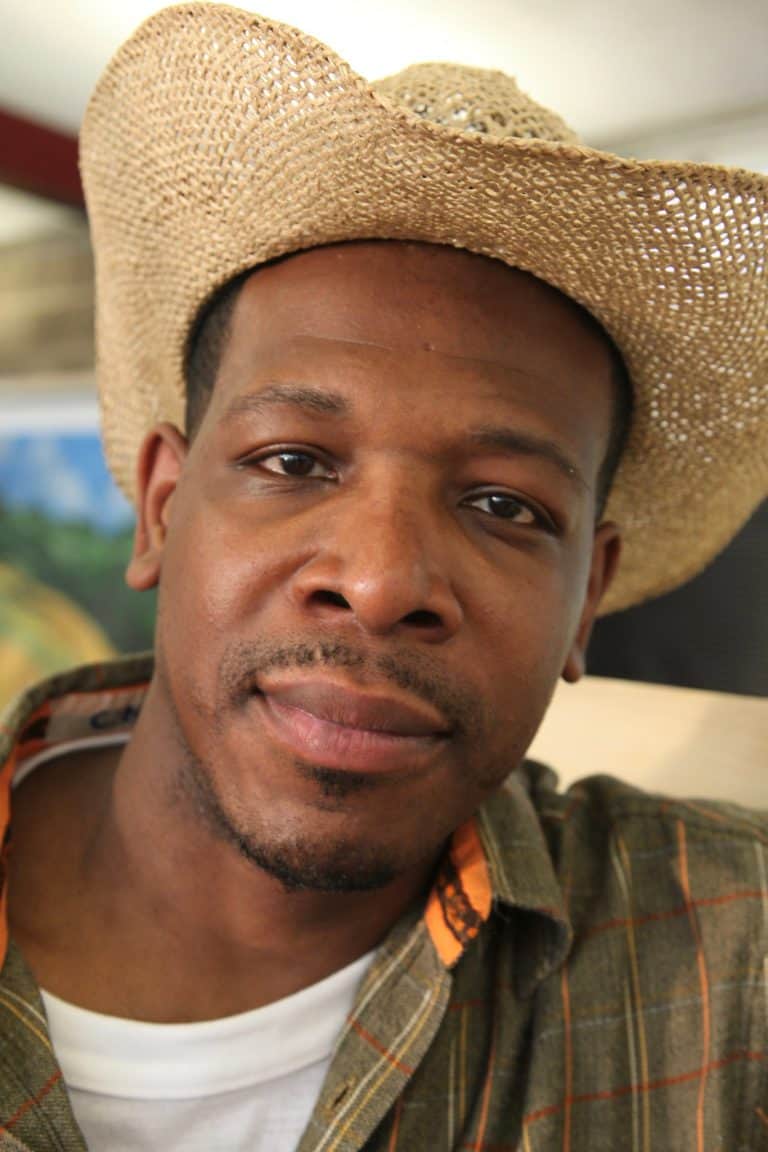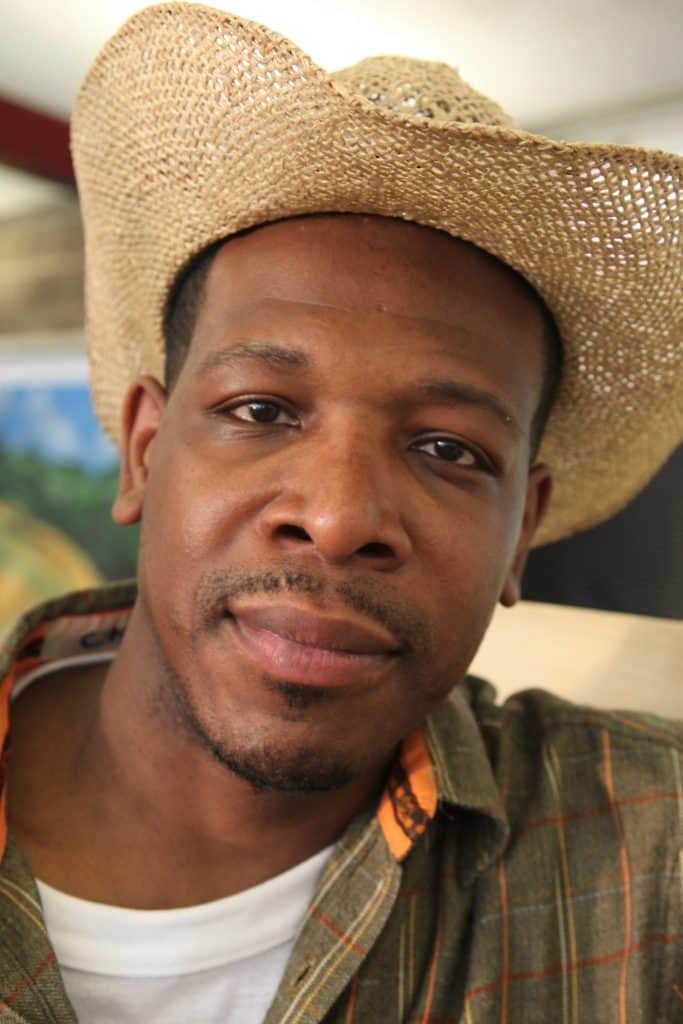 Take, for example, the show's most musically and thematically challenging song, "Molasses to Rum." In this number, South Carolina congressman Edward Rutledge defends the black slave trade as a proud American tradition, going so far as to enthusiastically re-enact a slave auction during the bridge. It's a song that drove several RTA members away from the role of Rutledge. ("I don't want my mother to hear me saying those words," said one.) But Chaymari Cormier, who is black, was excited to tackle the pro-slavery anthem.
"You seen Batman? With Heath Ledger? That's the kind of mindset I have to get into," he says.
In collaboration with the show's drummer Amun Neteru and guitarist Marvin Winkfield, both fellow Sing Sing residents, Cormier reinvented "Molasses to Rum" as a spoken-word rap with a pulsing jazz beat. During the performance, he stands on a chair, shouting "Notice the faces at the auctions, gentlemen — white faces!" at the audience, an aggregation of prison officials, community members, RTA volunteers and family members. As Cormier continues, two "slaves" cross the stage in their prison uniforms, their hands in imaginary shackles. Behind Cormier, the other actors watch in silent horror, never breaking character. It is a devastating moment. 
There are other 1776 scenes that take on a greater resonance, when witnessed in the Sing Sing visitation room: Abigail Adams telling her faraway husband, "Don't stop writing, it's all I have." A young soldier, home from the battlefield, who sings about his fallen friends. The calendar on the wall, counting down the days until July 4, when the U.S. will declare its freedom. 
There are also absurd moments of disconnect, like Franklin, Connecticut's Roger Sherman and New York's John Livingston pumping their fists and singing "Homicide, homicide, homicide" — the musical punchline to a joke about how much Thomas Jefferson hates John Adams. (For the record, the line has never been funnier.) 
Throughout the performance, correctional officers pace the perimeter of the room, their batons dangling at the audience's eye level. One guard watches the play from an elevated platform at the back of the room, in a high and crenelated wooden seat that looks bizarrely like a throne. Everyone at Sing Sing is playing a role, not just the actors. But in RTA, the men can choose who they want to be, and that makes all the difference. 
"Prison is a miserable place," says Steinberg. "And we don't see how miserable it is. The men are just so engaged and committed and creative and inventive that it's easy to forget where you are."
The musical concludes with Adams getting his vote for American independence, though he and the representatives from the north must first agree to strike the Declaration's prohibition of slavery. It's our country's original political sin, one that started us down the road to mass incarceration of African-Americans. And yet in many ways, 1776 shows an ideal version of the Democratic process. Everyone gets a say in what the new nation should be. And within the context of the show, Sing Sing residents get to speak out about government policies without fear or repercussion. 
Upon their release, 95 percent of RTA participants will never return to jail, unlike 60 percent of the national prison population. Some will return in a different capacity, as RTA volunteers, staff, or audience members. Many of the men who perform with RTA express a desire to continue doing theater on the outside; its power of transformation has been revelatory for them.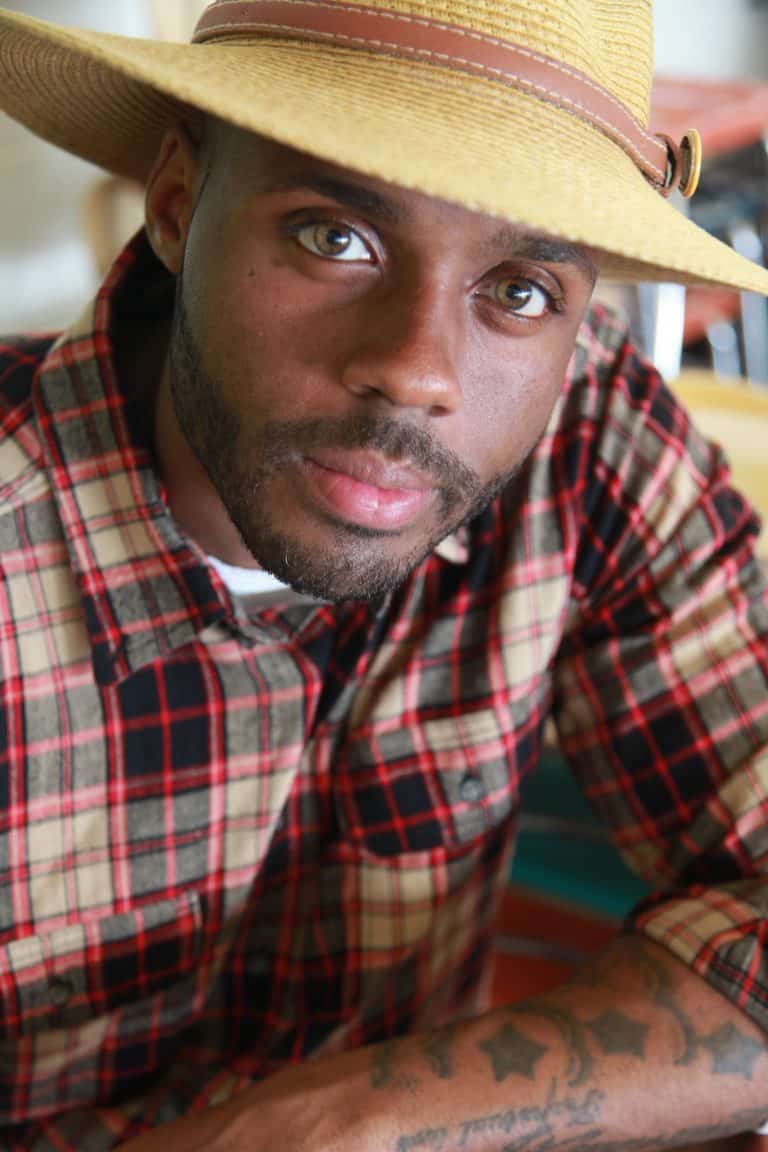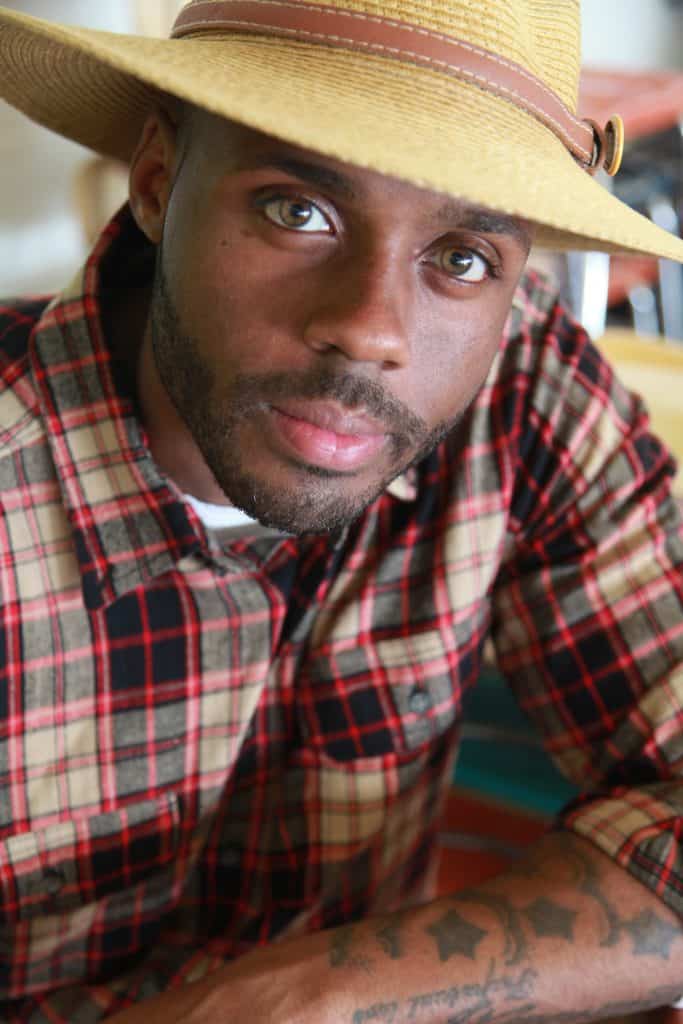 "I want to go home with this and instead of kids doing sports I can introduce them to the arts. I want to expose them to more forms of art than I grew up seeing," says Dayvon Underdue, the young man who plays John Hancock. "There's so much negative stuff out there, how can you be a positive change?" 
His eyes get a faraway look. "It's scary because I'm like, damn, this could possibly take me to a place where I'm leading the movement."
During the curtain call, the scenery is replaced by a large-scale copy of Robert Edge Pine's famously unfinished 1784 painting Congress Voting Independence, which portrays the climactic historic event of 1776. Challenged by RTA art instructor Susanne Shoemaker to finish the painting their own way, Sing Sing residents have darkened the skin of the historical figures, dressed some of them in contemporary clothing, and added Native Americans and women. Ironically, because gang activity in the prison caused a lockdown during dress rehearsal week, this version, too, is unfinished. Still, there it is, right in the middle of Sing Sing: the beginnings of a re-imagining of American independence. 
Read this article's companion story, "Creative Freedom."