At first glance, the turn-of-the-century brownstone on Western Avenue in Chicago resembles any other bicycle repair shop. Several thousand bikes in all sizes and colors are crammed into the Working Bikes warehouse, awaiting their new future.
"We process about 11,000 bikes a year and find new homes for all of them," says Trevor Clarke, a former lawyer and Working Bikes' executive director. What distinguishes Working Bikes is not just the volume but the cause: "We collect bikes that are unused, abandoned or potentially going to waste and find them the best home possible." Working Bikes gives bicycles away for a token sum or even for free to people who need them most.
Thousands of bikes a year are donated by "people who have them sitting in their garages," says Clarke. Many are Schwinns, a brand manufactured in Chicago until the early '80s. Donations also come from bicycle shops (where some customers abandon bikes), cities, police departments, universities, parks, condo managers, and all kinds of other sources, giving new meaning to the old saying, "One man's trash is another man's treasure." Working Bikes volunteers and staff sort the bikes and determine the best use for each.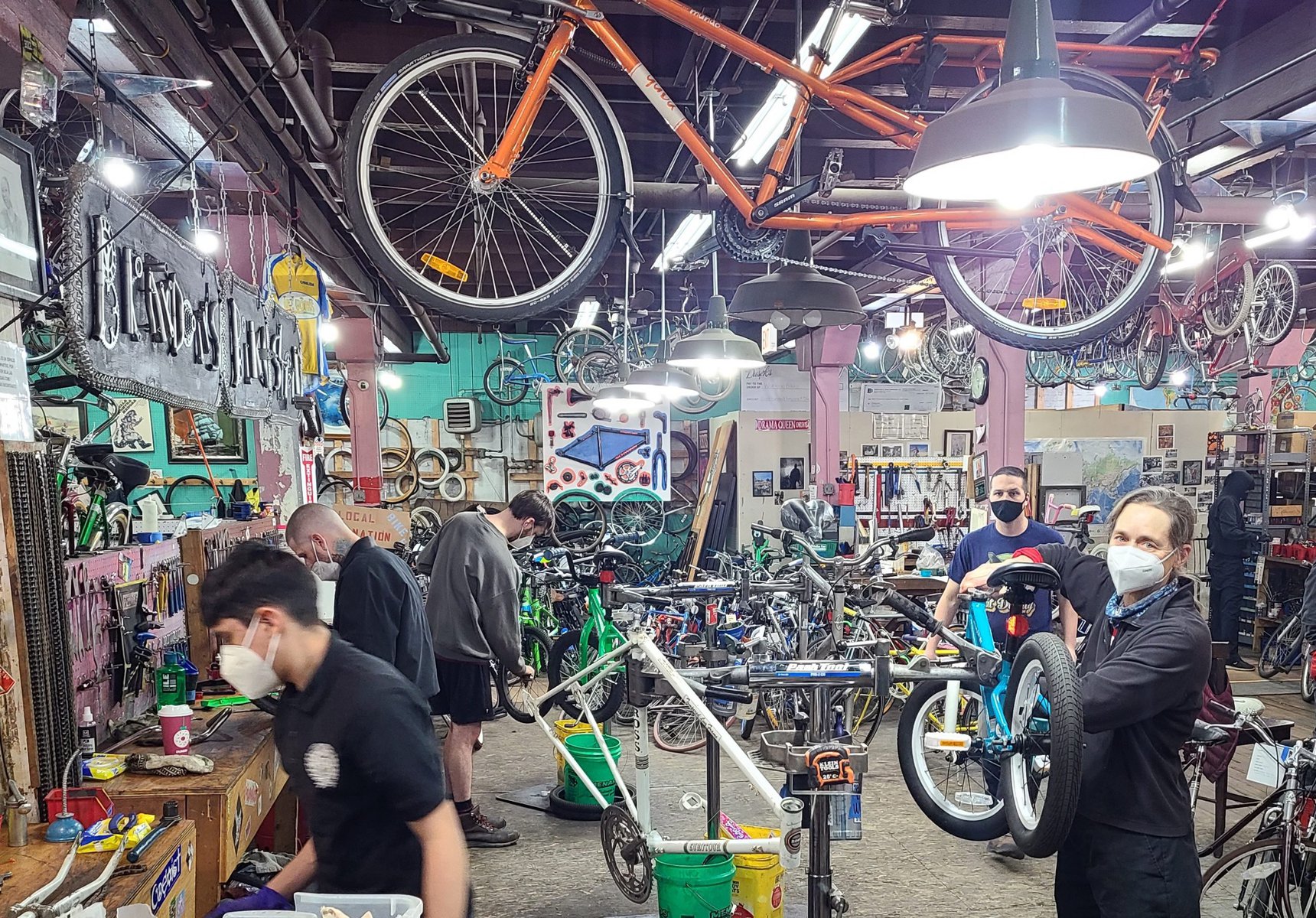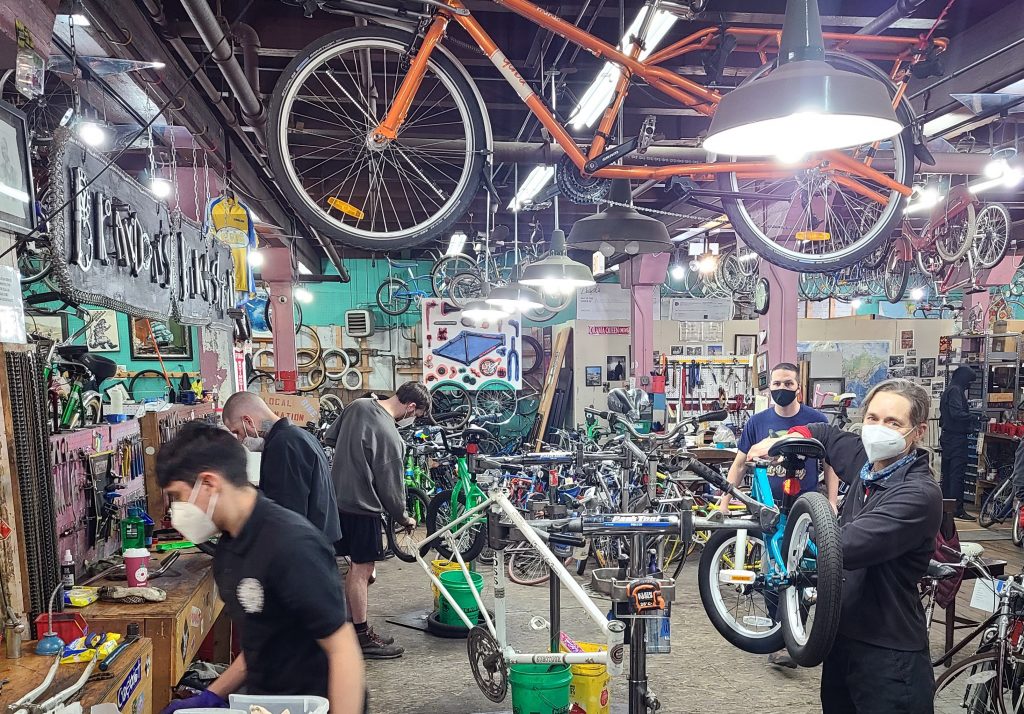 "We ship about two-thirds of the bikes to our international partners, mostly in Africa and Central America, especially the sturdy bikes with knobby tires that can handle rough dirt roads," Clarke explains. "In Chicago, roads are completely flat. So, city cruisers and racing bikes will be most useful here locally." Working Bikes will fix them up. "We either sell them at an affordable price if they've been fixed by one of our dozen professional mechanics or donate them if they have been fixed by volunteers."
For what they call their "Cycle of Power" program, Working Bikes accepts referrals from social service agencies, refugee resettlement groups, transitional housing facilities, "pretty much any nonprofit or community-based organization that supports a population that might have trouble accessing transportation and needs them to get to work or school, or refugees or people released from prison here who are starting over."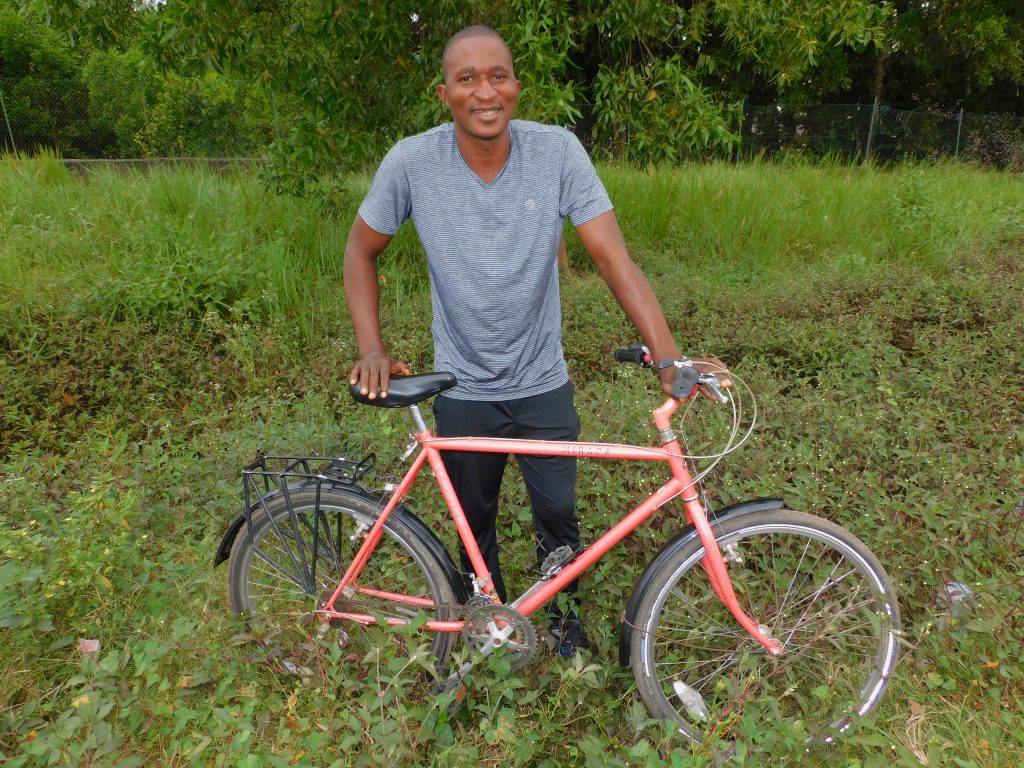 Clarke remembers a Chicago nurse whose bicycle had been stolen at the start of the pandemic. Because she worked in the ER, she didn't want to use public transport for fear of getting infected or infecting someone with Covid. But she still needed to get to work. A bicycle from Working Bikes was the solution. "All people look at bikes in a different way. We look at bikes as something that can really change someone's life," Anna Henschel, the former Working Bikes volunteer program manager, says. "They can help you find a job; they can help you get healthy; they can help you change the way you look at the world."
Car traffic, know-how, cost and space needed to maintain and store a bike are common barriers to bike use, a recent study found. Working Bikes can't change Chicago traffic, but it does donate helmets, a lock and free bike servicing for a year along with each two-wheeler.
Another local recipient, Stevens Suazo, is a refugee from Venezuela with a heart condition. "He was identified early on as someone who would not only benefit from a bicycle but from our Community Mechanic Training Program," Clarke explains. "He was a mechanic in Venezuela, and at the housing facility in Chicago they knew him as the go-to guy when something broke." He is now a bicycle mechanic and rides his donated bike to job interviews. "It's a great feeling to have volunteers fix up a bike and then see that bike come back into the service department because the brakes have been worn down," Clarke says with a smile. "We know they are riding them hard, and we love that."
Since its inception in 1999, the community of Working Bikes volunteers, staff, partners and supporters have enabled new life for more than 100,000 bicycles across the globe and tens of thousands locally in Chicago. Even throughout the pandemic, the volunteers have been meeting to repair and ship bikes, and they also maintain "bike libraries" for people who only need bicycles occasionally or have no place to store them.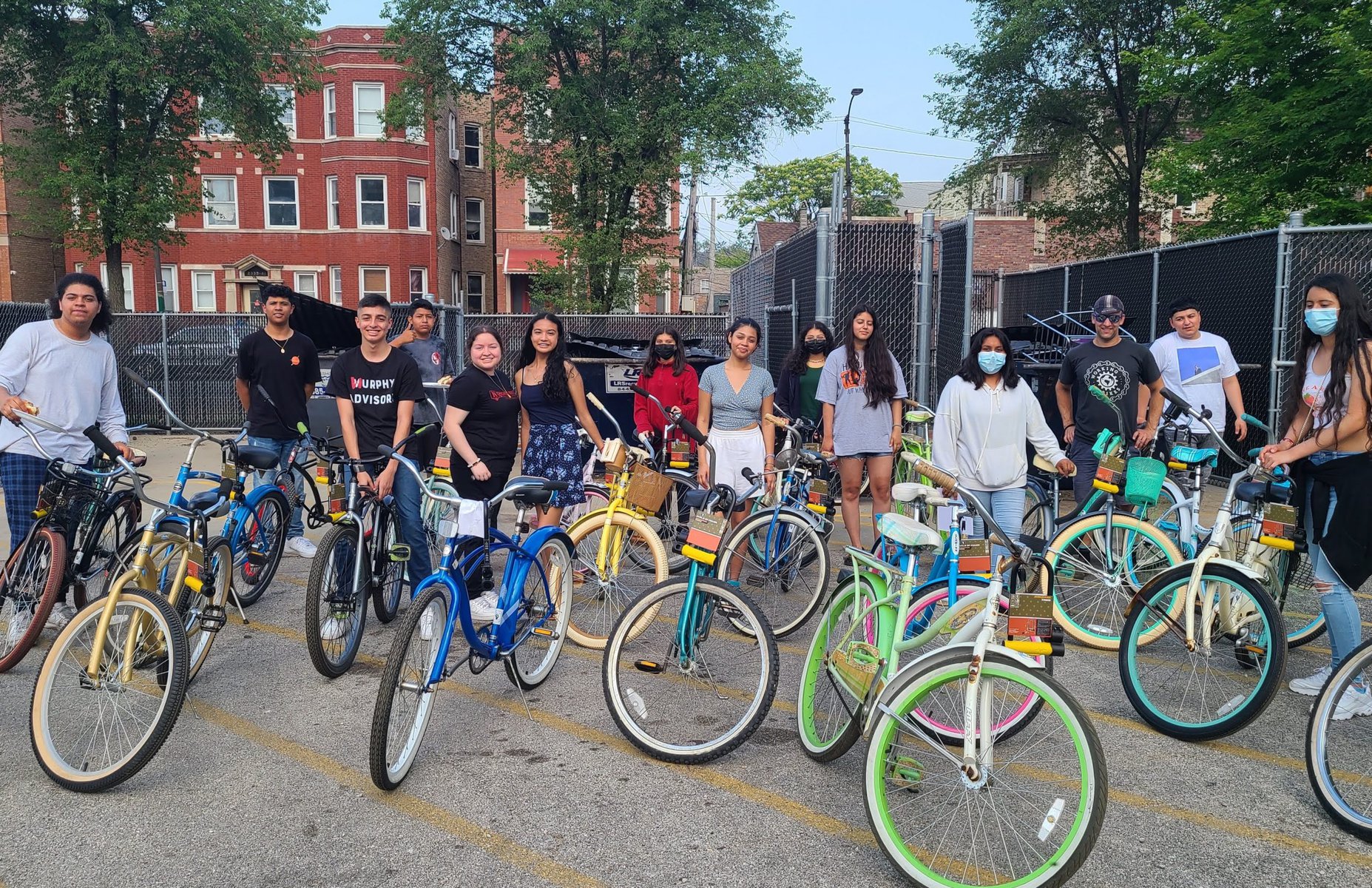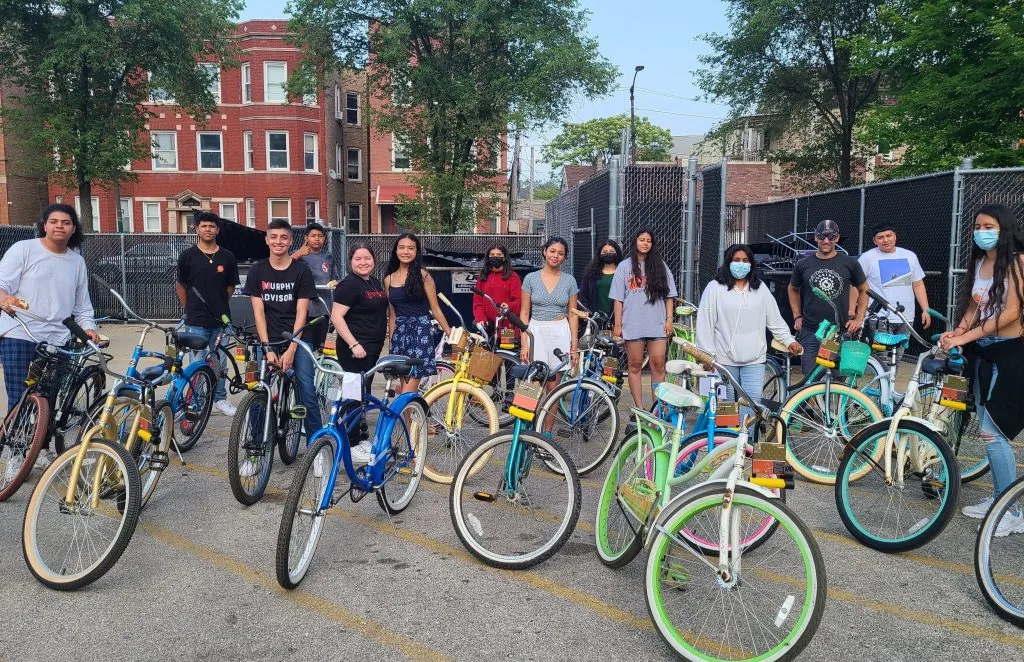 Like most employees and volunteers at Working Bikes, Clarke found his way to the nonprofit because he's a bicycle enthusiast. He rides his bike rain or shine, and even transports his two young girls, ages one and three, to daycare with his cargo bike. "They're wrapped up real warm, and they like it because they get to interact more with neighbors," he assures skeptics, used to doubtful glances in winter.
He first connected with Working Bikes like most locals do, as a volunteer, before becoming its executive director in 2018. "I came to one of their volunteer sessions. The deal is that you work for three hours with more experienced mechanics on a bike to donate to someone else, and then the last hour, they help you work on whatever project you want to work on." On his way home, his overhauled old bike ran so much better that he "realized there was a lot I didn't know." He became hooked and kept coming back.
Working Bikes repairs donated bikes as needed, but mountain bikes and other sturdy two-wheelers often end up in shipping containers to be sent overseas. During monthly "shipping parties," dozens of volunteers come together to pack the containers as tightly as possible before sending them to Tanzania, Malawi, Ghana, Sierra Leone, Uganda, Zambia, El Salvador or Madagascar. Clarke emphasizes that the donated bikes help "nurses and health care workers to get around in remote areas, also to distribute hand sanitizers and other supplies."
Crushed by negative news?
Sign up for the Reasons to be Cheerful newsletter.
With a community spirit, about 1,000 volunteers every year support a staff of 20. "We had such a great time that we keep coming back," says Kathryn Armstrong, an avid cyclist and project manager in Chicago, after joining her first shipping party at Working Bikes with her husband, Mark Samoulis, an engineer, two years ago. The couple spent that cold, rainy morning putting donated bikes together to prepare them for shipment to several countries in Africa and Central America. Armstrong had such a joyful experience that she has not missed a Working Bikes volunteer day since. She is now the president of the local Rotary chapter, whose members regularly staff Working Bikes shipping days.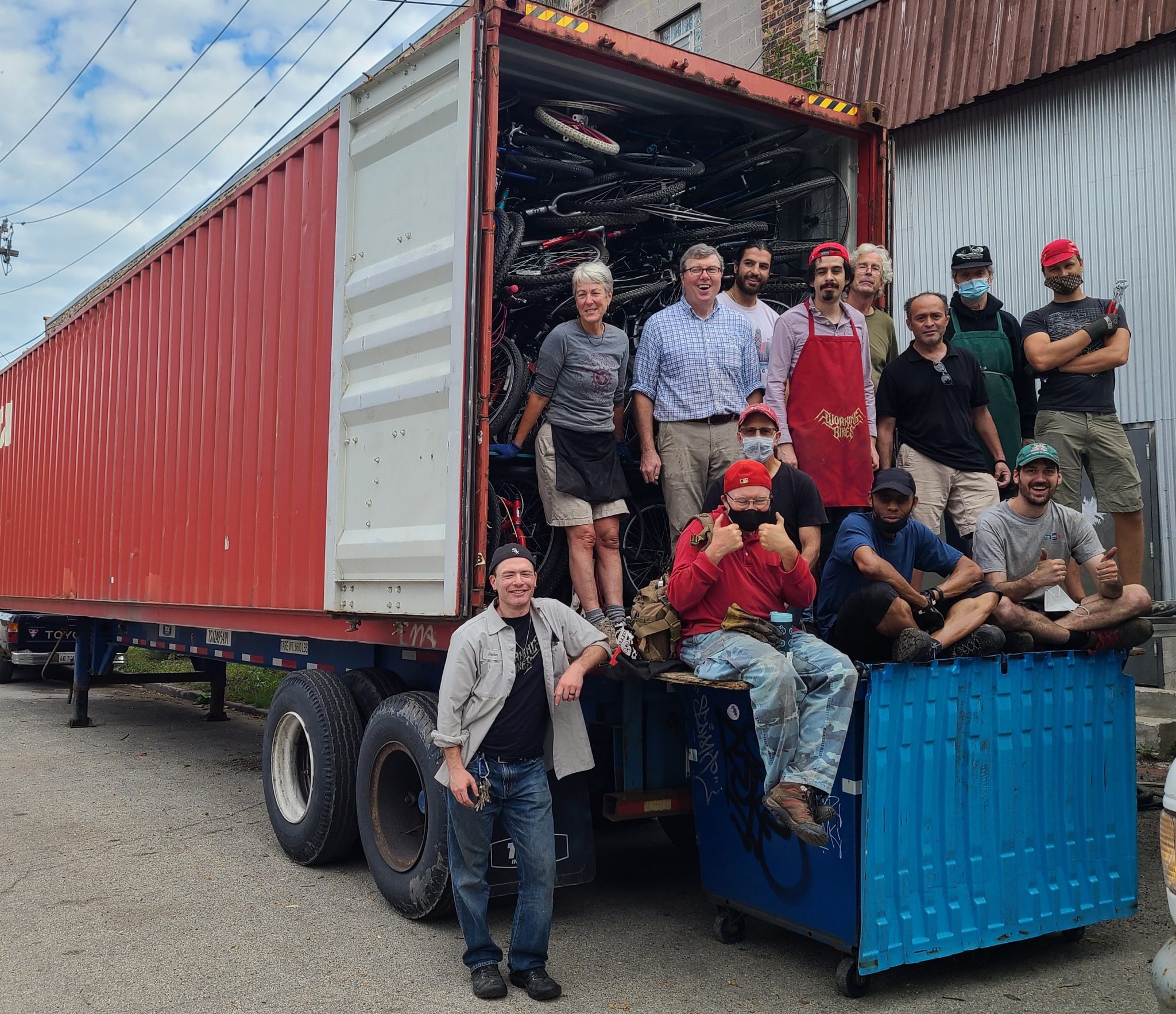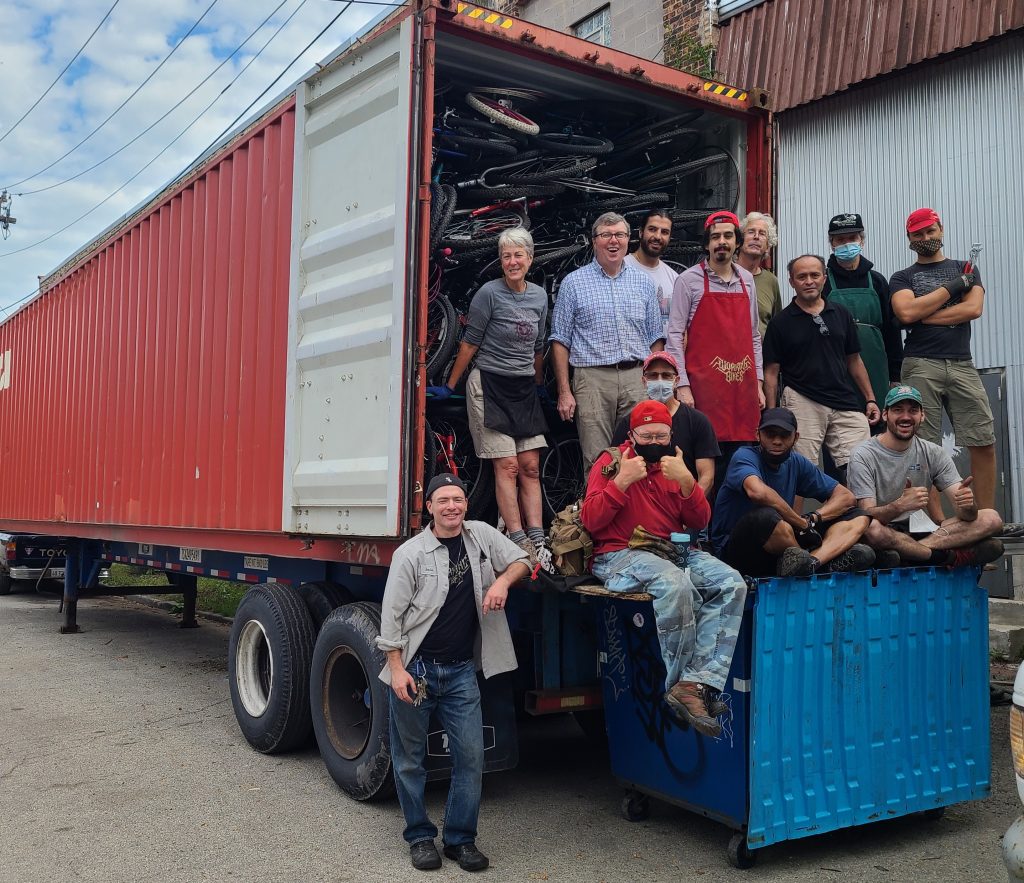 Working Bikes does not fix the bikes destined for Africa, but makes sure they are fixable. "We don't send them garbage," Clarke clarifies. "But refurbishing a bike takes an average of four hours. Instead of repairing them ourselves, we include a lot of extra parts, tires, wheels, etc." That way, Working Bikes manages to ship more than 7,000 bikes a year and creates jobs in Africa for overseas partners such as Africycle. "We're getting somebody a quality frame to work on that is probably not available in Malawi, then they can put in the labor," Clarke says. "We know that's useful income for our partners."
The impact of sturdy bikes in Africa was recently recognized by the US, when Illinois Senator Dick Durbin introduced the Bicycles for Rural African Transport Act, legislation to establish a rural mobility program within the Office of Gender Equality and Women's Empowerment at the United States Agency for International Development (USAID), using affordable, sustainable bicycles to support access and key development objectives. In 2021, the US allocated $3.5 million to market and study the use of bicycles for rural communities in Sub-Saharan Africa, an initiative known as Bicycles for Growth.
"Bicycles create opportunities for households to access markets, healthcare, water, education, employment and business … that amount to more than 50 percent of a household's income," Africycle has learned in Malawi. "This money, in turn, can be reinvested into education for children, increasing farming outputs and building a better quality of life."
As a proud Chicago resident, Clarke also sees firsthand the changes in his neighborhood. The nonprofit Boxing Out Negativity was started in Chicago by a former gang member, Derek Brown, after his incarceration as way for youth to work out their frustration and connect to community. Working Bikes started supplying bicycles so youth could cycle to the boxing club in North Lawndale, the community adjacent to Working Bikes headquarters. When the pandemic put an end to boxing for the better part of two years, the boxers turned into bikers. "Some young people from North Lawndale live only four miles from downtown but have never seen the lake," Clarke says. "So getting them on a bicycle really opens up the city for them. We also bring them into the culture and support them by trying to teach them mechanics."
Their bike rides were a success, with hundreds sometimes joining, riding together through areas of Chicago that might not always feel safe. "It's a great way to teach the youth how to get around safely and sustainably," Clarke says. He is proudest of the tandem bike his nonprofit donated to Boxing Out Negativity. "This is Derek's conflict resolution tool," Clarke says. "When two of his people are getting into it with each other, he has them ride around on the tandem together until they have worked it out."