For many, the Canal Saint-Martin in the hip 11th district of Paris — with its aquamarine waters, quaint footbridges and rows of classic Parisian street-side terraces — is an ideal place to while away the long summer days and nights. But the 19th century waterway, built by Napoleon, is also now emblematic of a quiet revolution in the French capital.
Free public fountains, dispensing still and sparkling water drawn from the depths below the city and purified via reverse osmosis, line the canal's historic banks and, as of this summer, its urban waters are now clean enough for Parisians to swim in.
"Water is such an important resource," says Dan Lert, the deputy mayor of Paris in charge of the ecological transition and the climate, water and energy plans. "But the unprecedented climate change in Paris and France means it's the end of the abundance of water. So we have to do everything we can to use this resource as best we can."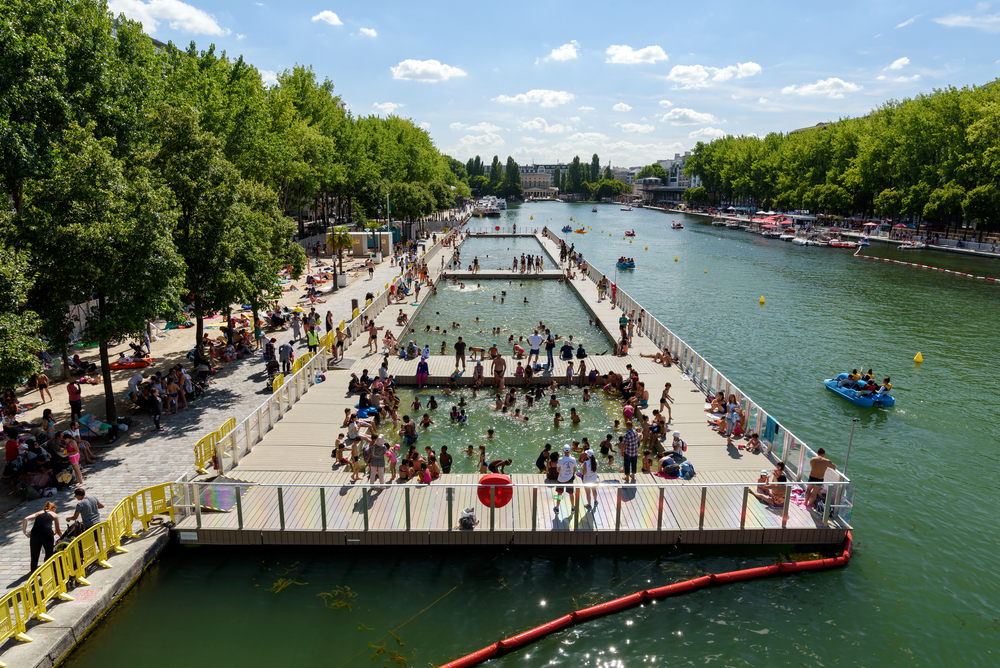 Over recent years, the French capital has revolutionized its approach to water in an attempt to maximize the value it extracts from every single drop of the liquid that is in many ways essential for human life.
Efforts began in 2009, when Paris nationalized its public water service, creating Eau de Paris, and in doing so launching a new model of "sustainable water management." City Hall's approach is what it calls 100 percent public water management from "source to tap" — classifying water as a common good instead of a profitable commodity, which allows it to guarantee low prices for users and sustainable water management policy.
"We needed to have a democratic control of water," says Lert, who is also currently president of Eau de Paris. "This allows us to have a long-term vision and we can reinvest everything back into the service, unlike the profit-making private sector."
Crushed by negative news?
Sign up for the Reasons to be Cheerful newsletter.
When Eau de Paris was launched, water prices were immediately cut by 8 percent for its three million customers, Lert says. A Parisian who drinks 1.5 liters of public water per day spends only €2 per year on average, which includes the cost of water capture, treatment, transport, monitoring, distribution as well as the collection of wastewater and its purification before its return to the natural environment. Between 2020 and 2026, adds Lert, the public water utility is projected to invest a further €475 million.
One of the key pillars of Paris' approach is a strategy of prevention at the source of pollution — minimizing the cleanup and resources required — rather than the system of polluter-pays, as is common across the US. For example, as part of a €47 million project, authorities are working with farmers in the Greater Paris region to limit the use of fertilizers and pesticides and encourage organic farming. In 2022, the project covered 16,000 hectares of farmland, and the goal is to increase t0 40,000 hectares.
"The best treatment of water is to prevent pollution," says Lert, who is campaigning with mayors across France to introduce a nationwide ban on pesticides or nitrates in water areas. "It requires less energy and there are fewer chemicals to deal with."
By targeting and fixing leaks in the water network – through a detection system of 3,000 acoustic devices — Paris also saved a million cubic meters of water from being wasted last year. At the same time, it launched a public information campaign to warn Parisians of the waste of leaks — a dripping tap can waste 35 cubic meters of water a year, worth €80, and a leaky toilet flush can waste 220 cubic meters a year, the equivalent of €500.
A map of the municipal water fountains in Paris
Authorities have also looked to address other waste and emissions by regenerating the network of public fountains. A set of 73 "refreshing" fountains, some of which provide cooling mist in the summer, will supplement the 1,200 water points available in the streets, squares, gardens and woods of the city, cutting out the need for huge amounts of plastic. The city treats drinking water using low-pressure reverse osmosis, which produces lower emissions than other methods.
This Parisian revolution in water management has already made significant waves: in the last 15 years, the city has cut water-related greenhouse gas emissions by 25 percent, and water use itself has fallen by 10 percent over the past decade.
"What Paris has achieved is impressive," says Howard Neukrug, executive director of the University of Pennsylvania's Water Center. "But every city around the world has different challenges. In the northeast we have plenty of water, but in California there is severe drought. Beyond that, how can you design for an unpredictable future?"
Cities across the planet will need to pool together efforts to economize water use as the climate crisis worsens. In July, the capital of Uruguay, Montevideo, announced it had just seven to ten days of drinking water left for its 1.3 million residents amid the nation's worst drought in 74 years, forcing authorities to introduce emergency measures and mix brackish water from an estuary into the drinking supply. Last year, Salt Lake City was shaken as the Great Salt Lake reached its lowest level since measurements began in 1875. In 2018, South Africa's Cape Town came within days of running out of water.
Professor Neukrug argues it will be essential for cities to broaden their number and diversity of water sources, from factories desalinating water to introducing reuse of greywater. "They have to find new water sources that haven't existed before," adds Neukrug, who is researching urban creek restoration in the city of Pittsburgh.
According to C40, a network of mayors of the world's leading cities, including New York City, Mumbai and Rio de Janeiro, almost 70 percent of its member cities report "substantive future risk" to water supply in the face of climate change. More frequent and severe droughts will increase the amount of surface water lost in C40 cities by 26 percent and will cost $111 billion in damages per year over the next three decades. Yet it estimates that water delivery constitutes 7 percent of the world's total energy use and that water losses in some cities with aging infrastructure can be as high as 70 percent.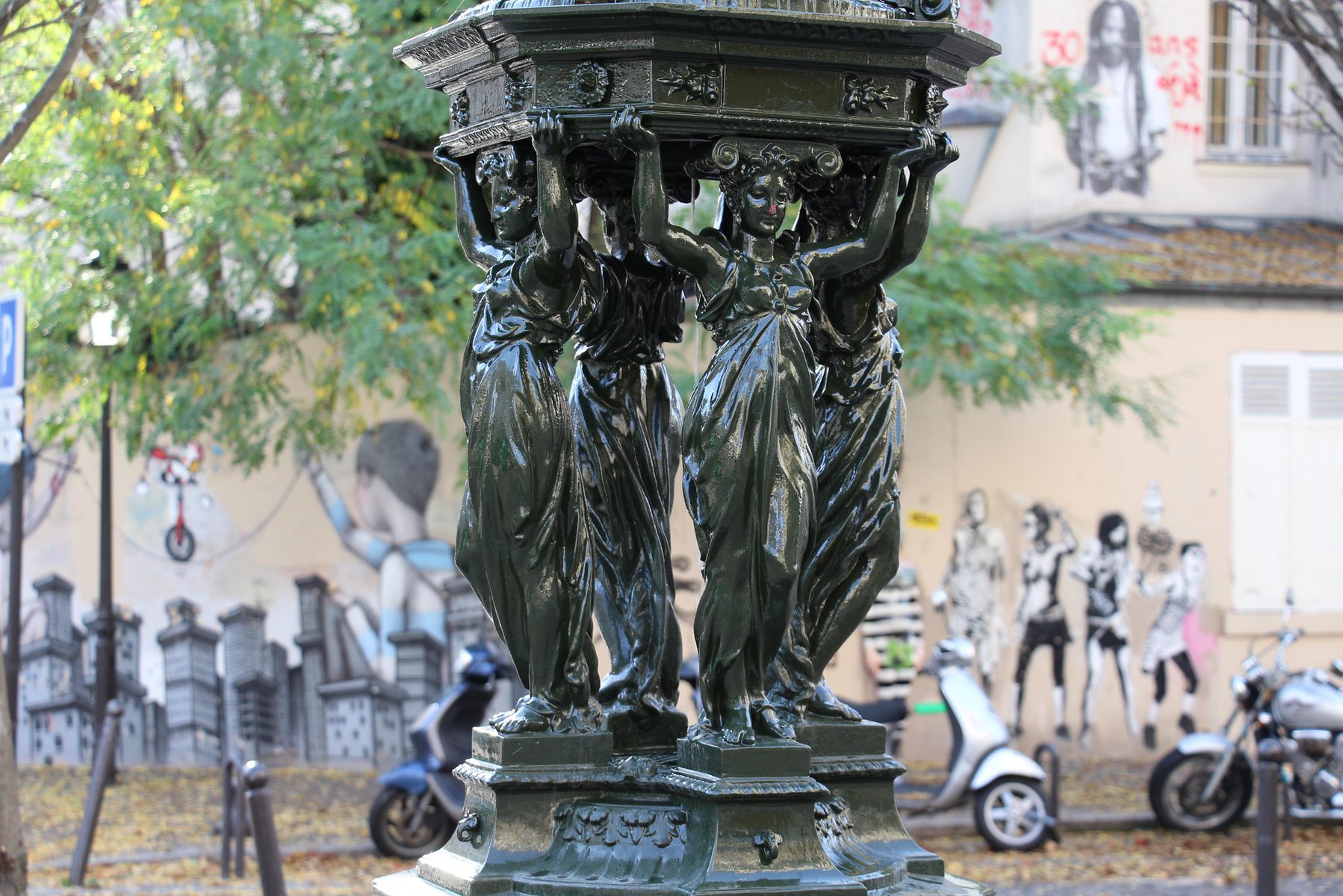 "We depend on water," says Frans van de Ven, an expert in urban land and water management at research institute Deltares. "There's clearly a physical and ecological value to it, but there's also social and cultural ones too."
Despite that value, Van de Ven warns there could be political obstacles to the water revolution. Similar to Paris's democratic approach, the Netherlands has elected water authorities to shape policy with equality and ecology in mind. "But not all countries have this," he says. "And that raises the question: How much pollution is acceptable? How much do you want to invest as a society to provide ecosystem services?"
Even then, Van de Ven, also a professor of urban water management at Delft University of Technology in the Netherlands, believes the shift will require "huge infrastructure changes" to update networks over the coming decades, which will be costly — as seen with recent debt troubles faced by London provider Thames Water — but also an opportunity.
But back in Paris — whose representatives presented their work at the United Nations Water Conference in March, the first ever to be held — the flow of progress continues. 
In addition to making the Canal Saint-Martin swimmable, helping to fight extreme heat and improving resident's relationship with urban water, further upstream, the Canal de l'Ourcq is welcoming bathers after cleaning, and athletes will swim in the Seine as part of the city's Olympics in 2024, thanks to new wastewater treatment plants and the construction of a stormwater basin to prevent wastewater from overflowing. And in June, the city inaugurated Orly 2, a €45 million, low-carbon drinking water plant that produces 300,000 cubic meters of water a day, enough for 650,000 Parisians.
"We must do everything to protect this resource and improve its quality," says Lert.