Connecting the dots
The year was 1982. Eight tiny Pacific Island nations that were home to much of the world's skipjack tuna decided they deserved more control over the foreign fishing going on their territory. That year, they launched what became known as the Parties to the Nauru Agreement (PNA), "the most remarkable achievement of the Pacific Island countries in the last 50 years," according to one observer.
Over the next four decades, the PNA created a system in which they calculate how much tuna fishing is ecologically sustainable, then divide that amount into fishing days for which fishing companies bid. Prior to implementing this model, the islands competed with each other, selling fishing rights in their own waters to companies from the U.S., China, Japan, Europe and elsewhere. The PNA model transformed a competition-based system into a cooperative one, putting the smaller countries in charge and netting them half a billion dollars a year. 
Crushed by negative news?
Sign up for the Reasons to be Cheerful newsletter.
These revenues translate into positive change. In Kiribati, for instance, one of the eight island nations, the scheme has raised fishing revenues from $25 million a decade ago to $160 million today — about $1,400 per resident. The money has been used for social programs for students, people with disabilities, unemployed and elderly people. And the system has prevented the kind of exploitive overfishing that powerful foreign fleets often engage in — the islands' fish stocks "are likely to remain healthy if recent levels of exploitation continue," said one scientist.
Pollinator protection
There's another species that might soon benefit from a new life-saving vaccine: bees. 
Today's beekeepers lose about one third of their hives each year, leaving bee colonies — and the critical pollinating services they provide — in peril. Among their greatest threats are pesticides, which make bees more vulnerable to parasites like mites.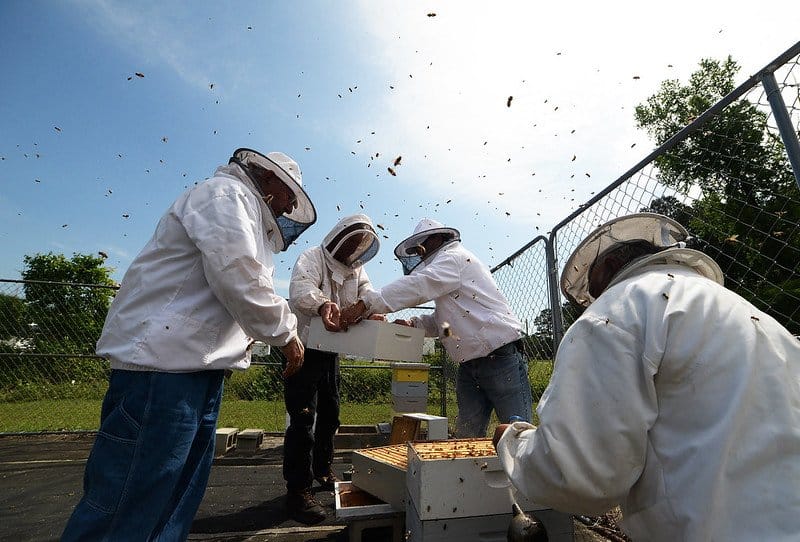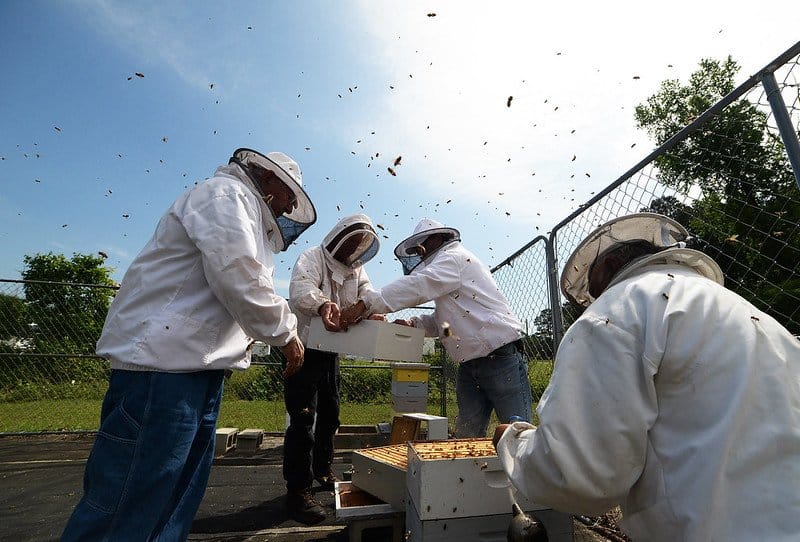 Beemunity, a research startup developing a 'vaccine' for bees, is working to protect them from these chemicals. The project successfully tested an enzyme that can be added to sugar or pollen patties. Once ingested by the bees, it counteracts a pesticide before it can harm the bees' brains. A recent trial found that every single bee given the vaccine developed an immunity to the pesticides, while bees in the control group had a survival rate of zero. Trials will scale up this summer, and the vaccine could be available to beekeepers by early next year. 
In an interview with Fast Company, the researchers said that while they believe the vaccine could help stabilize bee populations, a more ideal solution would get harmful pesticides out of farming in the first place. "The real problem is the industrialization of agriculture," said Beemunity's CEO.  "I think it's hopefully something that can help people realize that when pesticides are taken out of the equation, wildlife does very well."
Light under lockdown
The Marshall Project has published a moving personal essay from an incarcerated person who, against all odds, is finding a way to flourish in prison. 
Jy'Aire Smith-Pennick landed in prison on a parole violation charge when he was 18. During his first few years on the inside, he focused on keeping his illegal enterprises operating, leading to a cascade of additional charges that eventually added up to a 27-year sentence. "I was finally ready to look in the mirror," he writes. "The person looking back at me was half man, half menace, the bullied turned bully."
He requested and received a transfer to a new facility with better social programs, where he received treatment for drug use and trauma, and earned a certificate in traffic management. He joined the Certified Peer Specialist program and learned how to support other men with drug and mental health issues. And now he's earning college credits through a partnership with Widener University, as well as taking Swarthmore College classes through an exchange program.
The upshot? According to Smith-Pennick, prison is a tough place, but when it includes the right social programs and a supportive staff, a motivated person can learn and even thrive there. "Who knew a flower could grow from the concrete?" he writes.