To say that the mood was confident would be an understatement. "It's quite amazing. African contemporary art is really at a turning point," said 31-year-old Pierre-Christophe Gam, an art director of Cameroonian-descent based in London. "In terms of art, Africa was an untouched Eden. Until now." — from a report on a biennial in Dakar, Senegal, in The Economist, May 2014
Having witnessed the enthusiasm and support for the exciting art being made in Kochi, India, I wondered if there were other places in the world where this kind of creative ecology might be coalescing. 
There has been a lot of press about the Zeitz Museum in Cape Town, created out of former silos on the industrial waterfront. The fact that it will showcase contemporary artists in a prestigious setting—and that it treats contemporary African art as equal to art being made anywhere—will encourage a revised perspective, from both Africans and foreigners, on much African work. A museum like this, however, while an important building block in a sustainable system, is not an ecology in and of itself.
Lagos, further north in Nigeria, seems closer to having a sustainable scene.
Lagos, Informal City
Lagos is generally acknowledged to be the most populous city in Africa, though nobody really knows how many people live there. It also seems to have achieved, or is right on the edge of achieving, a sustainable art ecology. That means there are galleries, organizations, collectors and, of course, artists that mutually support one another to the extent that local artists can actually make a living. 
How did Lagos achieve this? For one, there exists an older generation of Nigerian artists—Olu Amoda, Rom Isichei, Kainebi Osahenye—who survived the dictatorship of the 1980s and '90s. They've seen how a once flourishing scene can collapse and are working to keep the current one propelled. But a younger generation sees possibility in the changes since democracy returned, too.
Local artist Victor Ehikhamenor lived in the U.S. for a while but has returned here. "You have more people who know they can actually survive as artists," he told the New York Times. Nengi Omuku, too, studied in London and has shown her work internationally, but recently returned to Nigeria, where, she told the Times, "I feel most inspired." 
Here is one of her pieces: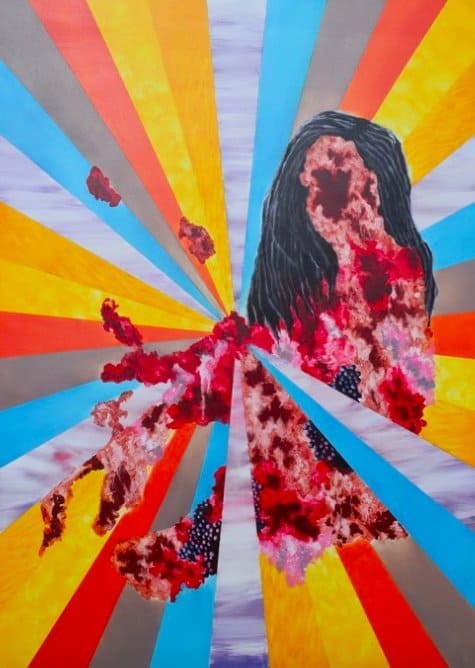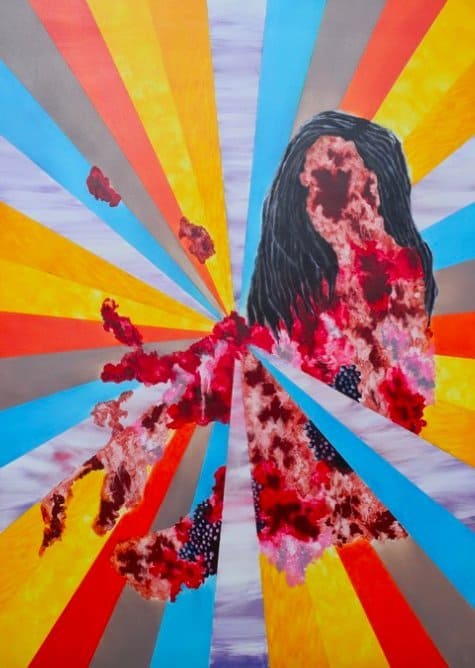 Supporting these artists are a growing number of events and institutions: ART X Lagos, the Art Summit Nigeria, the Lagos Biennial, the Center for Contemporary Art, the Revolving Art Incubator, the Treehouse and a private contemporary art museum being built by a local collector. There are galleries and an auction house called Arthouse Contemporary that also sponsors Arthouse Foundation, providing for mentorship, residencies, materials and a monthly stipend.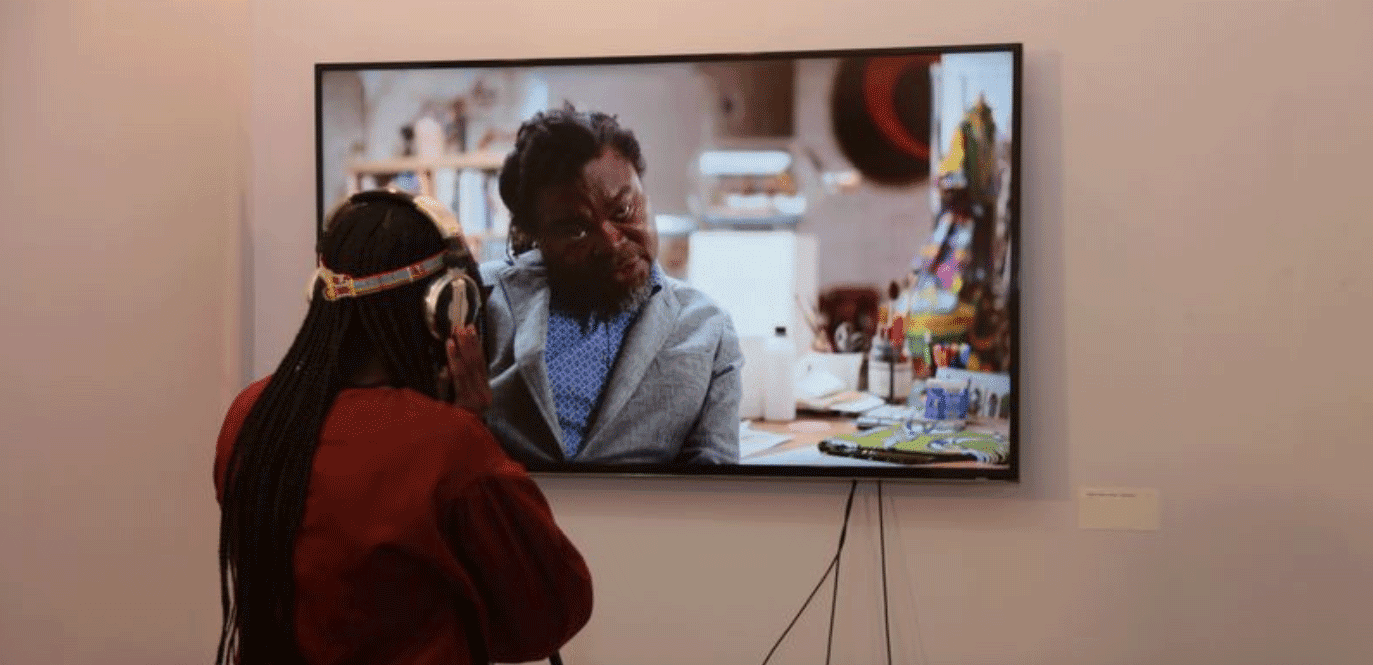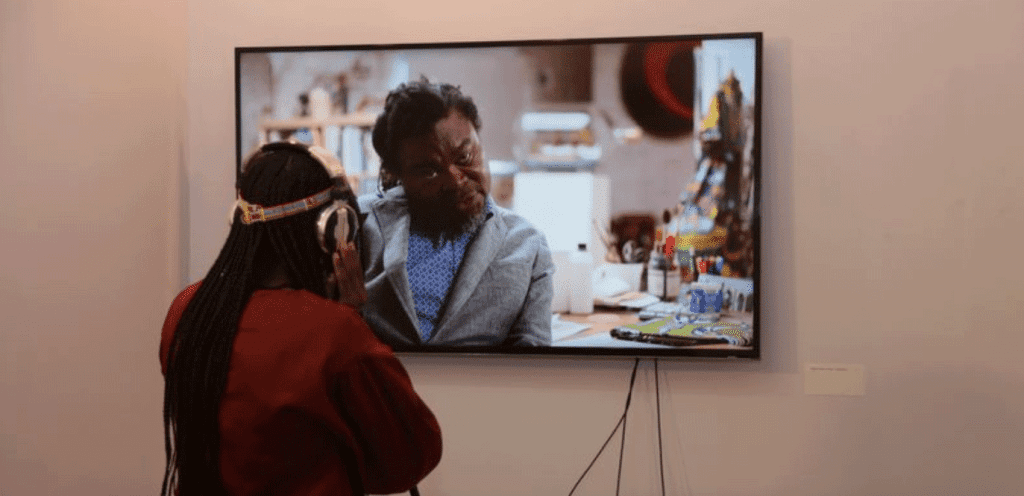 The Center for Contemporary Art provides a space for exhibitions and residencies and has had a huge influence. It was founded in 2007 by the late Bisi Silva, who was interviewed in 2017 by Frieze, the Northern art fair and magazine:
"When I relocated to Lagos in 2002, I couldn't find a space that would allow me to develop this expanded notion of curatorial practice. Most of the galleries were commercial and, as far as I knew, there were no non-profits. Government institutions were moribund and there was no place for young artists interested in experimenting with media other than painting and sculpture. I realized then that I would have to start an organization that supported new artistic and curatorial possibilities."
She did that, and also started an extensive library that allowed folks to discover the depth and range of African culture.
I asked Touria El Glaoui, the founding director of 1-54, a traveling art fair for contemporary African art, if she thought the Lagos scene was becoming sustainable. Here's what she told me:
I believe Lagos is well on its way to being sustainable. However, there needs to be support from the market to ensure artists and independent spaces can continue their work. This means encouraging a local collector base and a propensity for patronage, both of which are still in their infancy.
Traditional arts are thriving in Lagos alongside the contemporary. Nike Davies-Okundaye runs the Nike Gallery in Lekki, a city just east of Lagos. She is part of Nigeria's Yoruba ethnic group and was raised in Ogidi, a village that specialized in traditional textile arts, most of it African-style tie dye. (She's also a chief—she holds the titles "Yeye Oba" of Ogidi-Ijumu land, the "Yeye Tasase" of Osogbo land and "Yeye Gbasaga" of Ijumu Kingdom.)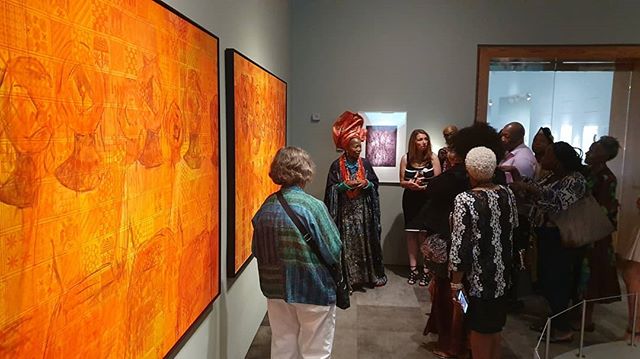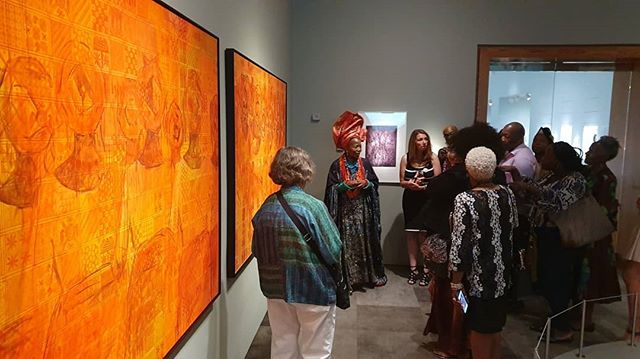 The artistic techniques of her culture were fading, so Nike started some centers where folks could learn traditional Yoruba crafts. Now she has a whole museum of textiles, sculpture and paintings. 
Though she has held workshops and more internationally, she is deeply embedded in Yoruba culture. Her weaving center in Kogi state employs over 200 women.
Nike was married for a while to well-known artist Prince Twins Seven Seven (cool name, but sadly he died in 2011—he was the only surviving child of seven sets of twins.) His art was partly inspired by a German couple who were encouraging local artists and gave him a copy of Amos Tutuola's book, "My Life in the Bush Of Ghosts." He's not the last person to enjoy that book!
Here he is at work: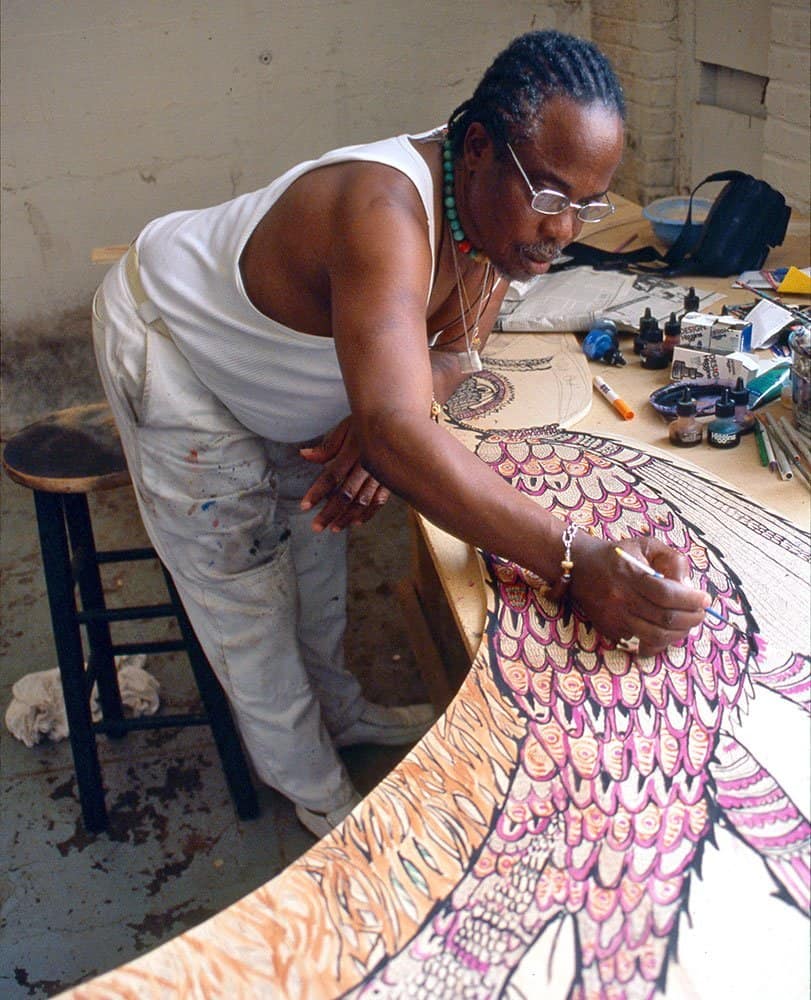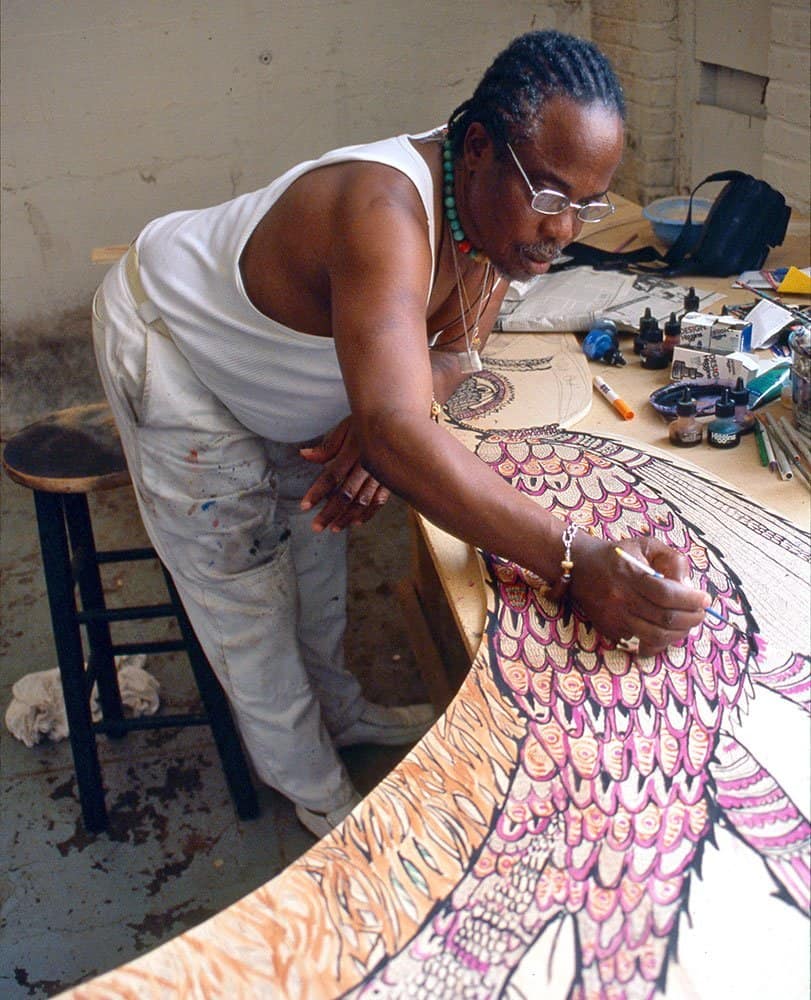 In the early '70s, while visiting the U.S., Twins avoided spending too much time at the Picasso show at New York's Museum of Modern Art because he didn't want the Spanish painter's style to affect his own. "I don't want to risk being influenced by anyone else," he said at the time. "All I am doing is in me already."
To me, the Bisi, Nike and Twins stories help establish a framework for more recent emerging Nigerian artists and institutions—one that doesn't emulate the Europeans, but instead creates something uniquely African. Their paths towards a sustainable scene do not mimic or resemble those of many Western artists, and the structure of the scene doesn't exactly mimic Western institutions, either. There is more than one way to do this.
As far as the collectors who are funding much of this, many of them are very rich Nigerians—sadly, this is a country with extreme wealth, but also extreme poverty. As in other parts of the world, the art market is largely a hobby for rich folks, and at the moment many of them in Nigeria are snapping up a lot of local art. Unlike in some other parts of the world though, few Nigerian collectors are using art collecting and flipping their purchases as a means to launder money—it's not lucrative enough, even though the value of African art is indeed going up. So they deserve credit for supporting these local scenes and artists.
Creative ecologies have long relied on wealthy benefactors as a catalyzing force. From a piece in the Economist about the biennale in Dakar:
"The history of art began during the Italian Renaissance in Florence, when bankers started funding certain artists," says Algerian-born Abdelkader Damani, one of three curators. "This will probably work for 10 or 20 years, but what we really need here in the long-term is proper institutional support."
That institutional support may develop, but in the meantime the Nigerians are not waiting—they have found other ways to keep things moving.
From my viewpoint, much of this work speaks directly to the African experience and that of the African diaspora. I may like some of it, but I realize it's not targeted at me or my New York friends. Much of this work doesn't explicitly aim for the international art market or foreign enthusiasts like myself, though inevitably some of it will end up in international art fairs and museums. More often it refers to and incorporates local history, culture and attitudes.
Touria, again:
I wouldn't say the primary goal is to be shown in the U.S. and Europe. I think there are a number of objectives for every artist and independent space—the U.S. and Europe often play little role in these aspirations, and if the collector base in Nigeria was to grow, even less. For many the long-term aspirations are to have a sustainable art system in Nigeria, an art market that can stand and hold its own… The goal is to be on equal footing with U.S. and European markets for exchange that is mutually beneficial and generative. 
I asked if there is a danger of artists "pandering" to the tastes of the Western market:
I believe there is little pandering. The biggest problem I witness is when an artist from Africa or its diaspora is showing and selling work in the U.S. or Europe and buyers/viewers place their preconceived notions on the work and put an unwarranted expectation on the work and the artist's practice.
I think this local focus is healthy—for a younger emerging artist it's often true that you can't be what you can't see. Our imaginations are often limited by what we imagine is possible. If this network proves to be sustainable, as it seems it is becoming, then it will foster deep conversations within these communities about who they are and what they can be, while providing an outlet for the energy and creativity that already exists here and in many other places. 
One such place where another sustainable art scene is developing is Jakarta, Indonesia. That scene will be explored in the next installment of this story collection.
This story is part of a collection called Art is Everywhere: Stories about artists making a living in unexpected places. Read more here. Also in this series from David Byrne, a tour of India's amazing art hub in the city of Kochi.