The coronavirus has forced the world's most renowned cultural institutions to shut their doors, from the Louvre in Paris to the Suntory Hall in Tokyo. Many are finding ways to keep their offerings alive online, like the Metropolitan Opera in New York, which is streaming free nightly broadcasts of past performances. (Tonight: Verdi's Il Trovatore, conducted by Marco Armiliato).
But some of the most crowd-pleasing ways that arts and culture are finding a new life online are being propelled not by major institutions, but by the artists who keep them filled. Pajama-clad Facebook duets by suddenly out-of-work singers, modern dance pieces performed in empty rehearsal spaces, TikTok-style virtual raves put on by housebound DJs — in these performances, the truism that creativity flourishes within constraints shines through.
Take Bruce Sabath, a former Wall Street strategist turned Broadway actor who recently came off of a year-and-a-half-long run as Lazar Wolf in Fiddler on the Roof (performed entirely in Yiddish). "Last week, as things started to close, I thought, 'Within a week, they're going to have to close the theaters,'" says Sabath. "I had this image in my mind of theatergoers stuck at home, and performers stuck at home. All depressed."
It's the Baileys! Thanks @jessiehookerbailey and @ii.the2nd for sharing a little magic from your living room! Jessie just finished @waitressmusical and @beautifulonbway before that, and Gil is currently in @beetlejuicethemusical (which I can't wait to see when the doors reopen!) ….#funathome #downtime #socialdistancing #quarantine #selfquarantine #Covid19 #Coronavirus #ShutDown #Broadway #NewYorkTheatre #ActorCommunity #actorslife #artists #actors #singers #healtheworld #lightfromthedarkness

Posted by Broadway Goes Viral on Tuesday, March 17, 2020
Jessie Hooker-Bailey, who has appeared in the Broadway shows Waitress and Beautiful: The Carole King Musical, and her husband Gilbert L. Bailey, who was in Beetlejuice: The Musical until the theater closed.
So he set up a Facebook page that could keep the Great White Way burning bright while its theaters are dark. On Broadway Goes Viral, actors and singers from shows like Cabaret, Rock of Ages and Beautiful: The Carole King Musical sing, dance and play instruments at home, dissolving the boundaries between audience and cast.
"As artists started posting, their artist friends took note and began following the site, and then contacting me about posting something of their own," Sabath says via email. "And fans have been making suggestions in the comments of people they'd like to see on the site. It's a gradual effect, but it's growing every day. Sound familiar?"
Sage advice from Lauren Molina, @lomo212, with @therobmorrison on guitar. Not only is Lauren a veteran of @rockofagesmusical and Sweeney Todd on Bway, AND the founder of @theskivviesnyc, she just opened Cabaret as Sally Bowles at @brtstage and was sent from Berlin back to the States ?. If anyone can find some joy in crazy times it's you! Thanks for sharing this original song with us!….#funathome #downtime #socialdistancing #quarantine #selfquarantine #Covid19 #Coronavirus #ShutDown #Broadway #NewYorkTheatre #ActorCommunity #actorslife #artists #actors #singers #healtheworld #lightfromthedarkness

Posted by Broadway Goes Viral on Tuesday, March 17, 2020
Lauren Molina, who has appeared in Sweeney Todd and Rock of Ages, with musician Rob Morrison on guitar.
As college campuses have shut down, students of the arts have also adapted. Four BFA students found a way to fill the void with two key elements: time and just a little heat.
"Many theater artists and students find themselves without jobs, and it's important that we keep creating through these troubling times," says Gus Mahoney, a student in the Guthrie Theatre BFA program at the University of Minnesota, where campus is currently closed.
Mahoney and friends wanted to give themselves and others a creative outlet while stuck at home, so they launched a playwriting competition with a hard deadline called the Quarantine Playwriting Bake-Off.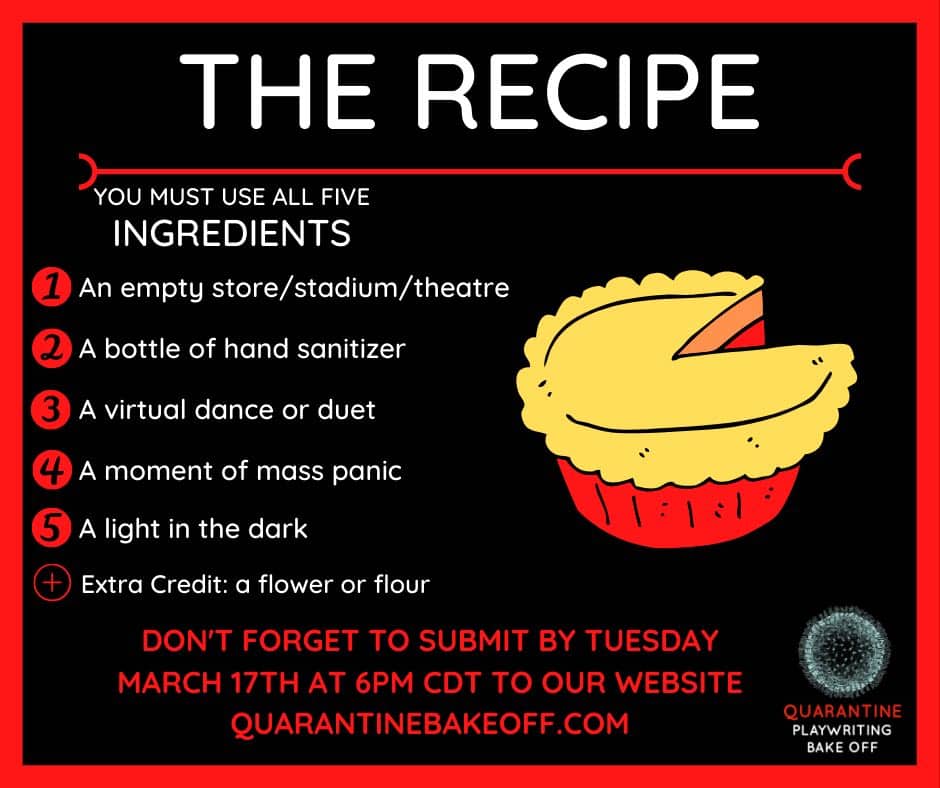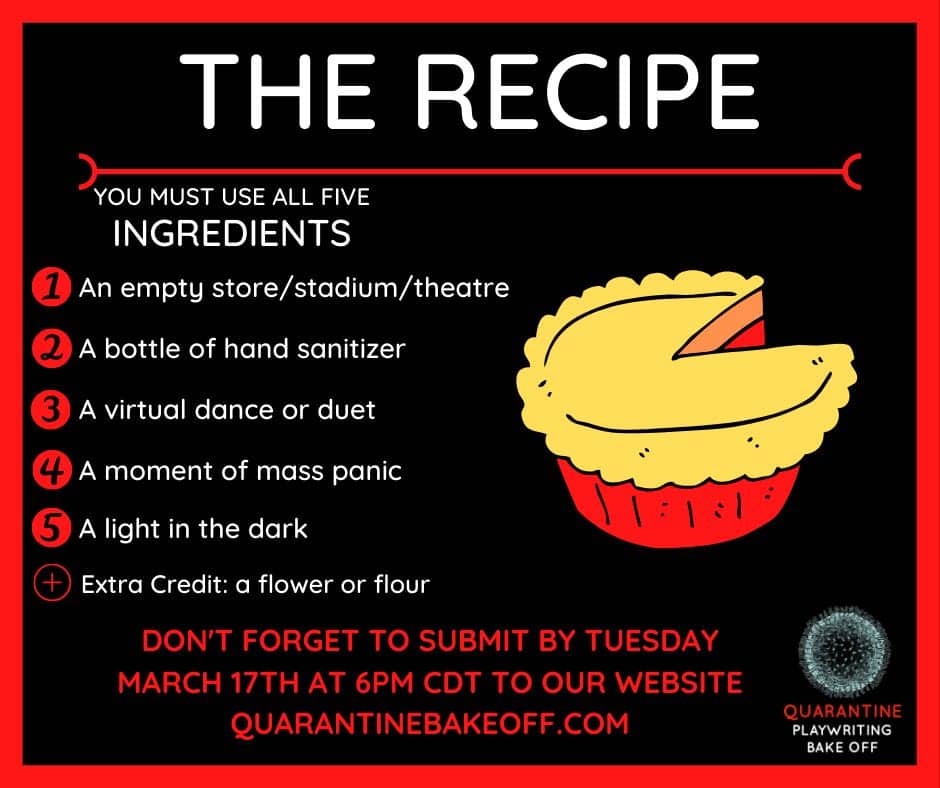 At 10 a.m. Central Time on March 16, the Quarantine Playwriting Bake-Off began as hundreds of writers around the world received an email containing five "ingredients" to bake into a play. Participants had 32 hours to submit their work, and now, a panel of judges is reading the entries as fast as they can. The 10 best will be read live on YouTube this Sunday. (Check the Facebook page for details.)
For those in a more raucous mood, "cloud clubbing" has caught on in China, the global capital of coronavirus lockdowns, as DJs play to housebound ravers who pound their apartment floors together in the virtual realm. China's cultural scene has been decimated — according to the China Association for Performing Arts, some 8,000 live performances have been canceled across 20 cities in China, but the party lives on online.
At the same time, artists have found novel ways to build community, and arts educators are no exception. "I have been teaching and directing for over 20+ years and if there is one lesson I have learned, it's that together we are stronger," says Dr. Daphnie Sicre, assistant professor of theater arts at Loyola Marymount University in Los Angeles. Sicre compiled a 34-page public Google Doc on resources for arts instruction — an immensely physical process — during the coronavirus outbreak. In the few short days it's been online, the document has traveled from California to Australia, aiding theater instructors across the globe.
Sicre's document is a 14,000-word field guide to adapting arts pedagogy to quarantine, and it's continually growing as new contributors add information. "I think moments like these help define us," she says via email. "Social change is all about action, and answering, 'What will you do, how can you help?' And not expect anything in return."
Other clearinghouses like Sicre's are emerging around the world. On Monday, Hong Kong's arts community launched ART Power HK, an online platform showcasing the array of cultural events that were planned for March, the city's "Art Month." And Toronto-based composer Nick Green created the Social Distancing Festival, a virtual space that features, among other offerings, interrupted or unfinished art — something Green experienced himself.
House of Names was set to open at the ODC Theatre in San Francisco on April 17, but has been postponed. Sasha Gologorskaya and Ismael Acosta performed in a rehearsal space.
"I went from having five weeks of rehearsal, eight hours a day, six times a week, to having five weeks of unclaimed time alone in my apartment," he says. The sudden shift to isolation was hard for Green, but then he realized something: "Community in the arts doesn't have to rely on physical proximity… As long as we are sharing a space in which we can be present, provoke, inspire, promote kindness and compassion, and share ideas, then we ARE all together in one space, even if it's in different places at different times."
Green began courting submissions from colleagues, and things exploded from there. "My inbox is basically a smorgasbord of art. I've been getting video rehearsals of scenes, production photos and design sketches from theater folk, living room concerts from musicians and opera singers whose gigs were cancelled… dancers, writers, visual artists, all with cancelled shows."
Now, everyone can share in Green's inbox smorgasbord. "This is affecting us all, from the 1,500-seat theatre in New York, to the 25-seat black box in my cousin's basement," he says. "We should share the hell out of each other's work."