The play is set in an unnamed prison. Four men are restricted and alone for 23 hours a day, each in a 6-by-9-foot space — the typical size of a solitary confinement cell in the United States. 
With a vivid script that draws on visits and correspondence with prisoners, and a cast and crew that includes formerly incarcerated people, The Box underscores both the horror of such isolation and the humanity of people subjected to it.
"If you've never visited prison or had a loved one in prison, you can start to experience what that is like through this immersive play," says actor John Neblett, who plays the character Jake Juchau. Neblett spent 30 years in the US prison system. He says the things he witnessed informed his character development. And, he says, even though it's hard to relive some of those experiences, performing is a way for him to give back to the people he was incarcerated with, "by opening the eyes of the ignorant."
About 80,000 men, women and children are held in isolation on any given day in the United States. Research shows the practice disproportionately impacts people of color, and causes lasting mental and physical harm — while failing to change behavior in prisons or reduce recidivism. One study revealed that after release from prison, people who experienced solitary confinement one time were 17 percent more likely to die prematurely than those who were not isolated during incarceration.
The show's playwright, Sarah Shourd, was a political prisoner in Iran for over 400 days. Since her release in 2010, she has collaborated with other survivors and activists to end solitary confinement in US prisons.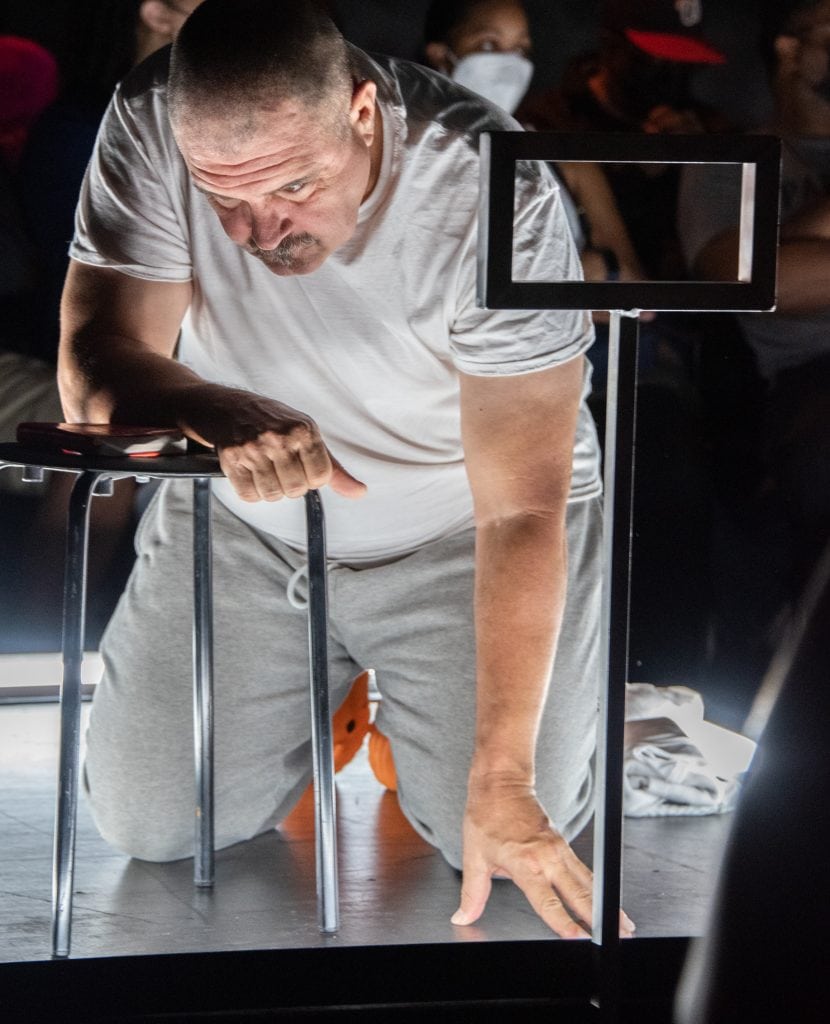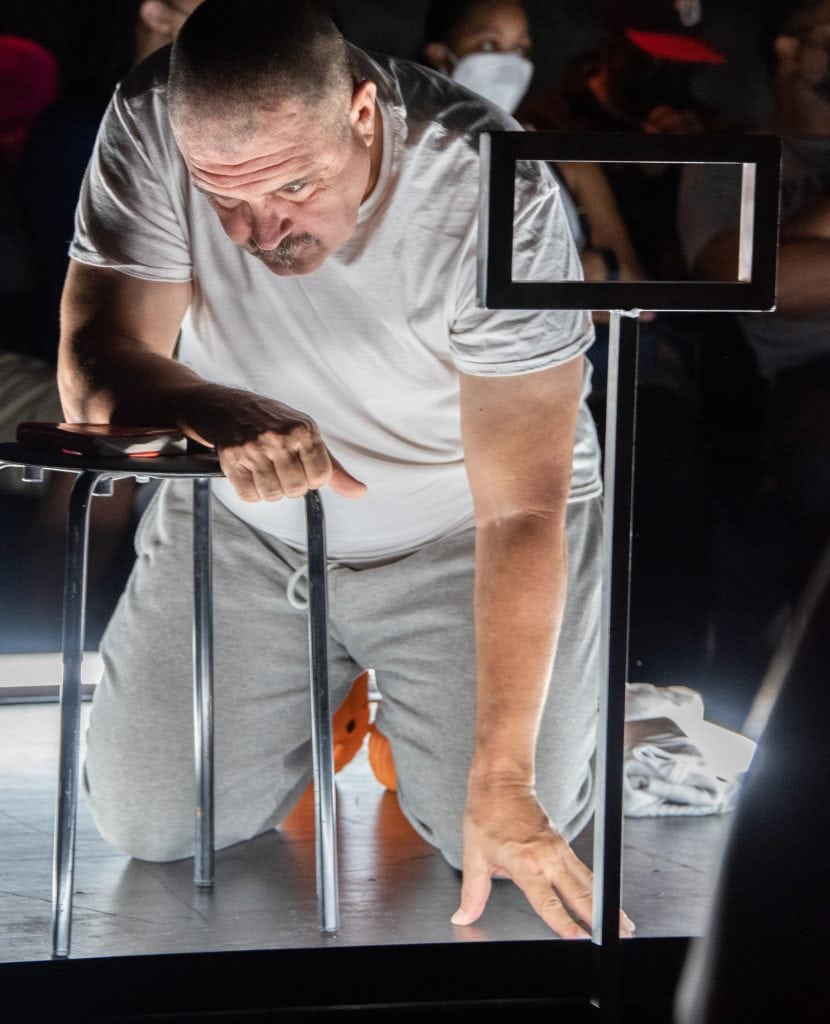 "When I came back from my own imprisonment, I realized these practices are used on a much larger scale in this country," says Shourd. "The effects on the mind and body are insidious. There are no supports, no connections and no hope." 
With the recent 2022 End of Isolation Tour, Shourd and company brought The Box to nine different cities, from Detroit to Atlanta. At each stop, they joined with local organizations that are working to shift perceptions and policies around solitary confinement. 
Their goal: End the practice in US prisons and create a space for people to envision a transformed correctional system rooted in healing the wounds caused by mass incarceration and solitary confinement.
"Imagine a world without torture," Shourd says. "The work brings life, support and energy to our community partners who write the legislation we want to see."
From stage to change
With a run time of 90 minutes, The Box is both legislative art — work crafted to enact political change — and therapeutic.
"I decided to write a play because I don't think people's minds are changed by facts. Art and story change the way people look at the world," Shourd says, noting that several studies show an immersive, well-told story impacts the part of the brain that connects with lived experience. (For the 2022 road show, she played the role of a prison officer.)
According to research published in the Journal of Experimental Social Psychology, watching a live theater production can increase empathy for the groups depicted and, in some cases, change audience attitudes about political issues.
"The dialogue in the play is scarily close to reality," says Anthony Jefferson, who plays The Box role of Ray De Vaul, a man who has been in solitary confinement for over 17 years. Jefferson himself spent over 23 years inside the California state prison system. "I've had some of those conversations myself."
During the recent tour, he often saw audience members have emotional reactions.
"Many cried and asked how to get involved," he recalls. "People have been awakened by this piece of art. There is a willingness among audience members to really tune in and view the characters as people they can relate to … . That's a credit to the writing, but also everyone in the cast and crew leaning into their roles."
Crushed by negative news?
Sign up for the Reasons to be Cheerful newsletter.
With earlier stagings, The Box has already impacted policy. Former California Senator Mark Leno credited 2016 performances for contributing to the passage of his bill that ended the use of solitary in that state's juvenile facilities. Recently, a bill to limit the practice even more reached California Governor Gavin Newsom's desk, but he vetoed it. Still, the Governor noted that "segregated confinement is ripe for reform in the United States."
Each performance during the End of Isolation Tour was followed by an audience engagement circle focusing on restorative justice, collective grief and collective healing.
"Watching the play is an intense and activating experience, but we want people to leave with the stories in their hearts, not their bodies," Shourd explains. "We make space for those directly impacted first … . People share deep, heartfelt reactions and show deep respect for the people on the inside who are surviving the unimaginable."
Cast members, too, have been impacted.
"I'm here to contribute to our way of life and let people know who I am as a returned citizen," Jefferson says. "This experience absolutely helped me heal." 
'The opposite of isolation'
As cast and crew of The Box traveled from city to city in a converted school bus over the summer, local organizations working to end solitary confinement and mass incarceration through education, legislation and advocacy welcomed their arrival.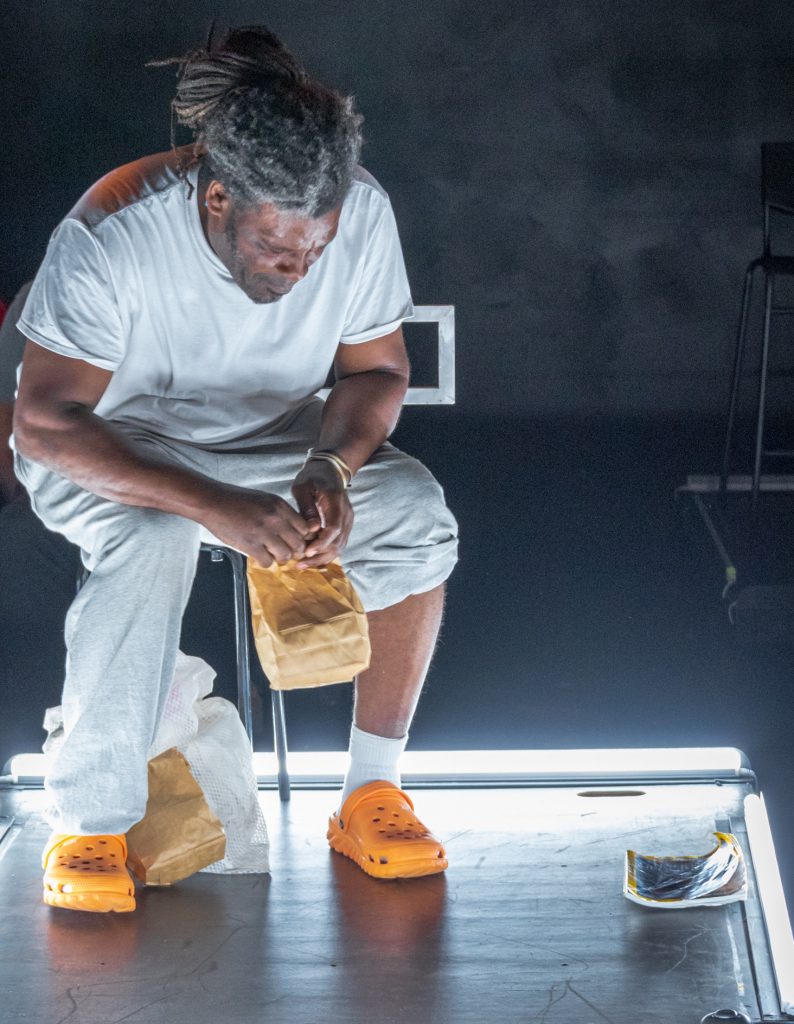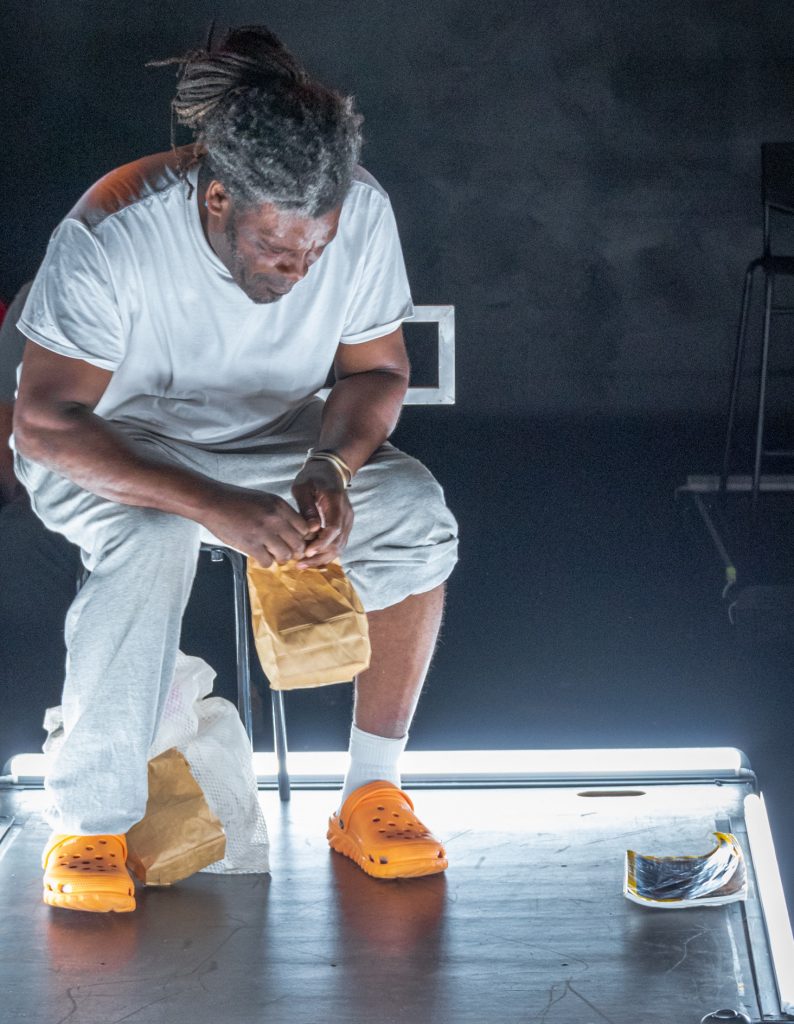 For July shows at the Arkansas Air and Military Museum in Fayetteville, one host was DecARcerate, which has people directly impacted by the criminal justice system in leadership roles. This year, the organization asked Arkansas judicial candidates to answer questions on criminal justice reform and published their responses. As part of its work to end solitary confinement in Michigan prisons, the tour's Detroit community partner, Open MI Door, offers an online mental wellness toolkit. In Baltimore, End of Isolation met up with Interfaith Action for Human Rights, which is working to restrict solitary confinement to 15 days in Maryland, Virginia, and Washington, DC — and eventually end the practice.
"Together we want this to turn into something that improves society," Neblett says. "Theater is really the opposite of isolation."
Shourd and her team plan to meet soon with the partners to discuss next steps.
Meanwhile, filmmakers Bobby Field and Emile DeWeaver are creating a behind-the-scenes documentary about the End of Isolation Tour. The film will show what it took to create the transformative theater piece, as well as how individuals deal with the legacy of prison torture.
"The documentary really shows nuances of people on frontlines of ending solitary confinement," Shourd says. "It's about showing the face of the movement today … often people with lived experience are at the forefront."